New transmission lines blot landscape along Arboretum and Dunn's Marsh neighborhood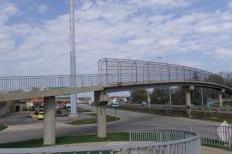 This August, the American Transmission Company (ATC) finished putting up new towers that pass the Arboretum and the Dunn's Marsh Neighborhood along the West Beltline.
The new high power lines will carry 345 kilovolts of bulk electricity from a substation in Cambridge to another in Middleton. Power is distributed to customers from the substations. ATC identified the need for the project in 2002. Construction started last fall, and the system is expected to be operational in the summer of 2013.
Neighborhood residents, and many others, objected to the overhead lines, preferring buried lines or none at all. The poles stand 90 to 150 feet tall, dwarfing everything in sight.
Other issues that remain include a hum of up to 60 decibels in humid weather -- equivalent to heavy traffic at 300 feet -- electromagnetic fields, and clear-cutting of wooded areas in a swath 150 feet wide.
After Labor Day, ATC began work to lower 3 or 4 of the poles along the Beltline between Todd Drive and Seminole Highway, because they turned out to be too visible from the Arboretum. The whole idea of lower Y-shaped poles along the Arboretum was to keep the horizon clear and protect birds flying from one part of the Arboretum to the other across the Beltline.
Explore the slideshow below to see the installation and adjustment of these towers.
Mary Mullen is the newsletter editor for the Dunn's Marsh Neighborhood Association. She contributed all pictures and text in this report.