Part II: Just Coffee facilitates farmer-vendor relations from Madison, abroad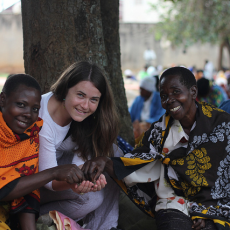 Julia Baumgartner in Gumutindo, Uganda, Photo credit: Just CoffeeThis is Part II of a two part piece on Just Coffee's fair trade policies and certification. Part I is available here.
Erin Schneider traveled from Madison to Esteli, Niceragua, to bond with farmers over coffee, compost, and culture. Part of a weeklong coffee delegation, she connected with the farmers of La FEM, a female-led grower cooperative that partners with Just Coffee.
"I was just blown away, in a very heartwarming way, by how welcoming the women were," she said. "I would like to continue to explore ways on how to connect women farmers in Wisconsin, with women farmers in Nicaragua and other Latin American countries."
Jeannette and David LeZaks, also from Madison, went on a Just Coffee travel delegation to El Salvador. Neither are big coffee drinkers, but they were interested in learning more about the concept of fair trade. Along the way, they took note of the physical demands that coffee farmers face.
"They're not sitting in their combine, listening to their iPod," said David LeZaks.
"Each family has a plot of land – on the mountain – and they have to transport bags of coffee beans over this terrain," said Jeannette LeZaks.
In order to address the confusion caused by a fragmented fair trade market, Just Coffee facilitates conversation about fair trade coffee in Madison. For some, this interest expands into a trip abroad to visit partner coffee farms, or hosting partner co-op farmers in Madison.
Matt Earley, co-founder of Just Coffee, explained, "For us and the Small Producer label, it's a matter of education and making that commitment to really connect with people and talk about the different labels that are out there, how they're used, and who caters to who."
When possible, Just Coffee sponsors farmers from grower's co-ops to visit Madison, so they can share their own story with buyers. This exchange inspires farmers and buyers alike to maintain their fair trade relationship with Just Coffee.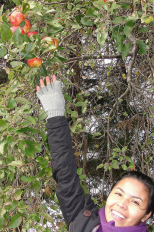 Christian Guzman, La FEM farmer, Photo credit: Just CoffeeLast fall, Just Coffee hosted Christian Guzman, a representative of La FEM. Just Coffee pays La FEM $3.05 per pound for its Arabica coffee, while the Fairtrade International minimum price for non-washed Arabica coffee is $1.35 per pound.
"We're very proud of our relationship with Just Coffee. Just Coffee gives us a chance to sell our coffee at a fair price that we didn't have access to before," she said. "It's been really helpful for us too, to be aware of where our coffee's going and where it's being served."
Lisa Jacobson, proprietor of Mermaid Cafe, is familiar with the personalized exchange between buyers and the co-op farmers that Just Coffee works with, because she has hosted visiting farmers in the past.
"Solidarity for the workers – it's one of the things [growers] really respect about Just Coffee," she said. "Their continued relationship also means that when there are problems, either weather problems or other problems that create crisis for the growers, Just Coffee has stepped in a number of times."
Through travel delegations, consumers become more aware of how their purchases affect those in other countries. Julia Baumgartner, who runs delegations for Just Coffee and serves as project coordinator for La FEM, structured these trips around fair trade discussion, cultural exchange, and, of course, the physical production of coffee. The next delegation is scheduled to depart for Esteli, Nicaragua on Jan. 28, 2013.
Behind the counter at Madison Sourdough, Sadie Schnitzler Scherchan feels customers have a growing interest in the fair trade story behind their cup of coffee. She respects Just Coffee's educational approach to fair trade and appreciates the stories that come from the field.
"For us, it's a step that completes that circle that we're trying to build into trade – which is really connecting producers and consumers," said Just Coffee's Earley. "Even if it's just a little glimpse."
This article has been changed to reflect the fact that Julia Baumgartner no longer works for Just Coffee in producer relations.