Planning Commission maps show how location shapes options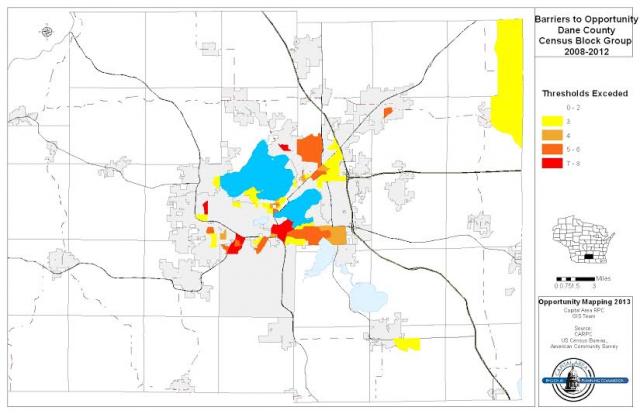 This map, part of a Fair Housing and Equity Assessment by the Capital Area Regional Planning Commission, identifies "barriers to opportunity" at the neighborhood level.
Where you live can shape your future.
It's all about access to 'opportunities', according to a recent report released by the Capital Area Regional Planning Commission (CARPC). The location of a neighborhood and its planning impacts what opportunities are within reach.
The report is called the Fair Housing and Equity Assessment (FHEA) and is funded by a three-year, $2 million, Sustainable Communities Regional Planning grant from the U.S. Department of Housing and Urban Development (HUD). The report and subsequent analyses go further than simply striving to bring equity within housing.
FHEA takes a geographical approach to identifying and mapping opportunities within the Madison area. CARPC and its project partners (a consortium of 39 members known as the Capital Region Sustainable Communities - CRSC) identified core opportunities such as access to quality schools, affordable housing, outdoor recreation, community centers, transportation options, fresh food and jobs.
The primary goals of the FHEA are to identify 'barriers' to opportunities, pinpoint differences between communities and gain an in-depth understanding of why these differences exist. These barriers are any combination of obstacles in the way of accessing the core opportunities. They can range from socio-economic barriers such as poverty, lack of English proficiency and racial disparities within a region, to physical barriers such as lack of transit options and costs of housing and transportation.
"The analysis is identifying a broader range of indicators related to income and poverty and its also asking us to delve deeper and try to identify the root causes behind racial concentrations of poverty and barriers to opportunity," said

Steve Steinhoff, director of community and regional development planning at Capital Area Regional Planning Commission (Courtesy photo)Steve Steinhoff, director of community planning at the Capital Area Regional Planning Commission.
For instance, at first glance, a moderate income household can afford to live in neighborhoods around the Beltline, North Madison (between Lake Mendota and Highway 51) and in surrounding rural areas. But when transportation costs are factored in, the picture changes dramatically.
"When you look only at housing affordability there are a lot more areas where a moderate income household can live without spending more than 30 percent of their income on housing (affordable housing). Once you add transportation costs, almost nowhere in the whole region can a moderate income household live, without paying more than they should for housing plus transportation," Steinhoff said.
Taking into account both housing and transportation costs only leaves South Madison (along Park St. and Fish Hatchery Rd.) and a small area within Central Madison (near downtown) as areas classified as affordable. These regions present barriers to good schools and jobs. South Madison especially, is also characterized by racial disparities and higher poverty rates (above 40 percent).
The data was collected through much 2013 and is available for use by planning entities and local organizations.
"The city of Madison is looking the FHEA as a guide for their equity initiatives. The city resolution is being introduced to advance some equity recommendations and the findings of FHEA would be used to guide the work," Steinhoff said.
Steinhoff adds that the data is also being used by United Way of Dane County to guide its programs and investments.
The data is also available to the public primarily through a series of blog posts authored by Steinhoff on the CRSC website. Steinhoff believes that engaging the public and local residents is essential to ensure that the findings of the FHEA benefit those neighborhoods.
"An important part is developing local resident capacity and involvement; developing them as assets, and leadership development. It is important for them to learn how to become effective advocates for identifying and voicing their needs, and championing their needs and desires to policy makers and decision makers. (So they can) ask and demand that they be involved in policy making and decision making," said Steinhoff.
New blog posts with detailed analyses will continue to be added to the CRSC website in the coming weeks. Expected are, detailed health analyses in conjunction with the University of Wisconsin that examine the health implications of having concentrated regions with barriers to opportunities.
"We are working with the University of Wisconsin to do analysis of e-medical records to look at asthma, diabetes, obesity in these block group areas and look at correlations between physical variables such as walkability, proximity to walkways and grocery stores. We are also looking at correlations between health outcomes and social barriers such as poverty," Steinhoff said.
All the blog posts can be found at http://www.capitalregionscrpg.org/ and the detailed FHEA is available for download on the Dane County website.