Playwright brings her diabetes story to the stage with music and dance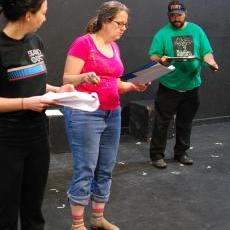 Mary Dexter, middle, works with Emily Cauthen, left, and Andy Lindgren, right, actors during a rehearsal for "The Sweet Lowdown," which opens this week at the Broom Street Theater (Aparna Vidyasagar/Madison Commons)"52", says Mary somberly, reading from an instrument attached to her waist.
She looks tired, her face slightly drawn. Moments earlier, her fatigue had been masked by the rendition of zippy, humorous lines. The number she reads, is her blood sugar level; at 52, it is well below the lower end of what is considered normal.
Mary Fairweather Dexter is many things. She's a playwright, an actress, a writer and a substitute school-teacher. She is also diabetic.
Dexter has LADA; 'Latent Autoimmune Diabetes in Adults'. While many have heard of Type-1 and Type-2 diabetes, LADA is less well known. It can be mistaken for Type-2 diabetes, which is more common in adults. That's what happened to Dexter, who 10 years ago was first told she had Type-2 diabetes; only then came LADA.
And so she began a journey, deep into the world of diabetes. Complicated jargon, a myriad of instructions, fluctuating blood sugar levels and innumerable tests all became an unrelenting part of her life. All these form the foundation of her new play, 'The Sweet Lowdown'.
The play will run from Oct. 25 through Nov. 16 at the Broom Street Theater. The performance will feature two one-act plays about diabetes; 'The Sweet Lowdown' and 'Two Diabetics', written by Matt DeFour, a journalist with the Wisconsin State Journal who has Type-1 diabetes. The schedule can be found here.
The play is anchored by many of Dexter's experiences. Her body turning against her pancreas' beta cells, which produce insulin, killing them off erratically, over long periods of time. The remaining beta cells do the best they can to help her body absorb the sugars in the food she eats. Still, her blood sugar levels take leaps and dives, at the mercy of the sluggish beta cells, alternately leaving her excessively chatty, or tired, halting, and scattered.
The play also features her interactions with family members and medical professionals, who constantly advise her to lose weight or count calories to manage her blood sugar, leaving her starving and exhausted.
"I was so tired. I was going to work, coming home and sleeping," she said. "That's all I would do. I was sleeping 18 hours a day."
In addition, the collective narrative of others with various forms of diabetes is an important perspective in the play. Dexter works to dispel misconceptions and contextualize popularly held beliefs about the disease, especially the perceptions of weight and its correlation to diabetes.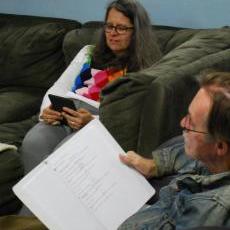 Playwright Mary Dexter listens at the table read for her play, "The Sweet Lowdown" (Aparna Vidyasagar/Madison Commons)"It has been set in so many people's minds that diabetes is the natural result of overeating. You overeat, you then become fat, and then become diabetic," Dexter said. "(People say) why should we worry about you, you got what you deserved...which is very harmful."
She provides a window into life with diabetes. These are not easy topics to talk about, but the most difficult of all is to discuss and disseminate the science behind it all. Yet Dexter manages to seamlessly weave medical history and current diabetes research into the mix.
All of this could make for heavy viewing, but Mary takes an unexpected approach: vaudeville and musical revue. The show features vampire phlebotomists, talking mice and dancing beta cells, amongst many other colorful, unexpected characters.
There is much singing, dancing and general gaiety that offset the seriousness and the few serious moments in the play. The way Mary's husband, and director of the play, Don Dexter puts it, the style of the play is hyper-reality, with everything being said 'louder, faster and funnier', and where they simultaneously get a lot of information out to the audience.
Mary's crafting the play is born out of her insights into teaching, from all her years as a substitute teacher.
"One thing good teachers do, is to try many different ways to present material," she said.
With the variety of storytelling methods in the scenes of her play, she knows that there are bound to be aspects which resonate with different members of the audience.
"Something in there is going make somebody go - Oh, I never thought of it that way".
Mary Dexter had wanted to write a play about diabetes; but it was a plan that was always shelved for 'someday'. In March 2012, the Diabetes Hands Foundation announced a small grant for those who could creatively 'empower, connect and inform' those with diabetes. For her, theater was the most obvious choice, as it was the one medium that could do all three simultaneously.
She said she hopes for her audience to leave with a deeper sense of understanding of life with diabetes. She wishes for them to be curious and question the information that is available. But Mary's greatest hope is for the play itself. The royalties for the play have been signed to the Diabetes Hands Foundation, and those interested are free to perform the play, anywhere in the country.
"I would love for it to have a life beyond Broom Street" she said.