Portrait of a Madison boxer: The rush and the redemption
Former professional boxer Andrea Nelson will be the first to tell you: boxing is a male-dominated sport. That's OK with her -- she doesn't consider herself particularly feminine.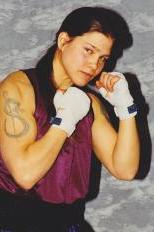 Andrea Nelson, Used with permission
"I'm just a physical person," said Nelson. "I just need that push. I need to always be pushing my boundaries."
When Nelson first showed up to Ford's Gym to learn boxing basics in the late 1990s, Bob Lynch – who later became her coach – thought she was a man. Nelson, now 46, showed up at the east side gym with her hair tucked back, bearing tattoos and muscular arms. She had already established herself as a champion in Okinawan martial arts.
Boxing proved to be the further challenge that Nelson was looking for, and she advanced to become the one of the best female fighters in Wisconsin. One of her main complaints as an active boxer was finding willing competitors in her weight class.
Nelson no longer competes in the ring due to joint problems and a history of other injuries, but she still spends a few days a week at the gym. She teaches beginner and intermediate boxing classes and trains boxers one-on-one.
Beyond her passion for boxing, Nelson recently became a certified athletic trainer. Over the years she's worked a variety of jobs that suit her various passions and her desire for a free-form schedule. She's painted murals, designed tattoos, and worked extensively in prairie restoration.
She sees these activities as creative expressions, including the boxing itself.
"It's not really angry fighting. It's a sport," said Nelson, adding with a smile, "it's an another artistic outlet."