SSFP: Dane County Streams Now Susceptible to Invasive Snails
This story appeared originally in Simpson Street Free Press. It was written by Christy Zheng, age 14.
A tiny creature is making a big splash in Dane County. The New Zealand mud snail was detected for the second time in the area, and officials are becoming concerned about the invasive mollusk. First discovered three years ago in Black Earth Creek, the snail was recently sighted in Badger Mill Creek in Verona.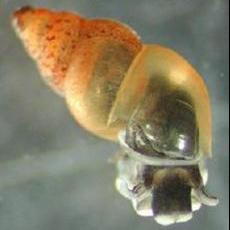 Although the snails are only one-eighth of an inch long, they reproduce asexually and can create a colony of one million clones in a year. The snails don't thrive everywhere, however. Researchers suggest that their numbers tend to spike when they are first observed, and then decline for unknown reasons. One possible explanation is that the snail might have a predator—the aquatic flatworm.
The snails were first seen in the U.S. 30 years ago in Idaho's Snake River. They most likely came from New Zealand on a shipment of fish. Since then, they have traveled to many bodies of water in the West and Midwest, including the Great Lakes.
When the snails were first discovered in Black Earth Creek, in which is located in western Dane County, officials were alarmed that the snails would destroy the trout habitats there. However, the density of the snails has not since increased.
The recently-discovered Badger Mill Creek snails most likely came from nearby Black Earth Creek. Researchers believe that people who used both streams probably transferred the snails on their clothes, shoes, or boats. Badger Mill Creek appears to be a better habitat for the snails, however. The water there is rich in nutrients because of the large amount of phosphorus in the stream.
Officials are concerned that the snails will move to the Sugar River next, which is only a few hundred yards upstream from Badger Mill Creek. From there, they could get to the Wisconsin River, then the Rock River, and eventually the Mississippi River. In fact, some think mud snails are already in the Mississippi River. The invasive mollusk could effectively steal the resources of native fish, which would cause problems like a lack of food. So far, though, this has yet to happen in the U.S.
What can be done to limit the expansion of these invasive snails? The snails are resilient and can survive out of water for nearly a month, so visitors need to be especially vigilant when traveling through infested areas. There are signs posted at locations currently hosting mud snails that outline protocol. The number one precaution, experts indicate, is to check one's clothes, shoes, fishing gear, boats, and anything else brought to the Creek.
These precautions cannot only prevent the spread of New Zealand mud snails but also of other invasive species.