The Bus Stops Here: For a Participatory Democracy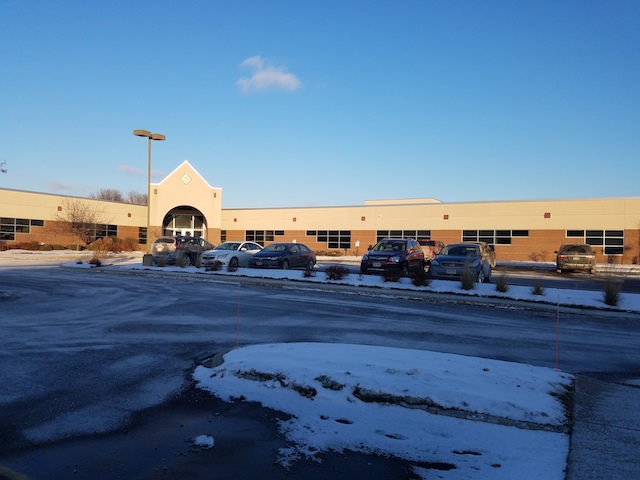 The new Department of Motor Vehicle Customer Service Center at 8417 Excelsior Drive (Photo Courtesy of MABA)
One of the many examples of the disconnect between public transportation and land use in Madison that has been disenfranchising transit-dependent people for years is the impending relocation of the state's Department of Motor Vehicle (DMV) Service Centers on the west side. The new location will make it more accessible to car travel but less accessible to bus travel.
One must go to a DMV Service Center to obtain the photo ID card now necessary for both voting in Wisconsin and receiving many federal services (i.e. a "Real ID," passports can also be used at federal agencies, but are more expensive).
Governmental and non-governmental organizations have for decades been relocating offices from oftentimes cramped quarters downtown to more spacious accommodations in car-centric and sprawly fringe areas of Madison. The Madison Area's own Transportation Planning Board (MPO) moved its meetings from downtown to a location with limited transit access some years ago.
What is unusual is that the DMV's current move has gained widespread attention to the point that the City of Madison recently issued a civil rights complaint about it to the U.S. Department of Transportation. The complaint states that the move makes it more difficult for people who rely on public transit, including people of color and people with disabilities, to obtain the ostensibly free photo ID needed to vote in Wisconsin.
The question is whether the complaint about access signifies a new awareness on the part of the City of Madison's leaders or whether those leaders consider the move a special case. Do they see the DMV's move as just one more example of the deleterious impact of current land use policy on participatory democracy, environmental sustainability and social justice, or do they see it unconnected to a more general disenfranchisement of transit-dependent people and at least tacit support for environmentally and socially unsustainable living?
This is not an idle question: one can easily argue that civic participation should not be limited to voting, that environmental sustainability should not be limited to driving electric cars and that social justice should not be limited to voting for someone who can only attend meetings by virtue of traveling there by car or bicycle.
But participating in our supposedly democratic society is becoming increasingly difficult or downright impossible for someone who relies on the bus. Even so-called public community centers in the City of Madison are relocating to places that are similar or even worse than the new DMV location on Excelsior Drive when it comes to access by transit.
The DMV's service center on Madison's east side has been located at 2001 Bartillon Drive for years. It is East of Stoughton Road but West of U.S. Highway 151. With great accessibility for cars both inside and beyond the city of Madison, it is serviced hourly by the #6 bus on weekdays and by the hourly #20 or #34 buses on Saturday mornings. The bus stop is nearby at Kinsman Blvd.
The DMV's service center on Madison's west side beginning January 22, 2018 will be located in a mini-mall at 8417 Excelsior Drive, west of the Beltline near Middleton but still within Madison city limits. Nicely situated to be accessible by car, the nearby bus stop is only serviced one way by the #15 bus during peak hours on weekdays and by an hourly #68 bus on Saturday mornings. It travels from east Madison in the morning and back toward east Madison in the late afternoon. During the middle of a weekday, the #73 bus stops about a third of a mile away from the building. The bus stops do not have shelters.
The current DMV Service Center at 4802 Sheboygan Ave. until January 19, 2018 has sheltered bus stops directly in front and across the street from its entrance. The stops are serviced all day by bus numbers 2, 15, and 10 buses and additionally at peak hours by the #56 and #57. Two blocks away on University Ave. there is another set of bus stops serviced by yet other peak-hour and off-peak routes. The proposed starter Bus Rapid Transit line is expected to have a station nearby.
The Hill Farms State Office Building on Sheboygan Ave. was built in the middle 1960s on 22 acres of land. Much of the land was rather inefficiently used to make huge big surface parking lots. Developers now suggest that the parcel is big enough to accommodate a parking structure with even more stalls than at present, a hotel, apartments, retail space office space and a new state office building.
The new state office building will house a number of different state offices currently sprinkled around the city: The departments of Transportation, Employee Trust Funds, Safety and Professional Services, and Financial Institutions; the Public Service Commission; the Wisconsin Employment Relations Commission; the Higher Educational Aids Board; the Educational Approval Board' and the Dept. of Aministration's divisions for hearings and appeals and facilities management.
Given such consolidation, it is natural to ask why the new building might not also house a small office exclusively devoted to processing requests for a photo ID. A recent press release on the move suggests the move was designed to increase access.
According to the press release, "the new Madison West OMV location is just off the Beltline and provides an opportunity to better serve the Greater Madison Area and growing areas of Dane County and beyond. The new OMV Service Center is the closest five-day location for customers living in parts of Columbia, Green, Grant, Iowa, Lafayette, Richland and Sauk Counties - though there are a number of offices in these counties that offer 20 hours of service per week."
The question is "whose access?" now that the DMV has been tasked with providing the photo IDs that transit-dependent people must have to vote. One suggestion has been for the city to provide additional bus service, but the apparent response has been to file the complaint instead. Perhaps showing naïvitè or ignorance here more than anything else – our suggestion would be to deputize Madison's City Clerk so her office could process requests for the requisite photo IDs.
Doing so would negate the need for an additional office in the new state office building. This would provide better access to the wider region and there would also be reasonable access to transit riders.