The Perfect Holiday Gift: Learn to Keep Bees!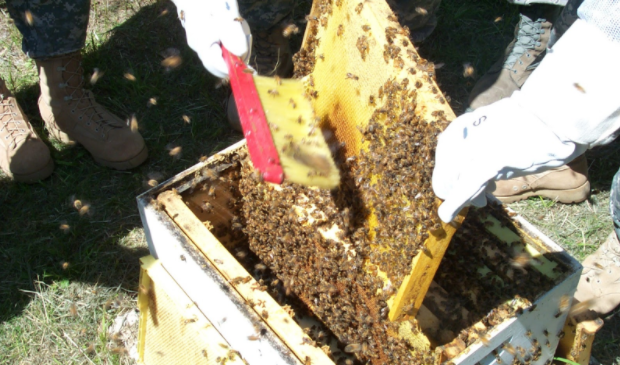 Jeanne Hansen shows the inside of one of her hive, where the bees reside on the combs. (Photo by: Jeanne Hansen)
Jeanne Hansen will teach Madisonians the art of backyard beekeeping through her annual classes, starting in January and running through May.
In one day-long class, attendees will learn what is necessary to start their first year of keeping backyard bees, gain hands-on experience with beekeeping equipment and taste honeys and pollens.
"The class is a lot of fun. I don't have any powerpoint; I bring in actual props like a hive and all of the tools. I pass around different types of honey for tasting and during the breaks. I even allow people to take the hive apart, handle it and touch it," Hansen said.
Capital Bee Supply, a family owned Madison business, will hold a commercial exhibit at the classes where attendees can purchase honey, candles, plans for building a beehive and other pieces of equipment.
The beekeeping classes started nearly six years ago when a member of the Dane County Beekeeper Association suggested that the club sponsor beekeeping classes. Hansen, a founding member the Dane County Beekeepers Association, originally taught the classes with two other members. She looks forward to answering questions and discussing Wisconsin beekeeping in her own lecture-style classes for 2017.
Hansen first started beekeeping on the East side of Madison in 2008 after she retired from her life-long career as a chemist. Her inspiration was her dedication to saving the bees – and her husband's love of honey.
"The beekeeping community is swelling. There seems to be an unabated interest in keeping bees, and people always come to our club out of the woodworks. I live on the east side and I swear there's a bee hive every third block all around me," Hansen said.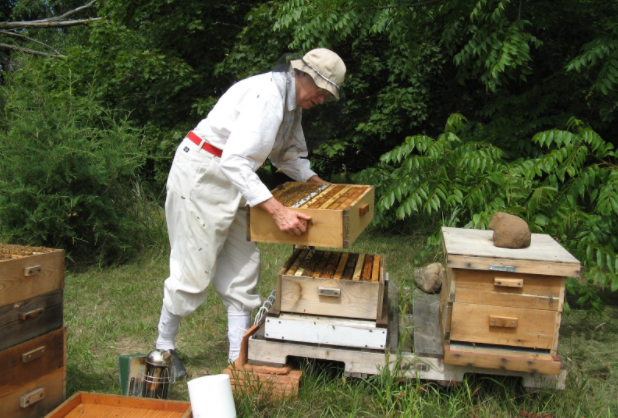 Jeanne Hansen regularly disassembles her hives to inspect her bees to make sure they are healthy, monitor honey levels and to check if there is space for the bees to grow. (Photo by: Jeanne Hansen)
Members of the Dane County Beekeepers Association helped design Madison's beekeeping ordinance that makes beekeeping enjoyable and possible.
Hansen hopes that her classes help the Madison beekeeping community continue to expand.
"It's important to the bees. The bees need beekeepers. There just aren't hollow trees like there used to be where bees can naturally form hives, so bees have trouble finding somewhere to live. Beekeepers providing hives and care benefits the bees and the city because the pollination helps the gardens and the trees all around," Hansen said.
The classes will take place Jan. 21, Feb. 18, March 11, April 8 and May 6 in the Lyman Anderson Building from 9 a.m. until 4 p.m. To register for a class, contact Hansen at 608-244-5094 or jeanniealabeannie@yahoo.com. The $50 registration fee covers coffee, handouts, free sample journals, catalogues and props.
A second-step class will be held on March 18 for those who have already kept bees one year and have additional questions. Individual, hands-on mentoring is also available for beekeeping.
For anyone interested in a free opportunity to learn more about bees, the Dane County Beekeepers Association also holds monthly meetings on the first Tuesday of the month from 6:30 p.m. to 8:30 p.m. at various libraries in Madison.