Urban Wood projects showcased at Atwood Urban Forest Fest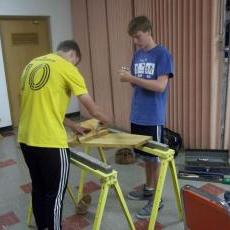 Members of Boy Scouts Troop 34 build a bench out of urban wood that will sit outside Trinity Lutheran Church (Sean Kirkby/Madison Commons)
Despite rain that canceled many of the Atwood Urban Forest Fest's events, a small group of neighbors, churchgoers and environmental advocates showcased objects made from urban wood Saturday at Trinity Lutheran Church on Winnebago Street.
Urban wood comes from trees that are not harvested for their timber value, such as those that are damaged or diseased, according to Twink Jan-McMahon, executive director of Sustainable Atwood, which hosted the event.
She said the Atwood neighborhood has more than 8,000 private and public trees that comprise its urban forest.
"When those trees come down, they turn to chips and firewood," Jan-McMahon said. "We want to change that because there are many, many more things we can make out of the exact same trees."
For instance, Jordan Henkel, a participant in a woodworking program at Madison College, used locally-donated urban wood to build a bicycle, according to Jan-McMahon.
Sean Gere, owner of Gere Tree Inc., also brought other items made from urban wood to the event, including a bat made from a black locust tree, a platter made from butternut and a bowl made of amur corktree from Olbrich Botanical Gardens.
"I'm awed every single time I see the amazing things that can be done with wood," Gere said. "You can extrapolate out to so many other things we waste that can be re-used."
The festival also included the dedication of a Little Free Library made from urban wood and containing stained glass windows, which will be placed outside of the church. During the event, a group of Troop 34 Boy Scouts used urban wood to build a bench that will be placed next to the library.
"I am absolutely thrilled to see both the library and the beautiful bench in front of our church," said Sheldon Elleston, a member of Trinity Lutheran Church. "It's going to be a grace to our church and a beacon of joy to our members and hopefully to our whole community."
Jan-McMahon said the missing link between urban forest resources and supporting the forest is getting the public to buy local wood or locally-produced products from urban wood.
"It's more expensive dollar-wise but not economy-wise," Jan-McMahon said. "It really supports the local economy and local jobs."
Jen Voichick, Habitat for Humanity of Dane County ReStore director, said the ReStore is working with The Wood Cycle of Wisconsin to sell urban wood at its West Side location. She said they are offering "Dane County Blend Flooring," which consists of urban wood from throughout the Madison area.
Voichick said the location has only sold urban wood for the last three weeks and is planning to launch a publicity campaign to let the public know about the product.
"It's the first partnership we've ever had with a local entity outside of the ReStore, so it's a nice thing to start because it has to do with re-using trees," Voichick said.
The wood is kiln-dried, killing any potential infestations. Voichick said those interested in purchasing urban wood or in finding out more can visit www.restoredane.org
Sustainable Atwood, supported by a grant from the Wisconsin Department of Natural Resources, also offers other services to the community such as "Green Tuesdays," where the organization shows free movies that focus on sustainability efforts, Jan-McMahon said.
The organization also runs a community solar program, the first of its kind in Wisconsin, in which neighbors loan the organization money to build solar panels, according to Jan-McMahon. Sustainable Atwood pays them back at low interest rates. Urban forestry also goes hand in hand with spreading solar energy, Jan-McMahon said. Neighbors who want solar energy but have trees shadowing their roofs can partner with other neighbors who have sunny roofs to receive green energy without having to cut down trees.
The organization also focuses on other programs too, such as working with Madison Metro Transit to encourage people to ride the bus by offering Sustainable Atwood Commute Cards.
"One of our goals is to be a zero carbon community, and so we're trying to get as many people on alternative forms of transportation as possible other than fuel-oriented," Jan-McMahon said.
Sustainable Atwood plans to host the event again next year, and Jan-McMahon said they hope to make it a model for other Madison neighborhoods and other cities to follow.