Verdict in Trayvon Martin case spurs community conversation
The room at the Urban League of Greater Madison wasn't large enough to fit the crowd. People of diverse backgrounds filled the chairs and spilled out of the double doors, many watching from outside the room's glass wall.
They had all come to the forum Tuesday evening to discuss the verdict of the George Zimmerman trial, in which a Florida jury found Zimmerman not guilty in the killing of teenager Trayvon Martin.
The dialogue was led by a panel including UW Professor Gloria Ladson-Billings, Madison Urban League President & CEO Kaleem Caire, Pastor Everett Mitchell of Christ the Solid Rock Baptist Church and a former prosecutor, 100 Black Men of Madison President Floyd Rose, and Dane County District Attorney Ismael Ozanne*.
Panelists used the first half of the forum to introduce the subject of how people of color – particularly black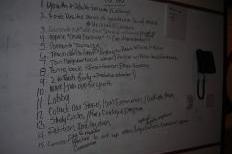 Attendees brainstormed possible local responses to the issues raised by verdict in the Trayvon Martin trial (Susan Endres/Madison Commons) men and boys – are treated in Madison and elsewhere in the U.S. Many audience members and panelists shared personal stories of how they or a loved one had been racially profiled or otherwise mistreated.
Audience member Gaddi Dan said he appreciated the conversation about how black men have to be careful everywhere, including in Madison, because of the assumption that they are dangerous.
"We are an endangered species, we really are," he said.
Rose, president of the Wisconsin Supplier Development Council, described the Martin case as similar to that of Emmett Till, a 14-year-old African American boy who was murdered in 1955 for allegedly flirting with a white woman in Mississippi.
Mitchell, a former prosecutor, provided a legal overview of Florida's "Stand Your Ground" law as well Wisconsin's "Castle Doctrine" law. He characterized both as reminiscent of the "Wild, Wild West," where "the only person who actually can say anything is the person that's left standing."
Throughout the forum, participants encouraged civic engagement in many forms, especially in regard to getting better laws in place and repealing ones like "Castle Doctrine." Representatives from the League of Women Voters offered to register people to vote after the meeting.
Comments from the audience followed the panel's presentations. During the input, many people suggested what the community could do to continue the dialogue and prevent another tragedy from happening. A "To Do" list was compiled on the white board at the front of the room with the following points:
1. Youth + adult forum/exchange
2. Post positive stories of youth via social media #HeIsNotASuspect
3. Advocate outside our sphere of influence/as well as inside
4. Oppose "Castle Doctrine"?? Can it be repealed??
5. Community journalism
6. Teach our children their "History" – return to civics in school
7. Join neighborhood watch/partner w/police – law enforcement
8. Bring back African American Ethnic Academy
9. 2 to Tech (early + productive education)
10. Work/job opp for youth
11. Lobby
12. Collect our stories (son's experiences/look into them)
13. Study circles/race dialogue program
14. Petition/Don't lay down
15. Contact City of Madison to set up voters registration training classes
One audience member, Alice Traore, said she hopes people follow through with the list, because she "would love to be a part of it."
"I'm glad to see the conversation is ongoing and that people didn't just rally soon after the verdict and then nothing else was done," Traore said. "And I'm hoping that the conversations, especially that affect our community, continue."
Dan agreed.
"The more we come together, I think, the more we understand each other's thinking and culture," he said. "That's what it is – a culture divide. You know, we come from different backgrounds and so we look at everything from the way we were programmed. We've got to get away from that. We've got to start understanding everybody's culture."
Despite the positive response toward the Urban League's community forum, Martin and Zimmerman never left the collective unconscious.
"I'm still stunned," Traore said. "And I can't get over the fact that a lot of individuals – there was this lack of compassion felt that – that a life was lost...that the loss of this young person's life was dismissed in a lot of people's eyes, and that really makes me sad that any loss of human life could be so casually dismissed."
Another audience member, Linda Oakley, commented on the legal aspect.
"I think that (talk radio host) Randi Rhodes said it best when she said 'what we accomplished was finding a dead man guilty for his murder,'" Oakley said.
*An original version of the story mistakenly said Associate Outreach Specialist for Interdisciplinary Studies at UW-Madison Stan Woodard was present on the panel.