Why did the turtle cross University Bay Drive?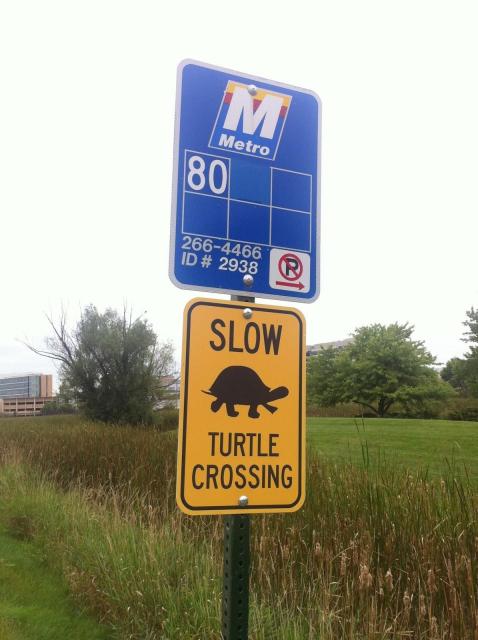 Gary Brown, director of the Lakeshore Nature Preserve, said the yellow Turtle Crossing signs will be moved to Temin Lakeshore Path later this year. (Aparna Vidyasagar/Madison Commons).
Cars driving along University Bay Drive are likely to share the roadway with an unusual traffic companion - turtles.
Each year many species of turtles native to Lake Mendota make a perilous journey from the water towards the Class of 1918 Marsh. The marsh area is an ideal nesting ground for female turtles to lay their eggs. Months later, once the eggs hatch, the new hatchlings have to make their way back towards their aquatic habitat.
Between these various comings and goings, turtles traverse University Bay Drive through much of the year. Species commonly making that journey are snapping turtles and painted turtles. Though rare, Blanding's turtles are also seen.
Brendan Reid, a doctoral candidate in the department of Forest and Wildlife Ecology at the University of Wisconsin-Madison, said turtles begin their journey towards their nesting grounds once the ice melts on the lake. Snapping turtles are the first, and start out in late May.
"They start moving around dawn or dusk which makes them harder to see for those who are driving; even though they are pretty large," Reid said of the nesting females that weigh 10 or 15 pounds.
Reid adds that painted turtles travel all through the day.
So how effective have the signs been at preventing casualties?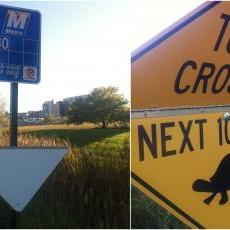 New, larger, turtle crossing signs are now up along University Bay Drive, but folded until peak turtle crossing season (Aparna Vidyasagar/Madison Commons).
"We don't have specific counts," said Gary Brown, director of the Lakeshore Nature Preserve, the group which manages the preserve, conducts research and outreach. "I think we have had less turtle mortality since the signs have been up."
Brown says that group tries to make sure people are aware of the turtle-traffic. They even let bus drivers know ahead of time during peak turtle-crossing season.
Still deaths do occur.
One weekend in June, Mickey Schaefer, a retired special education teacher, saw a bloody, barely moving snapping turtle that looked as if it had been hit by a car near the entrance to Picnic Point. She and a parking lot attendant called the Dane County Humane Society, which came by and took the injured turtle.
"There used to be big (white) sandwich boards, Schaefer said. "This year (as of June) those signs were not up. The turtle crossing sign is on the bus stop pole, and it is yellow and small. In my opinion nobody would see that and know that it is a turtle crossing, because nobody drives that slow."
Later that same weekend, Schaefer had the opportunity to remedy the situation. Having witnessed two snapping turtles stuck in a fence by the storm-water basin near Lot 60, Schaefer called the Friends of the Lakeshore Nature Preserve, a group of volunteers who work closely with the Lakeshore Nature Preserve to protect the area and conduct outreach. By Monday, Gary Brown of the Lakeshore Nature Preserve had arranged for two large white sandwich boards at either end of University Bay Drive, and raised the fence so the turtles could move freely. (A full account of Schaefer's story is found on the Friends of the Lakeshore Nature Preserve blog).
However, the white sandwich boards have now been taken down. Brown says they are only used when turtles are actively migrating from the Lake to the marsh for egg laying. The group has now installed new, larger, yellow folding signs on posts all along University Bay Drive. These signs will be permanent.
For now, you may still catch a snapping turtle or two. According to Reid, newly hatched snapping turtles move towards the horizon and their aquatic habitat, from late summer into fall.
A photo of newly hatched snapping turtles can be seen on the Dane County Humane Society Facebook page.