Wild turkeys making themselves at home in Madison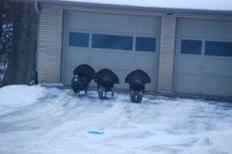 Turkeys visit a driveway in Madison, which is an increasingly common occurrence (Photo by Beatriz Botero)
A few decades ago, the only turkey Wisconsin city dwellers saw was on Thanksgiving next to a side of stuffing. Today, however, it is much more common to spot turkeys in your backyard eating seeds that have fallen from the bird feeder, or down at the local park munching on grubs.
"The answer is pretty simple," said Walter Scott, Upland Wildlife Ecologist at the Department of Natural Resources. "Our wild turkey population was reintroduced about 35 years ago...in the southwestern part of the state out in remote agricultural country.
Scott said that as the wild turkey population increased, it expanded into suburban settings, and in some cases urban areas like Madison and downtown Milwaukee.
Turkeys move into city areas in search of favorable habitats, according to David Drake, associate professor in the Department of Wildlife Ecology at UW-Madison. He said they seek places with food resources as well as space to raise their young and avoid predators.
During his time in graduate school, Drake said he was taught that turkeys needed large, unbroken expanses of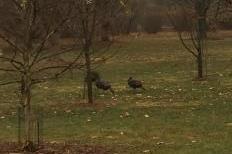 Wild turkeys walk in the Arboretum. Madison is home to a growing number of the birds (Franco Latona/Madison Commons). land with a mixture of forested areas and open fields.
"That proves to be not necessarily the case," he said. "They're actually pretty adaptable and flexible in being able to satisfy those habitat requirements, so this has allowed them to move into these urbanized areas."
Turkeys are not scavengers like raccoons or opossums, so they won't dig out the leftover pizza crust laying in your dumpster. But they do eat a lot of seeds, berries, grubs and insects that are plentiful in urban and suburban areas, according to Drake.
And because these types of foods can often times be found on people's land, it can lead to encounters between turkeys and humans.
Scott said that the DNR receives calls from homeowners who are concerned about turkeys on their property, especially when they exhibit unwanted behavior. Turkeys might be attracted to a property, for example, because of the seeds lying on the ground around the bird feeder. And once there, may become aggressive towards children playing in the yard.
"There have been lots of reported cases — and there's actually a lot of interesting video on YouTube — of turkeys chasing children, chasing mailmen, and attacking their image in car windows or house windows," he said.
Drake said that turkeys tend to become more aggressive during mating season when hormones are surging in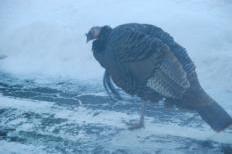 A wild turkey walks along a driveway in Madison (Photo by Beatriz Botero) their bodies. He said that if a person encounters an aggressive turkey, a good response is to flee the area. He said turkeys will typically give up chase once the person is no longer in the area of perceived threat. If that doesn't work, though, Drake said that making oneself as big as possible by extending the arms, or swatting at the turkey with a light object like a bag will usually work.
But by and large, turkeys do not pose a serious threat to people in urban settings, and that is the message Scott would like everyone to be aware of.
"In general, what I would hope, is that people in cities who may not encounter wildlife will appreciate the fact that they've got this well-adapted species in their backyards to enjoy," he said.