At Graft, The Food Is All About Connection
Finding locally sourced menu options can become more of a challenge during the winter season, but for Graft, close partnerships with farmers, growers and producers allow for a local food component on the menu year-round.
Since the restaurant opened last July on the Capitol Square, founder Lucas Henning said the main mission has been to foster connections in the Madison community by bringing people together to enjoy small plates showcasing a bounty of ingredients from all over the Midwest.
"We take all of the hard work from our farmers and highlight it. For example, we work closely with Dan Fox the owner of Heritage Farms. His family raises hogs and chickens, so knowing his culinary background and attention to detail, knowing that quality is paramount to them and that they are transparent about the cuts of meat— it's a really easy relationship," Henning said.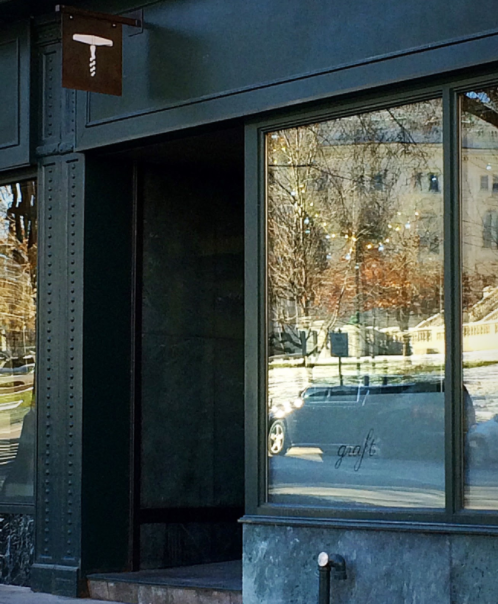 Graft is a small plates restaurant inspired by wine and the ingredients found all over the Midwest. (Trina La Susa/Madison Commons)
Graft also maintains long-term partnerships with other local farms in the Madison area such as Vitruvian Farms for mixed greens, Hickory Hill Farm for stoneground corn products and Elderberry Hill Farm for most of their produce.
"In the winter we try to work with some farmers who do alternate planting schedules for us, and some have winter greenhouses. Our preference is always to get food from the closest location we can, but sometimes we have to bring some items from out of state because our bodies need green vegetables during the winter and people prefer to eat them," Henning said.
Items like seafood are often from out of state near the Atlantic Coast, but most of the menu is from in state and the Midwest region. A local Milwaukee vendor named Mushroom Mike LLC also provides forest products like mushrooms and Highland Spring Farm in Oregon, Wisconsin, provides their beef.
"The gentleman that we purchase Scottish Highland Cattle beef from, Kevin of Highland Spring Farm, only processes two cows about every two weeks. We buy 100 percent of his ribeyes, strips, tenderloin and we put it on our menu as featured Midwest beef because we're probably going to run out of one types and move to the other because it's such small scale production," Henning said.
Henning said the relationship over the long term is by far more important than an additional cost for the week. The restaurant receives the best cuts of meat from Highland Springs and as a in favor they also pick up some of their items that may not sell as well.
These items also allow Executive Chef Travis Vaughn more creative opportunities with the menu to work with new quality products.
"A lot of the menu extends directly from the farms, they send us product lists that tell us what they have and it pushes the creative process. My job is to put as much of it on the menu as I possibly can for people to enjoy. I cook seasonally with the weather as well as the product," Vaughn said.
Vaughn said the small plate dining experience that Graft offers brings a sense of hospitality and inspires conversation about the growing Madison food community.