Lothlorien's Co-Op's future is put to a vote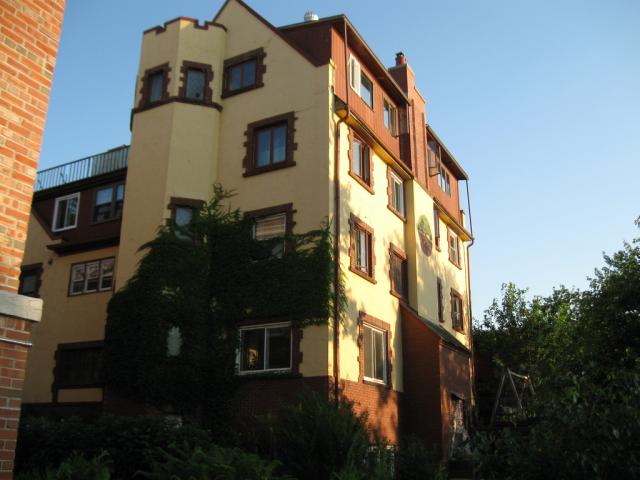 Lothlorien Co-Op, shown in 2009, suffered severe damage in a fire this September. Madison Community Cooperative members are voting whether to rebuild or sell the property (Courtesy of Lothlorien)
Cooking, organizing, cleaning, buying food, running a business, finances, advertising: all are part of daily life in cooperative housing. Fundraising and campaigning to save your home, though? That's something new.
Lothlorien Cooperative, one of eleven houses operated by Madison Community Cooperative (MCC), was damaged in a fire on Sept. 11, 2013 and has sat empty since. It now faces a referendum about its future, as MCC members will decide at the ballot box whether to rebuild the house or sell the property.
The vote began Mar. 25 and will run through Mar. 31. More than two-thirds of MCC members must vote yes in order for the referendum to pass and the building to be sold.
Those involved say what is at stake is more than just the sale of the building. Lothlorien residents say the Co-op is a unique part of MCC, and its loss would damage the organization in a variety of ways. MCC board members vary in their positions on the issue, although many officers say that the costs of rebuilding Lothlorien would strain the cooperative's finances to point where it may not be able to serve its other 10 co-ops.
Lothlorien is the biggest housing Co-op in Madison and Wisconsin. It is one of the MCC's oldest properties, purchased in 1973, when the organization was only five years old.
Glyphia Doulas, an eight-year member of Lothlorien, said the purpose of living in a cooperative house is the system of support you gain by living in a home with many different kinds of people.
"Lothlorien is a beautiful, transformative, educational environment. People come there and they learn all kinds of things," Doulas said. "We work hard to have a diverse community that actually works."
Members of the Co-op say they were surprised by the referendum, which was announced at a meeting on March 4. They did not know that the house was seriously being considered for sale until the end of February, according to Lothlorien member Elijah McCloskey. He said the process authorizing the referendum has not been as transparent as many members have hoped.
Since the meeting in early March, Lothlorien Co-op has raised $27,240 as part of the grassroots campaign "Friends of Lothlorien" that members have started to save their home.
MCC Coordinating Officer Haven McClure, who has professional experience in fundraising, said the fundraising efforts will not be able to reach the dollar amounts needed to make preserving the building make financial sense. According to Maintenance Officer Michael Carlson's estimate, the repair costs will be about $816,000, including fixing code violations. The insurance settlement from the fire came to a little less than $350,000, McClure said.
"In my view, I've never seen a more lopsided financial decision than what I'm seeing here," McClure said. "It comes down to a half a million dollar in reserves versus a half a million dollar debt.
That debt, he said, will threaten MCC's ability to work with the other affiliated co-ops.
"The bottom line really is, this kind of debt may jeopardize our ability to serve all of the Co-ops," McClure said. "In a cooperative of 11 organizations, is it fair for one house to consume more resources than the organization currently has?"
Lothlorien members disagree that the financial breakdown is really that clear cut.
McCloskey, 26, a business student at UW-Madison and local entrepreneur, said an analysis conducted by him and another accountant, using MCC financial data, suggests the repair costs would be lower than the cost of acquiring 31 new rooms, the number at Lothlorien.
According to those figures (attached to this article below), repairs would cost $31,000-39,000 per room, where purchasing 31 new rooms would cost between $44,000-52,000.
"It is simply less expensive on a per room basis to repair Lothlorien," McCloskey said.
Longstanding Lothlorien member and general contractor Haralambos S. Tsivicos said he would donate his services to rebuild the house and believes the costs will be much closer to the insurance settlement.
"After carefully studying the damage to the property, the list of code violations, and the existing floor plans of the house, tied in with my knowledge of the home after living there for years; the cost to repair the fire damaged areas without hiring a general contractor and hiring all of the subcontractors and project supervisors ourselves would cost us no more than $350,000 at an absolute maximum," Tsivicos said in a letter to the MCC board.
MCC Financial Officer Mark Norton said he is undecided on whether or not to sell the property.
"I personally do not think rebuilding is a good financial decision," he said. "For the money to work out too may optimistic assumptions need to fall into place. There are also community and neighborhood aspects that are part of this decision, though. At least for me, this decision is not solely about finances."
The Co-op community extends beyond a single house. Members from a Co-op in Berkeley, California, also called Lothlorien, have reached out to members in Madison with their support.
Alfred Twu, a Berkeley Student Cooperative boarder and worker in the Bay Area architecture and real estate industry, estimated the cost of repairs may be reduced by 33 percent if options like Community Build were taken into account. This would bring in professionals to train volunteers to perform simpler aspects of the construction work.
Doulas said that option appeals to current and former Lothlorien members, alumni and other volunteers, who say they would be able to help repair the building with tasks such as painting and laying drywall.
"We want to be a part of the process in making our home livable again," Doulas said.
McClure said talk of volunteers doing the work "doesn't take into account the skill set needed to make the repairs."
According to McClure, Carlson, the MCC maintenance officer previously worked at Habitat for Humanity and other similar programs and has experience with these types of projects.
"The Board has been discussing this since January and staff have had numerous conversations with members of Lothlorien over that period of time as well," McClure said. "No one is happy about the fact that our backs are against the wall on this. I think it's easy to think that 'oh, somehow there must be some other way that hasn't been considered,' but over several months of discussion, I haven't heard anything that sounds viable to me."
Despite the debt that MCC would assume if it rebuilt the house, McCloskey said the value of a rebuilt Lothlorien would help MCC in the future.
"We'd lose a really important part of MCC history and remove a huge asset," McCloskey said. "In the future, we can borrow against (Lothlorien) to start other co-ops. In fact, we have about four times in past."
History has been a rallying point for Lothlorien and MCC alumni, who have spoken out against selling the house.
"There are a lot of people who have a connection to this space and want it to be preserved because they had a great experience and want others to have that experience too," Doulas said.
Tsivicos volunteered his contracting service out of a love for the building.
"Losing Lothlorien to me will be losing a part of me forever, and it is a wound that will not heal, this I know," Tsivicos said.
Former MCC board member Gregory Gelembiuk said in a letter to the MCC Board of Directors that the way in which the referendum was initiated violated MCC bylaws.
"In the past, a decision of this nature and magnitude would never have been made without one or more General Membership Meetings for discussion/deliberation," Gelembiuk said. "The whole point of General Membership Meetings is to allow full and open deliberation, to prevent faulty decisions from being made."
Doulas said the loss of the building would damage the spirit of cooperative housing in Madison.
Doulas said Lothlorien's size "allows for us to take more people that have more needs." A diverse group of people live in the Co-op, including disabled people, veterans, and single mothers.
"People are at different points in their life and they need more support sometimes than they can give," Doulas said. "If your needs are not met, you aren't going to be able to help someone else meet their needs. Sometimes not everyone can contribute equally, but they still have valuable skills and resources to bring to the community."
"When you give to a community, you get back much more than you give," McCloskey said. "It's synergetic. By giving, it's compounding, there's more available for everybody."
The controversy over selling or rebuilding has raised some tension within MCC.
"Understandably, this is an emotionally charged issue and has been a major strain on all of us," McClure said.
"I want to be clear, I'm not accusing [MCC Officers] of maliciously trying to destroy our house, I know they have the best interest at heart," McCloskey said. "I think some of them have a flawed understanding of the finances."
Friends of Lothlorien are seeking support at their Facebook page and their gofundme account. McCloskey's bike shop, Bike Right, is giving away free tunes up and a T-shirt for those who donate $65 of more to the cause.
"MCC needs to save Lothlorien to save itself," Doulas said. "Because I don't see people in the organization being able to trust that the bigger organization is going to be there when they need it if they're not there for Lothlorien now."
"That breaks my heart to think of a developer tearing down that house down and putting as many units on top of it as they possibly can like they've done on other spots in the Langdon neighborhood," Doulas said.
"It's an established co-op. It's been there for 40 years, you know it works there," Doulas said. "If it's sold now, MCC will never have a property like that again. You can't replace it."