Madison Commons Virtual Garden Show: Eagle Heights Community Gardens brings diversity to Madison gardening
This is the third in a continuing series of snapshots of some of Madison's community gardens, a "virtual garden show." For more, click here.

Tucked along the outskirts of the University of Wisconsin-Madison campus, beyond the winding Lakeshore Path and within the Lakeshore Nature Preserve, the Eagle Heights Community Gardens (EHCG) rest on a quiet hillside.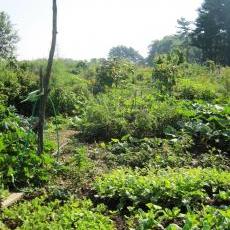 Lined with rows upon rows of diverse vegetables, fruits, flowers and plants, Eagle Heights Garden and the nearby University Houses Garden serve as gardening oases for Eagle Heights residents, UW students, faculty and staff, alumni and community members.

One of the largest and oldest community gardens in the country, this natural, quiet getaway covers roughly 10 acres of University land on the Lakeshore Nature Preserve, providing over 500 community members the opportunity to garden their own plot of land, co-chair of the EHCG Garden Committee, Kimberly Koch said.
Gardeners, whether individuals, groups or families, apply for a plot, pay a small fee and then freely grow and develop it throughout the season, providing foods for themselves, family and friends.
With the majority of plot holders coming from the Eagle Heights and University Houses apartments, the housing location of many University graduate students and staff, the unique characteristics of the gardening community is apparent when roaming the paths between garden plots.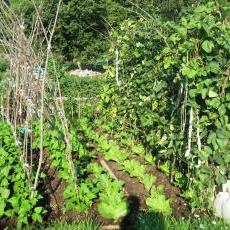 While strolling the grounds, visitors and gardeners may spot Asian beans and cucumbers, non-native lettuces and ginger intermingled with cherry tomatoes, flowers and other local produce, Koch said.

The diversity of the community is also reflected in the gardening practices used by gardeners, such as the practice of growing vines, hanging beans and other vegetables along trellises in their plot.

Throughout the gardens, these unique plots line up next to each other, two in each row with a path leading between them for gardeners' access and visitors' wandering pleasure.
Surrounding these paths on the north and east edges, fruit trees of many kinds—apple, pear, plum, cherry and peach—serve as shared produce and a shared space for community members.

The trees and walking paths, a compost and mulch pile, water supplied by an extensive irrigation system, gardening tools, wheelbarrows and, of course, the sun, all serve as part of a shared, cooperative community, Garden Worker Emma Schroeder said.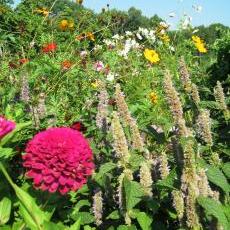 Given the large size of the community, maintenance and decision-making is left to the co-chairs of the Garden Committee, like Koch, and three hired garden workers, like Schroeder, who make daily decisions, maintain the upkeep of shared spaces, coordinate meetings and direct organization of plots, Schroeder said.
"It's really about the people and the spaces they create more than the organization, even though somebody has to manage a community that's this big and disconnected," Schroeder said.
To ensure all members of the community garden contribute to regular maintenance of the grounds, each gardener must participate in at least one three-hour volunteer day per growing season, she said.

During these volunteer days, gardeners conduct routine tasks or execute a new project, such as the building of stone terraces to prevent erosion of paths and garden plots on the sloping hillside, Schroeder added.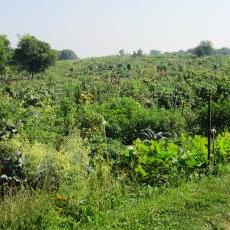 Despite the size of the gardens, the community is friendly, with plot neighbors and friends sharing daily conversations, gardening tips, produce and plants, Koch said.
Koch herself shares a neighboring plot with a non-native English speaker. Although there is a linguistic barrier between the neighbors, they still interact through their gardens.

"It's those sort of interactions that could be super stressful if you were in a different situation but because we are trying to communicate over a chive, it's just kind of fun," she said.

For both Schroeder and Koch, who each have their own garden, EHCG provides a relaxing escape and a community of friends, as it does for many others.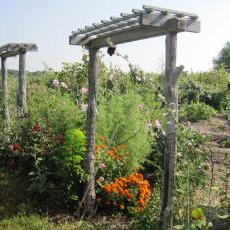 While Schroeder said some may think the gardens lack a cohesive community, communities like EHCG require people to go out and create their own connections.

If a gardener does so, Schroeder said, they will find many people at the garden exchanging plants and flowers, and discussing how to preserve foods.
"There are a lot of different things about being here that are good; I just like the feel of the place," she said. "It's a good place."