Madison Commons Virtual Garden Show: Triangle Neighborhood Garden is home to a diverse population of growers
This is the sixth in a continuing series of snapshots of some of Madison's community gardens, a "virtual garden show." For more, click here.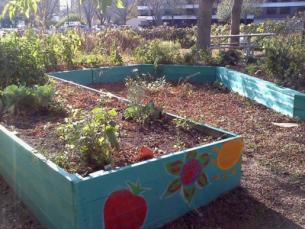 Strawberries, herbs, melons, oh, my! These are just a few of the delights that grow in the Triangle Neighborhood Garden, off Park Street, near the Bayview Center.
The garden is unique, not just for its variety of produce, but for the people that tend to it. Residents from all walks of life work together, planting exotic and uncommon foods.
"It's an interesting garden…because there's so many different things planted," said Sheri Harper, Manager for the Bayview Foundation, Inc.
Okra, kale, chard, and dill are available, as are berries, squash, melons, and a variety of peppers.
All area residents have easy access to the gardens; the paths are handicap accessible, and the entrance is just feet away from the Bayview Community Center, offering a friendly invitation to participants of all ages and backgrounds.
Steve Jacobson, a resident at Brittingham, explained that the Triangle Neighborhood has roots dating back to the early 1960s, when President Lyndon B. Johnson announced his "Great Society" initiative to eliminate challenges placed upon low-income citizens.
The garden first started after the Triangle Neighborhood received a grant from the city to launch a children's growing program. Soon, residents of all ages began working in the space.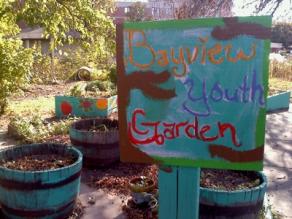 Today, the neighborhood consists of Brittingham, Park Side, Gay Braxton, Bayview, and Karabis Apartments. Many families have lived in the neighborhood for generations, coming together to form a community ripe with culture and spirit.
"When the windows are open, especially at night, it's a very, very noisy community. Everyone's talking, talking, talking, talking. Children are playing, playing, playing. So it's a very interesting neighborhood," said Harper.
While there is no formal criteria for sharing the gardening space, and Jacobson said that growers are encouraged to consider how much space they want, and how much they can handle before planting. Small, but intensive growing sections are the norm.
Since its founding, gardening endeavors have grown in participation and size. In fact, the gardens are so popular, that additional plots have been added to the property to accommodate a demand for more space.
"I would say 80% of the people have gardens out in front," said Harper. "Some of the most amazing things here is up over the balconies—these thin vines will grow, and off of the balconies will be these giant melons and you'll think, 'How can that vine possibly hold that?'"
Several families maintain small gardens outside of their living quarters. A plot operated mostly by Hmong women is home to medicinal spices and plants. Jacobson said that a request for more gardening space in nearby Brittingham Park was submitted to the city by community growers.
Despite the increase in participation, the community remains close and focused and have the garden's interests at heart. Harper noted that there have been few disagreements over sharing the garden space, and that theft has been not been an issue.
As colder weather approaches, garden activity has slowed, but not diminished. There are still peppers and herbs to be harvested, and a selection of plants that will remain underground during the winter.
Jacobson noted that some of the produce is dried and will kept for consumption during the off-season; some growers will continue to grow produce inside during freezing months and start off seedlings that will be transplanted to the ground when warmer weather returns.
At that point, gardeners will start in again: digging, planting and nurturing, while bonding with neighbors.