New studies describe risks that cars pose to bikers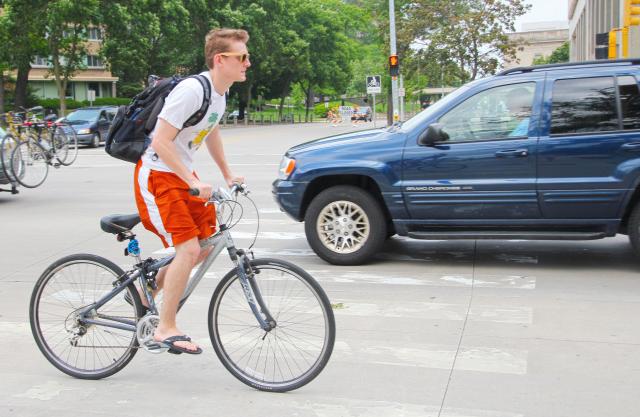 A cyclist rides near traffic in Madison (Xin Wang/Madison Commons)
Biking in Madison is a pleasure for Devin Giddings, who has traveled on two wheels since childhood. From his home in the southwest of Madison, he makes a 90-minute ride to work in Fitchburg and back every day.
But even as agreeable as Madison is for bikers, Giddings recalls the moments when he choked on vehicle exhaust while waiting for the green light behind a truck, as well as when he had to get out of the way of an inattentive driver charging through an intersection.
"Whenever there is traffic, you can't escape it," he said.
Recent studies have better described the nature of the risks traffic poses to cyclists, both in terms of pollution and crash risks. And while the benefits of cycling outweigh the risks, this new data does better to explain the dangers on the road for those who travel on two wheels.
Many consider bicycling a healthy lifestyle, and it has been incorporated into the transportation network in Madison since the early 1970s.
A Canadian study published in the journal Environmental Health Perspectives suggests that pollution may increase bikers' risk of heart problems. Researchers found that bikers on heavy traffic routes had reduced variation in the time intervals of their heartbeats, which has been associated with higher risks of cardiovascular disease and death. More than half of the participants reported developing allergies and 14 reported asthma diagnoses.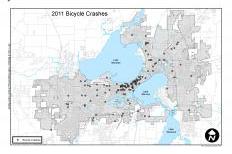 2011 City of Madison Bike Crash Map
Among the measured car-related pollutants, ground level ozone was found to affect cyclists' heart health the most.
"Ground level ozone is among the major air pollutants and is linked with heart and lung diseases," said Marty Kanarek, a professor of population health sciences and environmental studies at the University of Wisconsin-Madison.
Ground level ozone forms when nitrogen oxides and organic carbons released from cars react in the sunlight, a process known as a photochemical reaction. Ozone naturally exists dozens of miles above the Earth's surface and protects us from the harmful UV radiation. However, when it reaches ground level, it poses health risks.
Fine particulate matter also is associated with heart disease, lung cancer, asthma and other illnesses, Kanarek said. These particles can be one-fortieth the size of pollen and can be inhaled deeply into the lungs. Their main sources are motor vehicles, industries and wood burning.
"In Madison, the ozone and fine particulates levels are within the national standards, but we are very close to the line," said Maggie Grabow, a PhD candidate in the Nelson Institute for Environmental Studies at the UW-Madison.
The Department of Public Health for Madison & Dane County identified 10 days when fine particulate matter made the air "unhealthy for sensitive populations" in 2009. The summer of 2011 witnessed higher levels of ozone in Madison.
Studies show that these pollutants are much more accessible to cyclists in traffic than to average urban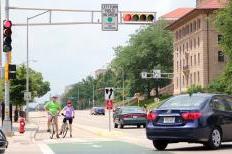 Cyclists wait for a green light and Park and University (Xin Wang/Madison Commons) residents. Although cyclists generally experience lower exposures than car drivers, when they bike over a longer time and breathe deeply, they tend to take in more air during each breath than drivers.
As a result, "the benefits of lower exposure levels [to cyclists] may be offset to some degree by longer travel times and increased pollutant uptake," scientists from the University of British Columbia and Simon Fraser University in Canada wrote in their report.
To protect bicyclists from car emissions, experts suggest choosing less busy routes and, in the worst environments, wearing specific gear like filtration masks.
In Madison, city buses install the exhaust pipes on their top, "as part of consideration for bikers," said Arthur Ross, the city of Madison pedestrian-bicycle coordinator, "That the dirty gas at least doesn't come out from the bottom and right up to your face."
While absorbing the stinky pollutants from cars sounds disheartening for bikers, the prospect of getting hit by vehicles may appear even scarier.
Statistics show that bikers face a risk of injuries and death almost twice as high as vehicle drivers in the United States. In Madison, 139 crashes between bicycles and motor vehicles were reported in 2011.
"Considering the total of nearly 5000 crashes of all kinds, this number seems fairly good," said Ross, "But of course we want fewer."
According to the city's 2011 crash report, most of the accidents happened when cyclists and motorists met at an intersection. More than half of the time, the motorist was at fault, suggesting the need for raising motorists' awareness of bicyclists.
Rush hour between 4 and 6 p.m. is the most common time period for crashes, and most took place on the busy streets around the Capitol area. However, on the other hand, "when there is less traffic, people are also likely to get involved in a crash too, because of less attentiveness," Ross said.
For the bicyclists, Ross suggests watching out particularly at intersections, obeying traffic rules and wearing protective gear, such as helmet.
Despite the dangers, all studies agree that the health benefits of cycling far outweigh the risks.
The greatest rewards to cyclists are fitness and weight reduction. The American Heart Association recommends all healthy adults do moderate aerobic activity for at least 30 minutes, five days each week, to maintain health. This is roughly equivalent to a person biking for 7.5 kilometers every day five times a week.
Exercise from biking also lower the risk of cardiovascular disease and death. In 2010 some Dutch scientists published in Environmental Health Perspective that cyclists' gain in life years could be more than eight times the loss caused by risks of biking.
However, understanding the potential dangers of biking amplifies the awareness of bikers' safety and offers thoughts on future transportation planning.
Drawing on experience from the Netherlands where almost 30 times more trips are by bicycle than in the United States, Grabow suggests building more off-street bike paths to reduce both crashes and air pollution exposure.
At present, Madison has some 46 miles of bike paths, according to Ross.
"Our mission is to make Madison the best place in the country for bicycling and to promote cyclists' health and quality of life," he said.
With some 6 percent of bike commuters among its population in 2010, the highest of the country's 375 cities evaluated, Madison has been recognized as a gold level community for cyclists by the League of American Bicyclists.
To achieve the highest goal, the platinum level conferred by the league, the city formed the Platinum Biking City Planning Committee in 2006.
"Luckily the air is generally clean here," said Grabow, who sold her car years ago and travels in town by bike or bus. "Getting around without driving is very feasible in Madison."
With years of biking experiences in different parts of the world, including London, Netherlands and Tokyo, Devin Giddings has kept up his biking hobby in Madison since moving here in 2012.
"Madison seems quite unique among other cities in the U.S.," he said, "It's more bicycle-friendly."