Members of the organizations Midwest Catholic Worker and Safe Skies Clean Water Wisconsin started rallying just after 5 a.m. on Monday, March 27.
Their goal? To end the use of F35 fighter jets in Wisconsin.
They started their rally at Truax — the Wisconsin Air National Guard base — then went to the Wisconsin State Capitol to demand that Democratic Gov. Tony Evers speak with them.
"So today we'd like him to come out and talk to us," said Justin Novotney, a member of the Midwest Catholic Worker. "We'd like to meet with him. And in particular we'd like him to start to take action, and agree to take steps towards changing the mission of Truax National Guard."
The group planned to stay at the Capitol until Evers came out to speak with them, or they were kicked out.
Protestors claimed that other states do not use F35s, and they do not help the Wisconsin National Guard protect our state.
Brian Terrell, another member of the Midwest Catholic Worker, even claimed that having F35s could make Wisconsin a target if the nation was in a nuclear war.
Terrell also argued that they were harmful to the environment.
There has been consistent discussion in Madison about whether F35s should be used.
The Madison School Board objects to having F35s at Truax. Their statement opposing fighter jets said the jets would negatively affect the residential areas surrounding Truax and disproportionately affect people of color.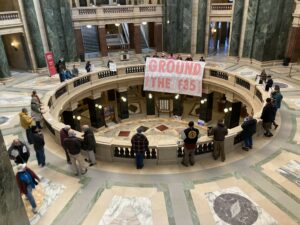 And according to the Wisconsin State Journal, the City of Madison objected to F35 jets when they were originally placed here in 2020. Their objection was based on location. At the city council meeting where location was discussed, hundreds of Madison residents wanted to speak on their reasons Madison was a bad location, the main reason being the environmental concerns.
But supporters argue that the F35s would boost the economy.
According to the Badger Air Community Council, having the 115th fighter wing at Truax has created more than 1,000 in-state jobs and helped with tuition payments for airmen returning to the service.
The Badger Air Community Council argues that having the F35 mission on base will add to these benefits.
Democrats and Republicans support the placement of these F35s. Republican U.S. Sen. Ron Johnson said this is "great news" and will help keep our state safe.
Democratic U.S. Sen. Tammy Baldwin also supports the placement.
"The 115th Fighter Wing plays an essential role in protecting the safety and security of Wisconsin and our nation," Baldwin said. "Having represented and advocated on behalf of the base for more than 17 years in Congress, I am excited about Truax's selection for this new mission and the enduring economic benefit it will provide to our community and the State of Wisconsin."
The governor's office did not respond for comment as of Monday evening.