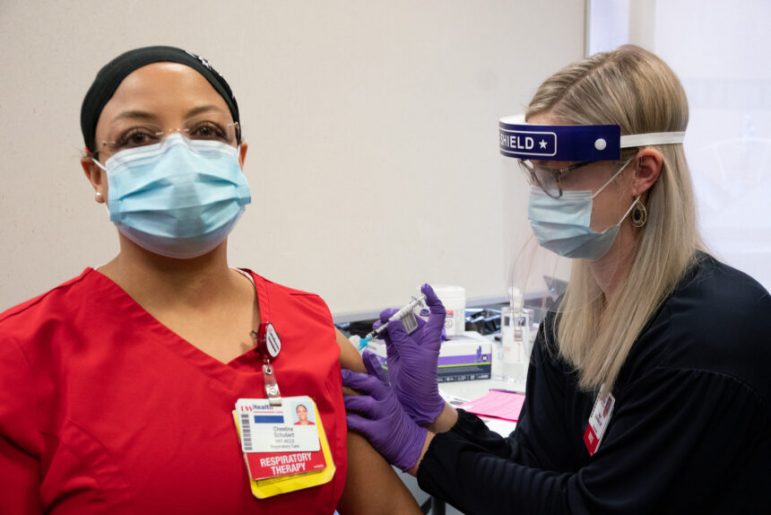 |
Recent data from Public Health Madison & Dane County shows racial disparities for those that have received the COVID-19 vaccine so far, but health experts say this is likely reflective of the state's limited eligible populations and that organizations across Dane County are working to achieve racial equity.
According to the data, more than 14 percent of Dane County's white population has been vaccinated so far, while approximately 7.4 percent of the Black population, 5.4 percent of the Hispanic population and 7.2 percent of the Asian population have been vaccinated. 
Shiva Bidar-Sielaff, Vice President and Chief Diversity Officer for UW Health, said that it's important to put these statistics into context, as vaccines are only available to a limited population of Dane County residents. 
Bidar-Sielaff said that given the restricted nature of the vaccine, "it's hard to arrive at many main conclusions at this point."

"I believe that District 9 needs a new, young, fresh community leader at the table. All too often, Black, Indigenous people of color are the topic at the table but yet, we're never at the table," said District 9 Common Council candidate Nikki Conklin. "And so now, I really feel like this is my chance to shine and break all the odds and be at the table and actually bring the voices of the community to the table so we can be heard."
Conklin has lived in Wexford Ridge for the last 10 years and has been deeply involved in community engagement including working as a volunteer for the Lussier Community Education Center and as an acting AmeriCorps in which she was both a staff member and sat on the board of directors. She is currently the Communications Consultant for Neighborhood Organizing Institute (NOI).

Doug Hyant, the current Chief of Staff for State Representative Mark Spreitzer, is running for Alder of Madison's Ninth District, representing the far west side. With past experience in electoral politics, and a sharp focus on communication, Hyant says that he is qualified and ready to listen to and represent the voices of district nine. 
"I'm somebody who has been spending my time in my career working to elect people who make government work for people," Hyant said, "I have the experience of working with communities to come together around a cause or a person, and I want to really take that and apply it to the Madison city council to bring our neighborhoods together and help people feel like our district is the community that it should be." 

Following a month-long break, UW-Madison students started a new semester on the 25th of January, with a mix of online and in-person classes. The University established new protocols for COVID-19 testing and tracking this semester, including a new app and guidelines for students to get tested twice a week. These safety measures are aimed not only at keeping students safe throughout the spring semester, but also to avoid a rapid spike in cases, similar to what happened at the beginning of the fall semester. While Dane County Executive Joe Parisi would rather see all instruction happening virtually, UW's neighbors don't mind students being back.
More Headlines