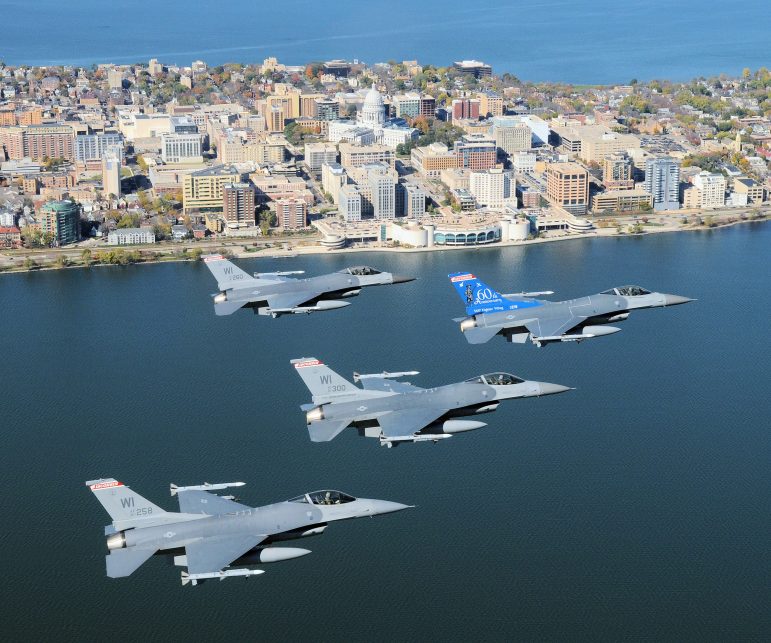 |
Discourse surrounding the possibility of basing F-35 fighter jets at Truax Field has been looming for over a year, but an eight-hour-long city council meeting held last Tuesday indicates that the issue is not fading away any time soon. 
A group of community members have actively disapproved the prospect of welcoming a 20-plane fleet to Madison's Northeast side — primarily due to noise concerns, anticipated environmental impact, and an anti-military philosophy — and are requesting greater transparency and research for the official environmental impact statement. A resolution sponsored by Alders Grant Foster, Rebbeca Kemble, Marsha Rummel, Patrick Heck, Tag Evers, and Syed Abba requests that the Air National Guard reconsider Truax as a preferred location for the jets. The resolution passed on a 16-3 vote after another resolution more forcefully opposed to the F-35s failed.

Fifty years ago, on July 7, 1969 the Dane County Parent Council broke off and became their own independent nonprofit. This year, Reach Dane, an organization providing early childhood care to low income families, celebrates 50 years. 
Over the past five decades, the organization has grown, today serving 1,000 children at 18 locations. Staff balance $17 million in donations and grants to provide holistic care for the children and the families they serve. The nonprofit has had major milestones and they hope to continue to improve in the future. 

The City of Madison Streets and Recycling Department is revitalizing a food waste collection program that ended last year, thanks in part to a $39,000 grant from the Environmental Protection Agency.

Love, an esteemed writer and educational researcher, fully kicked a hornet's nest on "Black Excellence" during a major rally of local educators at the Alliant Energy Center Monday morning.
More Headlines