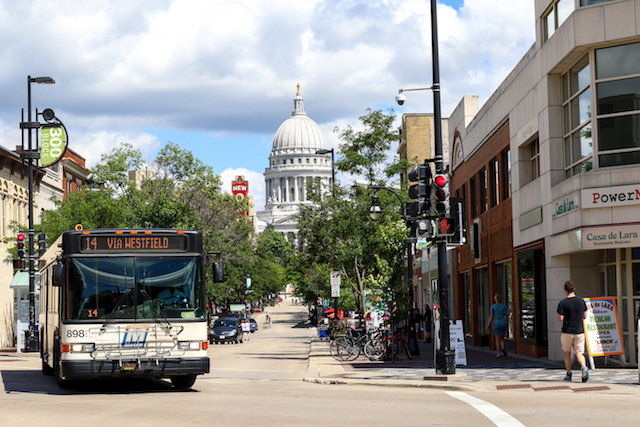 |
One of the experiences of attending the University of Wisconsin in Madison is that students have access to unlimited Metro Transit bus rides paid with segregated fees by their Associated Students of Madison governance body (ASM). Students get an unlimited ride bus pass good for both fixed route and paratransit rides throughout much of the city of Madison and parts of Middleton, Fitchburg, Verona and Shorewood Hills. That bus service can be frequent around campus, and can take students to many major employment, shopping, health and recreation centers.

Tall and lean, Spam is known for her speed. In a bright green jersey, she whips around an indoor track at the Veterans Memorial Coliseum five nights a year, pushing and weaving her way through a tightly-knit group of women on roller skates.

Passionate students across Dane County are able to benefit their local communities through the United Way of Dane County's By Youth For Youth program.

Every year, when Wisconsin's long, frigid winter finally gives way to a comfortable summer, Madison blossoms into a city filled with different things to do. With lakes on either side of the isthmus, gardens and parks all over the county, and a thriving music and arts community, Madison offers plenty of free activities that anyone can take advantage of. Here's our list of the top 10 free activities to take advantage of this summer in Madison.
More Headlines