African n American Fits, a popular brand of custom-made African and American clothing that held its first fashion show last summer, has opened a kiosk in the West Towne Mall. Fits has been serving as a cultural bridge between traditional African fashion and African American culture for several years but, until now, has been selling clothing online.
Yankuba Janneh, the founder of African n American Fits, says that the move to the West Towne Mall is a direct response to the level of popularity his products have had online and around the Wisconsin community.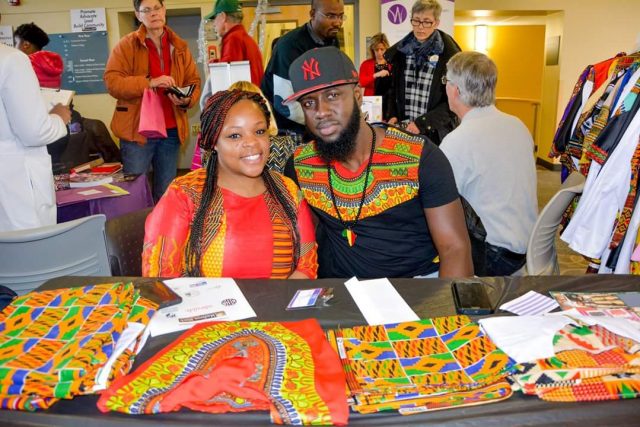 "We've been doing it online and at business expos, and a lot of our customers in Wisconsin would call and ask us what our location is," Janneh told Madison365. "Mostly it's just been me and my wife letting people come to our house to buy or look at clothing. So I thought we should find someplace people could come to any time of the day and me or my wife could be out there on a daily basis and have more exposure."
Janneh says he opened the West Towne Mall kiosk on May 1 and so far things have been going well. Since its inception, African n American Fits has been trying to bring people of any race into buying African clothing.
It has been a challenge to get other races involved, Janneh said.
"We haven't really gotten more support from different races," he said. "A lot of people feel like it's not for them, or they have to be a certain race to wear African clothing. We're trying to educate people about that. We struggle with that. The idea of the business itself is that fashion knows no boundaries and diversity is at the center of our interest."
African n American Fits isn't just centered on people of color.
"We're here for everyone," Janneh says. "Everyone should feel comfortable embracing someone else's culture. We should be comfortable wearing other things that may not be in our culture. One of our goals is to bring different cultures together and this is one of the ways I feel like we can bring people together in a more harmonized way."
The lease for the kiosk is for the next three months, so people interested in exploring the handcrafted African clothing on display will be able to do so well into summer. All of the products are made by hand in Gambia.
Fits expands beyond the kiosk and online, however. Janneh says they have had requests to make prom dresses and provide clothing for photoshoots.
Janneh says that if the kiosk does well enough, they will explore expanding further in the mall.
"We're looking to extend it and even look for a store front," he said. "That is our main goal. We wanna let people know what we have and the more people who are familiar with what we are doing, the more people will move towards our store. People have been stopping and buying stuff. Most people spread the word on social media and let their friends know."
Anyone curious about or interested in representations of African culture should stop by the kiosk, regardless of their skin color. Janneh says regardless of your race, this is for you.
This story originally appeared on Madison365.