"The Bachelor of Seville" marks the company's sixth annual Garage Opera
This time of year, you might see many of your neighbors clearing out their garages to host yard sales and graduation parties. But for four Madison households, the garage was emptied this June to make way for another avant-garde purpose — as a host site for a performance put on by the Fresco Opera community.
"It's part of our mission to make opera more accessible. It helps us to go to people's neighborhoods, go to places where people might not expect an opera. They can just walk up with their chair, sit and watch something," said Fresco's artistic director Melanie Cain. "We try to do found spaces, found performance venues — hence the garages."
Though Fresco has been in business since 2009, its annual Garage Opera just wrapped up its sixth year. As with previous offerings, 2023's "The Bachelor of Seville" put a present-day spin on a classic tale.
The plot concerns one of opera's most famous characters, Figaro (played by Grady Hayden), in his quest for true love, and its libretto features standards of the genre from composers like Mozart, Jacques Offenbach and Giacomo Puccini. Yet this is all presented in the context of TV's reality dating competition series, "The Bachelor."
Four melodious chanteuses (played by Allison Hull, Jesse Harrison, Katie Schmidt and Lauren Shafer) vie for Figaro's heart as they are pitted against each other in pursuit of the show's iconic rose. References to TikTok and influencers pepper the script, and emcee Alfredo (George Abbott) hams it up in true game-show fashion with a rendition of "Don't Stop Believin'." 
"If you know opera, you know these arias. They're fairly well-known, and some of them are fairly notorious," said Jesse Harrison, who played the Queen of the Night. "But to see them in a different context, something that most people have seen — in this case trash TV, reality television — it makes it fresh and new and exciting, and reaches a different audience that maybe wouldn't go and see a formal production onstage."
Cain got the idea for the show last year while watching "The Bachelor" with her niece.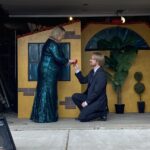 "As I was watching, I was like, 'This is pretty much an opera.' You have the characters that are in a normal opera, and so we said, 'Let's make a show around that,'" she said. "We wrote the story first, and then we selected music from the 600 years of opera that fit into the storyline."
More than 50 actors auditioned to fill the opera's six roles. The cast was given the assignment to watch "The Bachelor," and the final production came together after just two weeks of rehearsals. Spanning about an hour in length, the run time also included a space for audience participation — attendees could take part in an intermission trivia contest including questions like how many couples from 27 seasons of "The Bachelor" are still together. (The answer is four).
Allison Hull, who played Carmen, said the best part of the garage format was the opportunity to gauge the audience's feelings.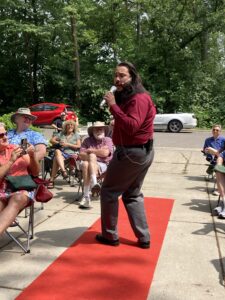 "In a space like this, you get to see everybody's individual reaction. In a big theater, you often don't get to see that," she said. "Moving from venue to venue can be a little bit of a challenge, 'cause you have to adjust to the new space every single time. We're at the mercy of Mother Nature a little bit."
Fresco's next event will be held outside, too. "Opera at Olbrich" will hit the Olbrich Botanical Gardens at 7 p.m. on Aug. 8. More information about the company and the rest of its 2023 season can be found at frescoopera.com.
"The weather, the ambient noise — it can be distracting at times, but hopefully the neighbors like it!" Harrison said.