The November 6 general election is fast-approaching, and it's a big one.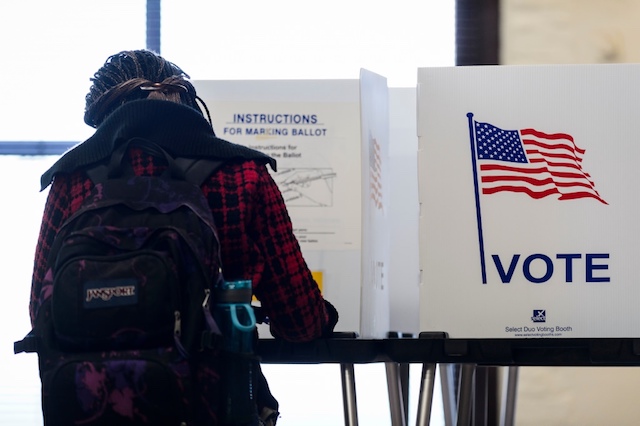 County, state and federal offices are up on the ballot, including the governor's office, state legislature, and Congressional representatives and U.S. senators.
But, some states, including Wisconsin, are accused of suppressing voter turnout through repressive voter ID laws, which could impact election results.
Wisconsin's voter ID law, passed in 2011 after Republicans took control of the state legislature and the governor's office, is one of the strictest voter ID laws in the country. The law requires citizens to show a photo ID and provide proof of residence before exercising their right to vote.
Republican legislators argued that providing a voter ID is necessary to combat voter fraud, but research indicates fraud is rare, and when it does happen, it's typically unintentional due to a mistake made by the voter or election official.
Voters can present a valid Wisconsin driver's license, state ID card, U.S. passport, Uniformed Services card, Veterans Affairs ID card, tribal ID or certificate of naturalization to prove residence.
The voter ID law has the potential to negatively impact voter turnout. A University of Wisconsin-Madison study indicated 11.2 percent of registered voters, or 16,801 people, in Wisconsin did not cast a ballot because they were deterred by the voter ID requirements. And, six percent of voters were actually prevented from voting at the polls because they lacked the correct form of identification.  
However, the majority of the people who were deterred or prevented from voting voted in the 2012 election. Voter turnout for the 2016 election was the lowest Wisconsin has seen in years.
Voter ID and students
The voter ID law directly impacts students, who tend to vote for the Democratic Party. Fifty-eight percent of people ages 18 - 25 identify as Democrats or are left-leaning.
"Republicans have tampered with our election laws because they do best when fewer young people vote," said George Olufosoye, Wisconsin state youth director for NextGen America, a political organization focused on climate change and protecting citizens' rights.
Olufosoye isn't wrong. Todd Albaugh, chief of staff for former Republican Sen. Dale Schultz, testified that Republicans senators were thrilled to enact the voter ID law. One senator was quick to point out the impacts the laws could have on college campuses while another said his concern was winning, so they needed to pass the law while they had the chance.
"Young people tend to be more progressive, more aligned with the progressive agenda," Olufosoye said. "They've been tampering with our election laws to make it harder for us to vote them out of office right now."
For UW-Madison students, a Wiscard or out-of-state driver license are not acceptable forms, which means students must go extra lengths to obtain a voter-compliant ID card and a voter enrollment verification letter, which provides proof of residence.
Without both items, students cannot exercise their right to vote.
Four campuses in the UW System provide campus-issued student IDs that are voter-compliant. UW-Madison is one of the nine campuses that doesn't because it failed to qualify based on the voter ID law guidelines.
Therefore, students must trek to Union South to obtain a voter ID at the single Wiscard office serving the entire campus.
In the Fall 2017 semester, 14,217 UW-Madison students were out-of-state residents, including U.S. citizens from other states and countries. These students made up 38.2 percent of the student body. And, since the out-of-state enrollment cap was lifted by the Board of Regents in 2015 for the next four academic years -- starting in 2016 -- in an effort to increase tuition revenue, that number could increase even more.
"It's a rather ridiculous law that inevitably causes more people to not feel comfortable voting just because of how ambiguous a voter ID just in and of itself sounds," said Ananda Deacon, a sophomore at UW-Madison and president of the ACLU Student Alliance on campus.
Deacon, who is from a suburb of Milwaukee, "didn't immediately recognize it as just being a photo ID." The wording of the law "makes people think they have to go through a completely different process," she said.
Students can register online up to 20 days before the election, through mail up to 20 days before the election, and in-person at the County Clerk's office and any early voting location until the Friday before the election or at their polling place on the day of the election.
Election Registration Officials will be at any Madison Public Library locations and the Student Activity Center on campus to assist students with registering to vote and casting an in-person absentee ballot with the 20-day window before the election.
To register online with a student voter ID, students can provide a screenshot of their Fall 2018 course schedule to prove enrollment At the polls, they must have their photo ID and the enrollment verification letter in order to cast their ballot.
Students also have to provide proof of address beyond just a screenshot of their fall courses and voter ID. The document must have the students' current name and address printed on them.
The voter enrollment verification letter from the Office of the Registrar provides proof of address. Otherwise, students can present an employer ID card with a photograph, a tax bill, a lease form, Wiscard with a fee statement from the current, a utility bill, a paycheck or bank statement, or a printed copy of their current bursar's statement.
"People who are students here but out-of-state, they feel discouraged to vote in our elections just because they would need to go through that process," Deacon said. "It's just unfair to them."
The voter ID law also limits in-state students. Their Wisconsin ID doesn't have to have their current address, but they must present the same proof of current address at the polls.
And, in-state students have to re-register to vote if they have moved to a new address or even changed apartment numbers.
Deacon attempted to re-register after moving into a new dorm this year. She was successful at re-registering when she moved into her freshman dorm, but this year, she never received confirmation that her address was changed and she was registered to vote. When she checked, it said she wasn't registered at her new address.
All of the information was correct, and she sent the documentation properly. But, there was no answer as to why her registration wasn't successful this time around.
"I'm certain I'm not the only person having this problem," Deacon said. "Especially for students who are undocumented or homeless who don't have that kind of access to proving where they live, that law also suppresses their votes and they have important voices and the right to vote."
How can Wisconsin do better?
Olufosoye said Wisconsin universities need to do better for students to ensure they can vote in elections that directly impact them during their time on campus.
"The first step is for each school to have a campus administrator whose focus is to make sure that students have the information that they need in order to vote in this upcoming election," Olufosoye said.
A uniform ID that universities can provide to students to ensure they are eligible and able to vote could go a long way for in-state and out-of-state students.
Madison's campus has three early voting locations, and the university offers dorm addresses for registration and a list of polling places for each dorm.
But, Olufosoye further suggested polling places be extended to every campus since students don't always have cars of easy access to public transportation.