This story is part of a Madison Commons series produced by master's students in the School of Journalism and Mass Communication. These stories explore how people in Madison and Dane County find different ways to develop cultures within our community, looking look for opportunities to draw connections with each other to learn more about our world.
With "Artemisia," Forward Theater closes divides between 17th-century Italy and today
Wouldn't it be wonderful if a story about a brilliant, strong-willed woman who was denied opportunity in her field because of her gender, who was subjected to assault and harassment— who managed to build herself an empowered and famous career and a personal life that served her, and dealt with scandal and judgment for doing so…  only happened 400 years ago?
This question, posed by director Jen Uphoff Gray about the Forward Theater's world-premiere run of "Artemisia," cuts to the heart of the production's relevance.
Over the course of the play's two-hour run time, the titular 17th-century Italian Baroque painter is raped by a male colleague and made to lay bare the trauma before an unforgiving court. Berated for daring to pursue a career in addition to a family life, and becomes the subject of gossip and shame for the details of her private romantic exploits. Sound familiar?
"I think every single one of those things could apply to a woman right now," Gray said. "Just about everything about Artemisia's story is deeply relevant and contemporary-feeling."
"Artemisia," which debuted in April as part of the ongoing, four-month World Premiere Wisconsin festival, is the latest from playwright Lauren Gunderson, whose repertoire includes several productions focused on trailblazing women like Marie Curie and the astronomer Henrietta Leavitt. It is one of numerous contemporary interpretations of the life of Artemisia Gentileschi, the first woman accepted to membership in Florence's academy of artists, whose story is enjoying a feminist resurgence as of late.
"The National Gallery in London did this beautiful tribute to her and got a bunch of her pieces, and there's a lot of literature that's coming out right now," said actress Claire Haden, who played Artemisia as an adult.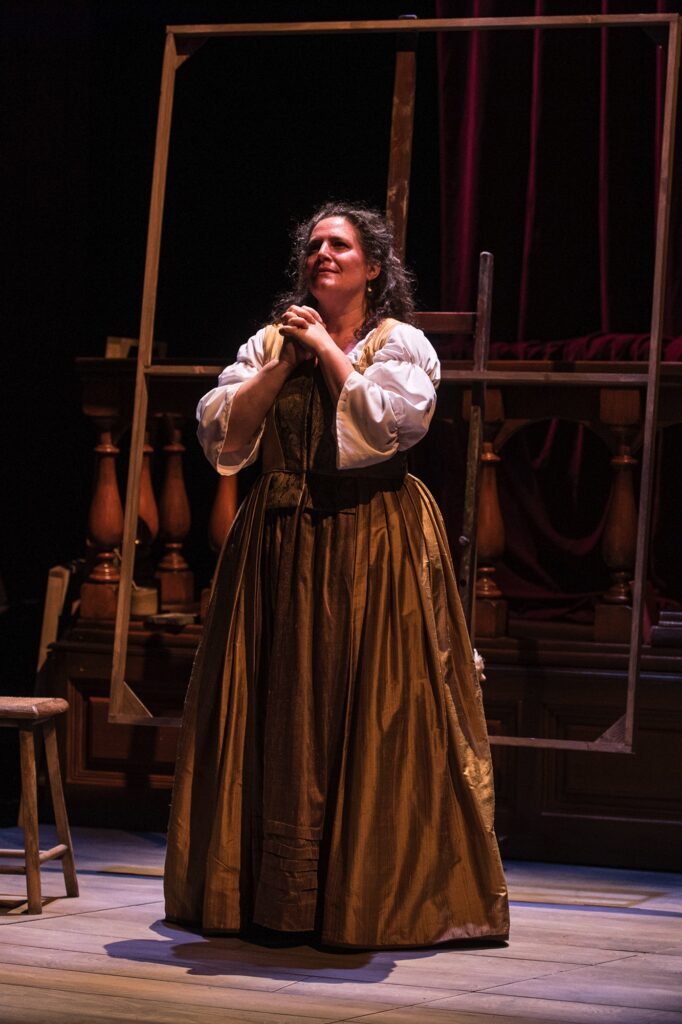 "She's this really strong-willed artist who knew at a very young age who she was— what she wanted to do, what she wanted to accomplish— but grew up in a time when the patriarchy was strong and women did not have any kind of voice or independence or freedom to do what they wanted to do. She fought against and bucked against that anyway, and became wildly successful."
The Forward Theater knew it wanted to commission a play from Gunderson for World Premiere Wisconsin, as it had performed her work before and had an established relationship. At an initial meeting, Gray and Gunderson rendezvoused to discuss ideas.
"(Gunderson had) just read, right before we met… this article in The New Yorker about Artemisia's life that was published in conjunction with this big exhibition in London in 2020," Gray said. "Since I'd also just read that article, I was like, 'That's the one.'"
Gray saw the first draft of Gunderson's script in early 2022. Developmental rewrites deepened many of its central themes, like the relationship between Artemisia and her father, fellow painter Orazio Gentileschi.
The play covers more than four decades of Artemisia's life, beginning at age 17, when she was raped by her father's employee Agostino Tassi and subsequently tortured to prove her claims' veracity at trial.
During this part of her story, Artemisia was played by Madison Uphoff (Gray's niece who later played Artemisia's daughter Prudenzia in the play), while Haden took on the role for Artemisia's adult years.  Her adult years included the loss of four children in infancy, her love affair with Francesco Maringhi and her patronage by some of the greatest royal houses of Europe.
Despite the 17th-century setting and costuming, however, the dialogue in "Artemisia" is thoroughly modern. Francesco Maringhi, played by Daniel Molina, brags about being "hit on" by an old lady, while the double-entendre "Who can say no to ecstasy?" is heard from  the Grand Duchess Christina of Lorraine, played by Laura Gordon. If a word cloud were made of the script, the largest words would probably be four letters long.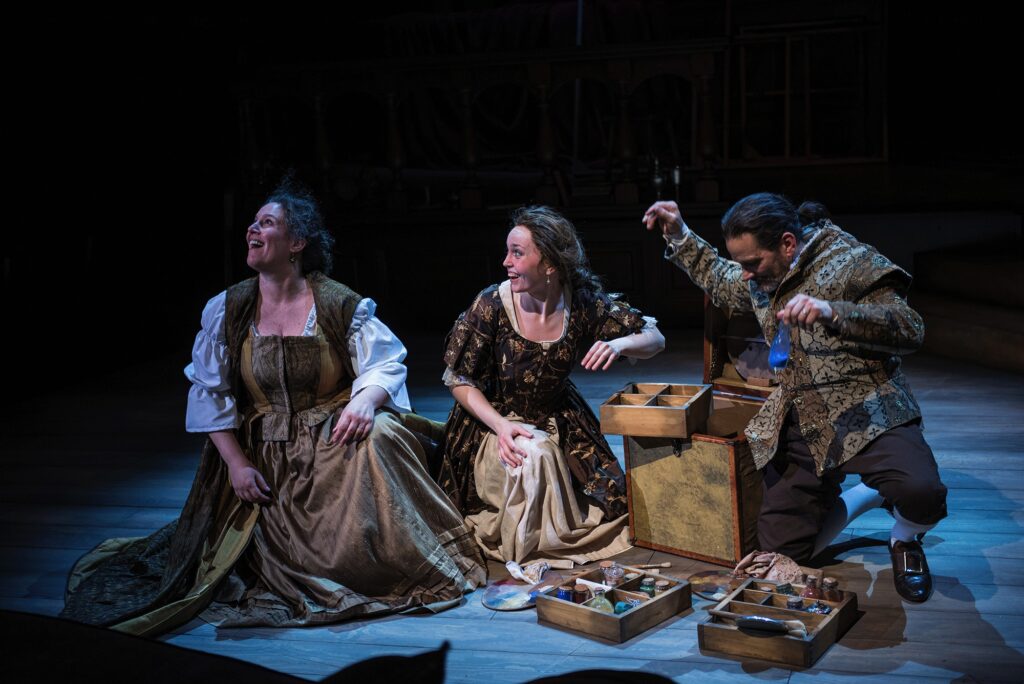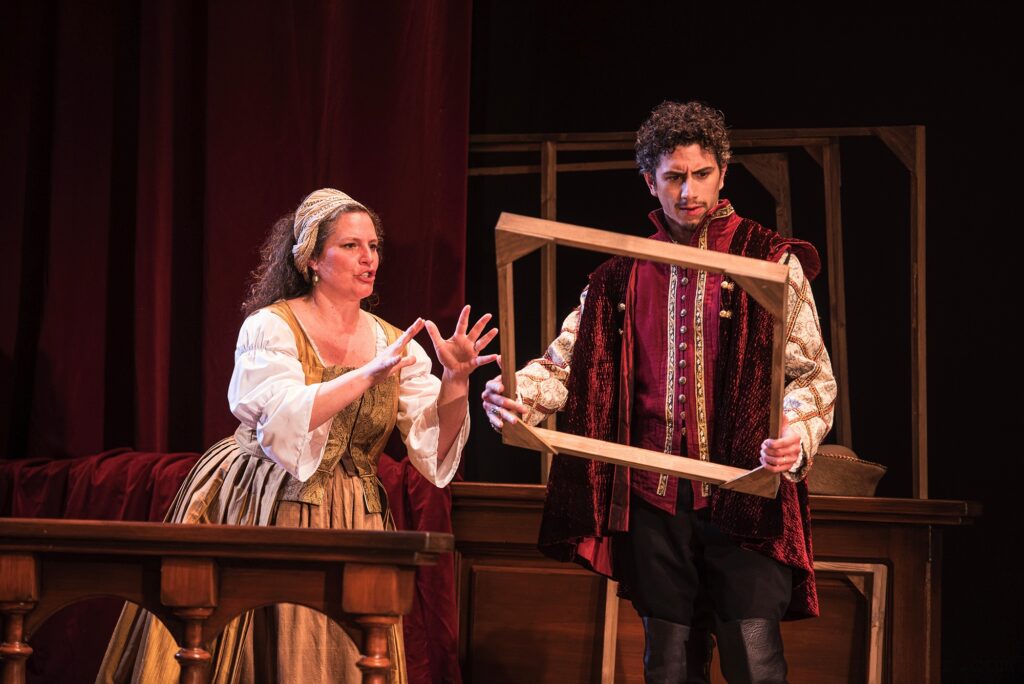 "There's a wonderful way for the audience to not necessarily look at it as a historical piece because the language is very now. That bridges the gap with the characters, so it feels very fresh, like you're watching people now have relationships and fall in love and get into arguments," Haden said. "The themes resonate, too, especially with the #MeToo movement and the fight over abortion rights and the strong, feminist energy."
Artemisia's work — which was broadcast on a screen to the audience while the actresses mimed painting — often dealt with women from the Biblical apocrypha, such as Judith who beheaded the Assyrian general Holofernes.
Though the subject matter was common for commissions of the era, scholars still debate how much of Artemisia's own tragedies were infused into the paintings, a matter which is addressed in the play.
"There was kind of a roughness and a rawness to that time period, certainly in Rome and in Naples" said Philip Salamone, an artist and University of Wisconsin–Madison instructor who taught the cast about painting technique. "Even though (Artemisia) was very famous and painting for queens, she also kind of had parts of her life where she was in the slums of Italy. People want that in artists— rough and tumble, swashbuckling."
While the show's run in Madison might be over, Gray is certain that there will be plenty of opportunities to see "Artemisia" in the future.
"(The play) allows us to consider issues in our current world where we think we have a little distance from them, and it allows us to take a big picture in and process it from a new point of view," she said. "('Artemisia' will) have what I'm confident will be an extremely robust production history all over the country."