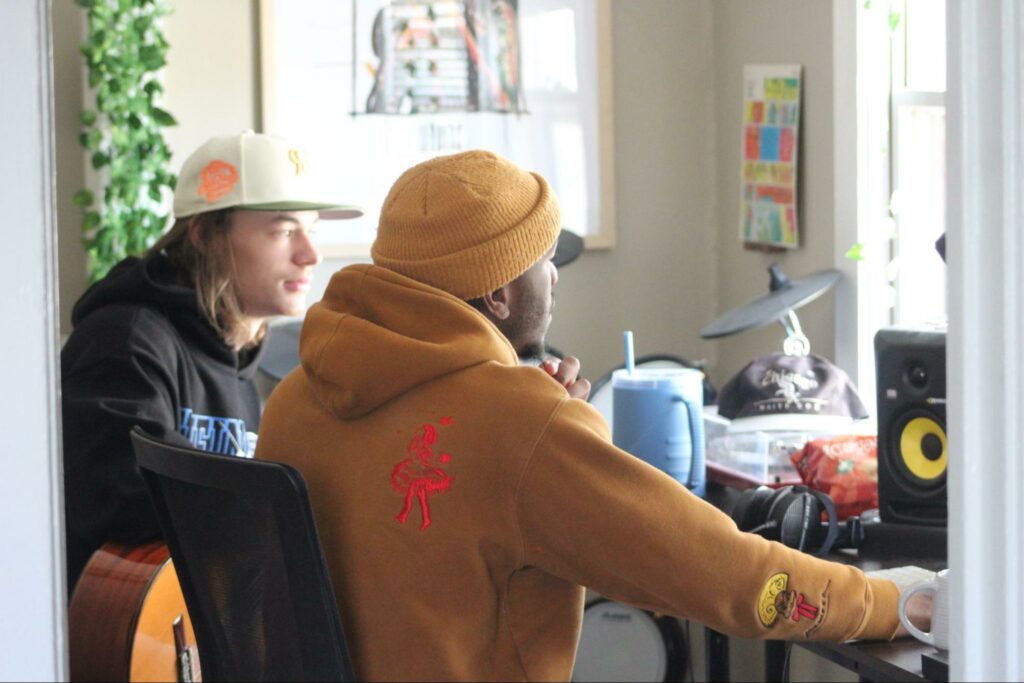 This story is part of a Madison Commons series produced by master's students in the School of Journalism and Mass Communication. These stories explore how people in Madison and Dane County find different ways to develop cultures within our community, looking for opportunities to draw connections with each other to learn more about our world.
By Sundays at 9:30 p.m., most Madison residents are getting ready for bed to wake up with their 7 a.m. Monday morning alarms. 
However, for Madison-based artists Fred The Black Kid a.k.a. FTBK — otherwise known as Fred Steinmetz and Keylime — or Colin Lime — it means getting ready to perform on stage and greet an audience. 
These two Madison-based artists recently performed at High Noon Saloon in downtown Madison for their first music tour experience. They opened for Milwaukee-based artist NileXNile as special guests on his midwest tour Nostalgia performing songs off their 2022 EP Bucket Boys Volume 1.
The tour had its ups and downs. On some tour dates, they were only greeted by five audience members after driving an eight-hour round trip from Madison. 
Despite some setbacks early on, they describe how the experience helped them push forward in their music careers. The experience offered practice in cultivating stage presence and gaining confidence in their performance. 
"The tour was validation," Lime said. "The validation is knowing somebody worked their ass off for the past two weeks and took 15 bucks out of their paycheck to come to see you…That's really cool that this was worth that to people." 
On top of this, Steinmetz said, "It was an experience where you just meet people." Through their first tour experience and music, both artists have further immersed themselves in the Wisconsin music scene, networking with other artists to help grow the community's audience. 
Lime and Steinmetz started working together in 2019 when they both became part of a music collective formerly known as Chase The Bag Productions. Even though they are no longer active members, this sparked their music careers working with one another and started to build a network of Wisconsin-based artists to create with. 
Now in 2023, and with one tour under their belt, both artists have used their experience to continue to bring a larger audience to their music and the Wisconsin music scene through performances. They also work with other artists based out of Milwaukee, Kenosha and other Wisconsin cities. 
"When it comes to [the Wisconsin music] scene itself, I think that's very much artists supporting other artists. And that's something that you can't really find in other different places because here we have a growing scene," Steinmetz said. "This is unheard of for the Midwest, besides Chicago, and Detroit. For Wisconsin itself, it's unheard of for a bunch of really, really good artists to come together to create something where we can all support each other, so that we can get to this place that we all want to be anyway." 
Lime is a music producer based in Madison who currently works with over 20 to 30 different musicians, predominantly located in Wisconsin and the Midwest. This allows him to easily move through different genres to help other artists make their distinct sounds come to life, like with some of Steinmetz's's music. 
When working within his community of Wisconsin-based artists, he describes the difference between collaborating here versus other places around the country. 
"There's a lack of ego that I don't see in other places. Like, I have a bunch of people from my hometown that make music," Lime said. "And it's very much like, 'Oh, look at me, I got a couple 100,000 streams like, I'm the s*** now. Don't talk to me.' It's crazy the egos that you'll see out here. There's a lot less ego here. People are way more willing to support other people that are doing the same thing as them." 
There is a difference between building a network as a solo artist and as a producer, Steinmetz said. He helps foster this community of artists through engagement with other artists' music. 
"I'm in my own lane for music, so I don't collaborate with a lot of people," Steinmetz said. "For me, it is like supporting other artists. I support them because I understand that they're doing their thing, and they're really dope at what they do. And they support me. Like, they'll DM me and be like, 'Yo, bro, like, that's fire.'And like, we'll go back and forth. When it comes to the [Wisconsin music] scene itself, I think it's very much artists supporting other artists."
Through this collaboration and support, Keylime and FTBK describe all the new music, content and projects they have in the works and waiting for release. They said this could not be possible without the community of Wisconsin artists who they work with and help share their music to broaden the Wisconsin music scene's reach. 
"The community is awesome," Lime said. "The Midwest is very underrepresented right now, and it's really f******* cool to see people who are trying to put it on the map."