Not even a failed screening of activist Greta Thunberg's speech at the United Nations, nor humid September weather, could slow down protestors at the Madison climate strike demonstrations Friday.
Hundreds filled the Capitol Square and Madison Gas and Electric's Railroad Street plant as part of a global protest advocating for greater action by politicians and corporations to mitigate climate change. The Madison protest was highly focused around MG&E's emissions, as the groups gathered demanded the company transition to 100 percent renewable by 2030 — 20 years ahead of its current emissions reduction plan. Other demands included the declaration of a climate emergency from Gov. Tony Evers and local governments.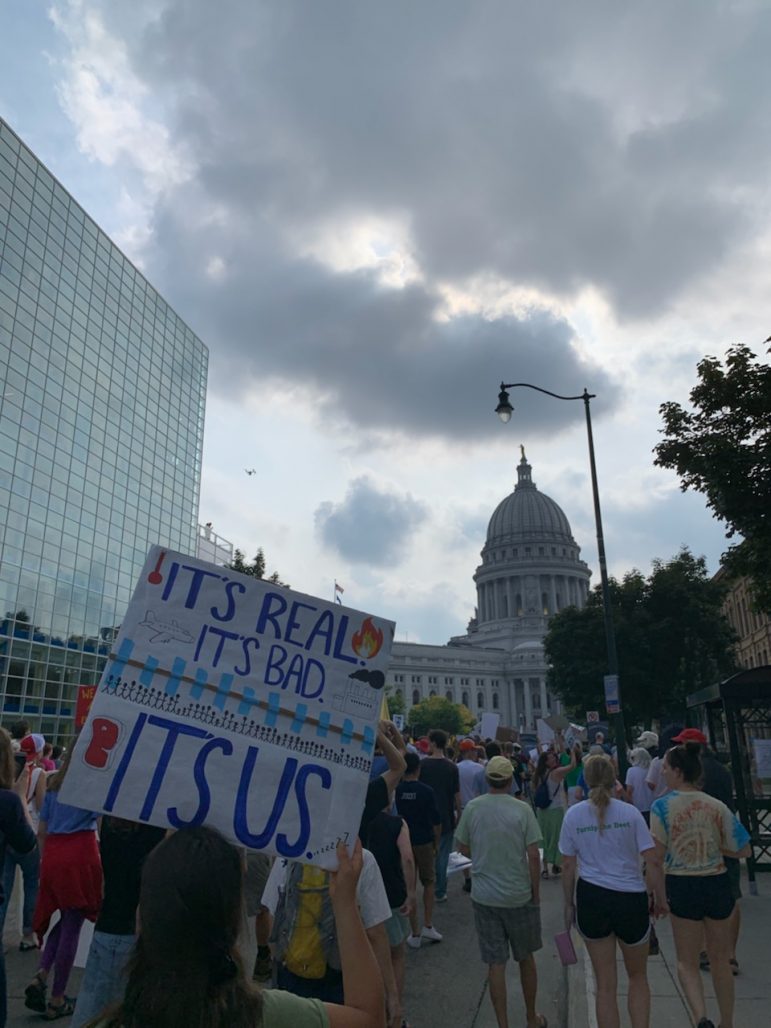 The rally followed a similar protest in March that included a walkout by East High School students, also uniquely centered around transitioning the burden of climate change from individuals to corporations and governmental bodies.
MG&E responded to the protest by stating that their current 2050 net-zero carbon goal is in accordance with the Intergovernmental Climate Change report, and that it may not reflect their true pace in switching to renewables.
After two hours of protesting at the MG&E facility, attendees began a slow march toward the capitol, shutting down a portion of East Washington Avenue for a time. All along the way, rallying chants echoed down the street, including, "What do we want? Clean air! When? Now!" and "Hey, hey ho, ho, automobiles have got to go!"
When the march arrived at the capitol, a local marching band led the crowd in chants as organizers of the protest gathered in front of the capitol's doors. Some of the major organizations that helped contribute to the march included the Sierra Club, the Socialist Alternative, Youth Climate Action Team (YCAT), People's Green New Deal Madison, among many others.
As the band died down, voices from YCAT rose up as keynote speakers took to the podium at the top of the steps. The speech topics veered into other nation-wide movements but recentered on the significance of climate change.
"I really care about the government of Wisconsin and our federal government to declare a climate emergency. I think that's the first step for scientists to get funds to study on this," said Crystal Zhao, 18, a UW-Madison student and YCAT speaker.
Governor Evers declaring a climate emergency for the state of Wisconsin is just one of YCAT's nine demands that the group hopes to gain support for through the protest. Another demand is focused on the representation of marginalized populations that lack access to green lifestyles.
"We are here and we are not going," said Stephanie Salgado, 18, a student at the UW-Madison and YCAT speaker. "How many people of color show up to this? This movement can be white-washed if we don't show up."
One of Salgado's key points was to expand the racial diversity of protest movements for climate change. She hopes that coming to speak at the protest will empower more people of color to come and support their cause.
A wide variety of interests and grassroots campaigns were represented at the march with signs advocating for lifestyle changes such as veganism or phasing out personal use of oil-dependent transportation, to systemic change like socialism and or protecting biodiversity at a global scale.
While this march was largely youth-oriented, students, children, and older community members were all aware of the dire situation the world is in. There was even a protestor in full Grim Reaper garb skating around on rollerblades.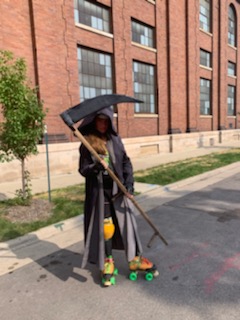 "I decided to show up at today's climate strike because I think there is no greater existential threat to our lives than climate change," said UW-Madison junior Sam Buisman. "I feel like we all have an obligation to not just sit around while this happens."
Community member Joan Sample, however, has been an environmental activist for a long time, and thus has a bit of a different perspective than many of the youth protesting.
"We've been doing this since the early '70s or '60s, and it's finally now (that) there's some of this youthful energy. You got to support them," Sample said. "This is a drop in the bucket for all the stuff that we have to do, and it seems like it's doing so well."
Though it definitely wasn't just youth supporting the march.
"I'm a Baby Boomer, and we benefited from all of the energy use that is creating these problems, so I figure Baby Boomers like me should show up in solidarity for young people who are stuck with the mess that we kind of unknowingly created." said Santikaro, 62, a protester visiting from Monroe county.
These protest marches continue to gather people of all backgrounds, with youth activists taking the lead.
Salgado said YCAT's next march will be when Greta Thunberg decides to make it.