Jordan Kennedy is the founder of Wisconsin Diversity Leaders for Tomorrow, a Madison-based nonprofit that works to provide diverse and underrepresented groups of students with resources and opportunities to support their journeys in career and identity exploration. The organization started as a University of Wisconsin–Madison student group and now has developed into a community-based one that hosts meetings to offer students leadership training, meetings with potential employers, diverse mentorship, and other networking and volunteer events. The group's mission explains its goal to connect underrepresented students with the tools to "break into and thrive within the most selective industries and companies in the world," like Redbird, Blackstone, Goldman Sachs, and others.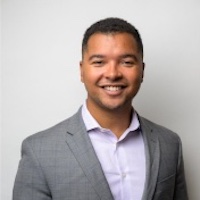 What do you think is the biggest challenge our community faces?
Complacency. When you look at the progression of the school, the progression of students' voices, the progression of diversity and our other progressive initiatives results within Madison of course, you know, some credit that they're not in a horrible, horrible place. It's not the worst thing in the world. But if you look at the last 10 years, the last 15 years, very few areas have progressed. And I'd say many more have receded. So I think a lot of people, because they view things as being not so bad, they don't really worry about the trend that's happening.
What do you wish people in our community understood better?
I wish they understood that, one, it's not as simple as a cliché — If you'd work harder, you'll succeed, there's more nuance to it. It's something that takes time, and it will be a challenge, but that part of life is to go through it and just do reps. [Success] can be picked up on and it can be mastered.
Our motto is raise the bar. It's like people will say, set the bar, but we want to raise it. We want people to come in with expectations and come out higher than they thought they could, and it happens at an extremely high rate as long as people have the exposure and then have the dedication and consistency to act upon the resources that they gain from it. But really, if you just do those two things, you can get pretty much anything you want. You just have to go through and take time."
What is one change you would make if you could that would make life better for people in our community?
Given the Madison community is so heavily a student community because it's a college town, I would probably say mental health resources. In general, college is very difficult. The generations above us do not understand the effect of the digital age on younger kids, and the effect of going through a pandemic on developing people as well. And none of us really know the long-term effects of that. But the people of any demographic, they can tell you what it feels like. That's a tough thing to deal with, especially from the university perspective and from the Madison city perspective. There have been numerous, numerous attempts to go and increase resources in these areas. And of course, it's always difficult to allocate things, everything goes in the support. But yeah, this is something where it definitely is not proportional.
What in our community gives you hope?
I'd say really the kind of thing I talked about earlier, where you know, there are these one-off people that really pushed harder and got through, et cetera, et cetera. But now, it's not necessarily that, it's not those one-offs. I'd say it's cohorts, groups that are all doing that and save time, which is very cool. So I'd say that the students and young people that are trying to adjust these trends and really deploy themselves to it. Yeah, that gives me hope.