Off the intersection of Fordem Avenue and East Johnson Street, you'll find Jiggy Jamz, one of Madison's only EDM-focused vinyl shops, where electronic junkies can let their dreams run rampant. Within the bounds of the quaint establishment are walls adorned with locally produced art and shelves full of rare uncut vinyl, only to be discovered for the second time. All the while, a customer peruses through the racks, and a live DJ mixes house cuts on vinyl.
It's a Madison mecca, if you will, for EDM lovers of all kinds.
But there's just one caveat — it's hidden in a strip mall.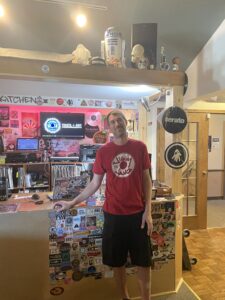 For Geoffrey — or Jiggy, as he's known — Kaster, opening up a strip mall record store wasn't always at the top of his bucket list. Kaster never expected his love for the genre to expand into a brick-and-mortar collection of his life-long prized possessions. It just happened by chance — influencing a town where an underground EDM scene was bubbling but never quite entered the mainstream.
As a Dallas native, Kaster's love for the genre wasn't much of a surprise. Cities bred underground rave culture back in the '90s, allowing for a younger generation to enter what was a "new" genre.
"There were a number of really great clubs, and they were broadcast on local radio on Saturday nights," Kaster said. "I was a little skater punk kid at the time, so I'd often be grounded. So I would just listen to those all night and record them to my cassette player and play them back all week long."
Though after moving to Madison in 1991, Kaster naturally began experimenting with DJing, as the local underground rave community began to form. A large part of being a DJ on vinyl meant building a record collection, spurring Kaster's passion.
After being in the scene for a few years, Kaster eventually stopped DJing in 2003, but was left with a large vinyl collection that continued to grow. Even for a bass-head, some record collections can become too big to fit within a physical space.
"So it was you know, starting to sell online, and then before I knew it, it was taken over to the bedrooms in my house. My wife was like, I want my house back, and so our guest bedroom was gone," Kaster said. "It just kind of got out of hand. And so I rented office space in town here."
The 400-square-foot office occupied the basement floor of an apartment building. It was an upgrade from his bedroom, but Kaster, now 47, often found customers elbow-to-elbow, which led him to consider expansion.
Madison has always had a long history of record stores specializing in rock, jazz and country, among others, while EDM could be found in some legendary Madison shops focused on EDM, hip-hop and the culture of DJing. (Kaster pointed to Nice Musique, State-of-Mind, Trim Records and MC Audio as those that paved the way for Jiggy Jamz.)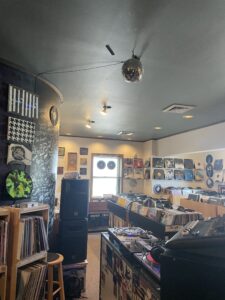 "I feel kind of honored to carry on the tradition of having an electronic music-focused or DJ -focused record shop in town, and I don't feel the need to step into the other aspects of it like expanding my rock catalog," Kaster said. "And you know, sure I have stuff like that here, but it's you know, Mad City Music and Strictly Discs, and besides those guys, they've all got their own little niche and they've also you know, been really fantastic.
In general, the EDM community in Madison has been expanding even more thanks to the wave of college kids and local venues opening up, like Liquid. But the culture wasn't exactly established, and Kaster helped propel it even further.
What lies beneath the physical space is a chance for artists to build a connection.
Andrew Pearce, one of Kaster's longest customers, continues to take part in the electronic music culture and recognizes the importance of spaces like these.
"Geoff is also in a way, kind of advancing Madison's nightlife culture in general just by again, providing a place for people to drop those flyers to tell people about shows," Pearce said. "It's a place for these artists and headliners to come and dig and talk music and meet some local people, and then go back to whatever city they came from and talk about what a great experience they had in Madison."
Beside the many records found in the store, Kaster often has DJs come in to play live sets for the customers browsing the racks. Jiggy Jamz is one of the only record stores that has in-house live music, all complementary to the experience.
Kaster usually invites local DJs to play their own sets for the customers shopping the store. Essentially, this allows DJs to widen their bandwidth to a local audience. Matt Elms, a longtime friend and supporter of the store, often comes in during his free time to spin the deck.
"You never know who's going to come by, and it's also fun when people ask about the record you're playing," Elms said. "It's open in the afternoon, and that's when my free time is, so it's kind of like killing two birds with one stone while hanging out with my friends."
In essence, this one-of-a-kind electronic vinyl store bridges the gap between underrepresented genres in the music scene in Madison, allowing past lovers and new members to join a unifying community.
"I think it's helped make the scene a little bit bigger, you know, and also a little bit vocalized at the same time," Kaster said. "I mean, it's a meeting place for DJs here."