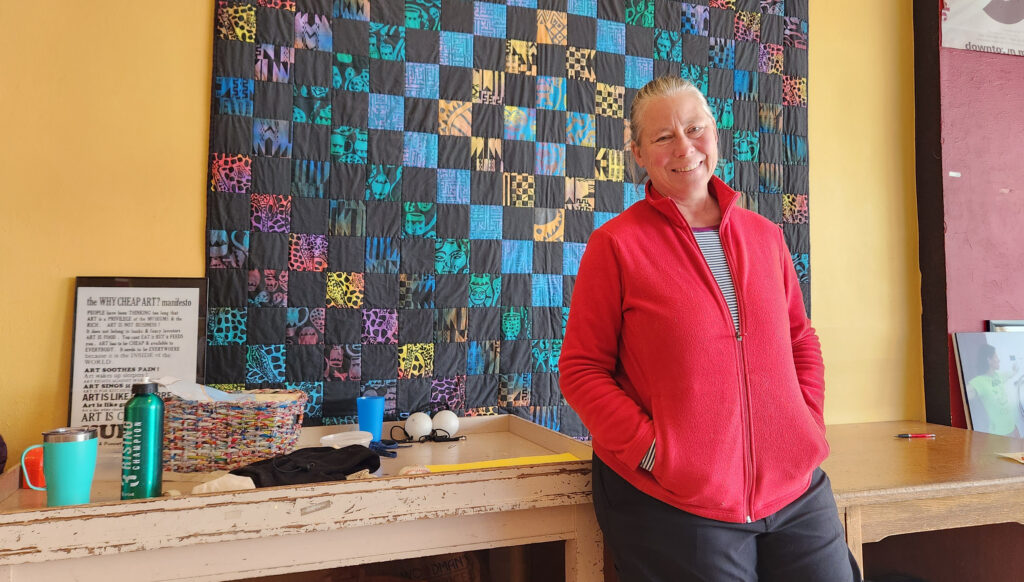 Marcia Miquelon is the director of the Mazomanie Movement Arts Center/Wild Rumpus Circus, located in the far western edge of Dane County, providing movement and performance opportunities for residents and visitors to the Driftless region.
A trained dancer, aerialist and yoga instructor, Mars, as she is known, has taught and performed all over the United States and abroad, including in Namibia, where she volunteered and later traversed sub-Saharan Africa by bicycle.
Mars first encountered this corner of the state while passing through on a cross-country bike trip, on her way to run the Bicycle Federation of Wisconsin, a then-fledgling organization dedicated to cultivating community by advocating for bicycling riders around the state.
She made Mazomanie home and — after observing the Great Circus Train slowly crossing the Wisconsin River with its fascinating cargo of hand-carved circus wagons — founded her school. That school is now located in a historic downtown building, fostering creative expression through camps, workshops, residencies and community outreach all across Dane County.
What do you think is the biggest challenge our community faces?
In a word or two, isolation and disconnection — driven by our overdependence on the automobile. Mazomanie is a small, rural community that hasn't really grown much in population over the past 20 years — we haven't had a grocery store in that time, nor have there been enough jobs to support the population. 
Mazomanie has become a sort of bedroom community, and people spend most of their week getting in their car and driving to Madison or in another direction for their job, school or just to go get groceries. What's contributed to our downtown looking so unique and antique is the very same thing that's contributed to us never really having a solid core — our cars just take us elsewhere.
What do you wish people in our community understood better?
The value of public transportation. In the more than 30 years I've lived in Wisconsin, Mazomanie has been on all the long-range transportation plans for regional rail, making connections without having to get in a car. In a commuter train, you'd see your neighbor and sit next to them — instead of driving in your car honking at their car. 
I've tried to approach life here as a sort of "creative placemaking," a concept where we take what we have and celebrate it, weaving the arts into every aspect of the town. And there's some really cool stuff that's happened —– and yet, so much of it happens in isolation, and people just don't hear about it.
For example, last year we produced a free performance by a nationally touring theater company called "Bread and Puppet" downtown. It was a show that directly addressed the context and awareness of world affairs in a creative, joyful way. 
And we had nearly 400 people in attendance — but of those, most were from Madison and other areas. There were very few from Mazomanie. Why? They didn't even know about it — we don't know what's happening right here in our own town because we're not connecting anymore. Public transportation provides an opportunity to connect.
What is one change you would make if you could that would make life better for people in our community?
Let's get light rail in here and get the cars off our main street! 
It's possible. Other communities have created more of a connected, community feel by prioritizing their downtowns. Viroqua is a good example, they've got great parks, a farmers' market, an alternative high school, a co-op — and some degree of diversity.
What in our community gives you hope?
The first thing I think about is the 2018 flood. It took a natural disaster, but we saw firsthand how people came together.
I was really moved by it and so genuinely surprised, honestly. Because everyone is so in their own little bubble usually — but during that flood we had people just going around knocking on doors, asking what they could do to help. They offered us homemade caramel corn or  meals while we went through the overwhelming work of flood remediation in our own home. 
Everyone helped when we needed it most and turned our town back around. We saw it again that next spring, when it looked like we would flood again — neighbors showing up to fill sandbags, just lending a hand.
It shook us out of our isolation. It took a disaster to bring it out, but that sense of community was — profoundly — there. That gives me hope.