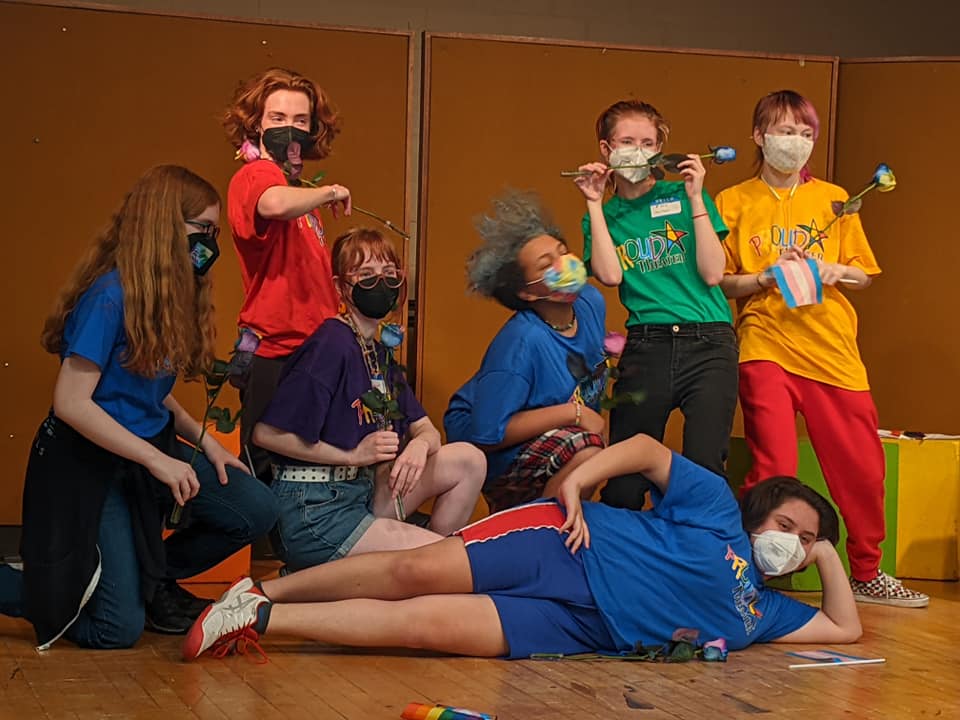 This story is part of a Madison Commons series produced by master's students in the School of Journalism and Mass Communication. These stories explore how people in Madison and Dane County find different ways to develop cultures within our community, looking for opportunities to draw connections with each other to learn more about our world.
An anonymous contribution of $7,000 on Proud Theater's donations page is accompanied by the following message: "This is the average cost of a funeral in Wisconsin. I believe that your program may have saved my kid's life."
In 1999, 12-year-old Sol Kelley-Jones approached Madison artist and activist Callen Harty with the vision of starting a group to tell the stories of queer youth through theater. Twenty-four years later, Proud Theater's chapters in Madison, Green Bay and Wausau are still bringing LGBTQ+ youth and their allies together to tell their stories as a form of community advocacy, learn the art of theater and experience an empowering space for queer teenagers. 
Brian Wild, the executive director of Art & Soul Innovations, the nonprofit behind Proud Theater, believes that theater is the most effective way to achieve the group's goal of changing how people perceive the queer community. 
"Theater is our oldest form of communication and the power of art is that we can tap into the emotions of other people through the work, and this has a better response from people since we're giving them actual stories," Wild said. In this sense, he sees theater as a tool for social change. "We try not to get too didactic or soapbox-y with it — we just try to present the stories as they are. We want to push people to think more overall. "
There have been moments when those at Proud Theater have witnessed the impact their work has. A former youth participant who had been severely bullied at his old school performed a spoken-word piece about that experience as part of the group's performances at that school. Once he had finished, a current student walked up to the front of the stage and apologized to the performer on behalf of the school. 
"Moments like that just solidify in my heart that the work we're doing is really changing people," Wild said.
This kind of work is particularly important in today's political climate, where multiple anti-LGBTQ bills have been introduced across the nation. "If we don't have people out there pushing back against this and showing people why they're wrong for passing these insane laws, nothing will ever change," Wild said.
While Proud Theater is primarily a social justice group, its programming has also helped youth participants embrace and celebrate their queer identities. Charlie, 12, said the best thing about Proud Theater is that it provides "a space to exist as a queer person," and Alex, 13, appreciates how it has provided him with a support group. 
Eleanor, 17, has been at Proud Theater for five years. "It's been really helpful throughout my life to have a consistent space where I was surrounded by other queer people. I think it definitely did help shape and is helping shape how I am," she said. Madison Commons is not using her or other theater participant's last names to protect their privacy.
"As someone who is queer but also Latina and Muslim, I don't often see people that look like me or who follow the religion as I do or speak Spanish like I do," said Anabella, 15. "I'm able to come here and be myself and not have to hide this one part of me because I'm afraid of people judging me for this other part of me. That has kind of helped me going into high school because I was super nervous."
Proud Theater's setup as a youth-led organization plays a significant role in helping participants come into their own.
"We want to not just make an impact but also let the kids see what they're capable of," Wild said. "Unfortunately, many of the youth we work with have a lot of their creativity and self-esteem beaten out of them, whether it's at home, school or anywhere else, to the point where they feel they just can't do anything. So that's why this feels important." 
In the early stages of the season, the youth have discussions facilitated by mentors about experiences they are having and what is going on in their communities, as well as  the world. As themes emerge, skits are written and developed by the youth — this follows the model of devised theater. Some participants choose to take on roles in the technical crew, and the more senior youth will take turns leading warm-up exercises and other activities in rehearsals.
This year's mentors are all former youth participants who chose to return in this new role when they heard that Proud Theater was attempting to reinvigorate itself after the COVID-19 pandemic. 
"I just know the kind of pride I felt as a youth and I so badly want them to experience that, too," said mentor Cassius Smith. "We worked through so many things throughout those seasons just as people, and having a group to grow with and explore queerness together is honestly a wild experience. A lot of us just want to foster that really hard like, 'You can do it, you can do it!'"
For mentor Samuel Carman, "Seeing that I wasn't the only one experiencing the things that I was experiencing as a youth was such a huge deal. Having the adult mentors to look up to…that extra level of, these people are here specifically because they care about me, my story, and what is going on for me — that was a huge deal. Yes, theater is important and so is activism, but what's most important to me is just making sure that the kids are okay."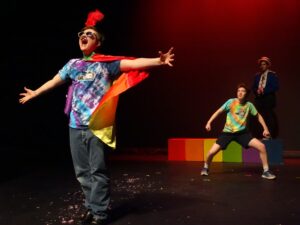 At their end-of-season performance, the youth will perform the skits that they developed. This year's show "Queerantine," put on by Proud Theater-Madison, will run in December. Proud Theater has also often been invited to do smaller performances at schools and organizations in order to create awareness about the experiences of queer youth.
Charlie's favorite skit that he's written for the show focuses on the experience of getting out of an abusive relationship and the aftermath of this. Alex said, "I helped write an angel versus devil thing about anxiety, which I have pretty severe days of, and I performed it as well." 
Not all of the skits deal with heavy topics. 
"We talk about a lot of sad stuff here obviously, which is necessary and we need space for that, but I really enjoy also having time to just be happy and gay," Eleanor said. She's excited about a piece she's involved in that is frequently referred to as the Hallmark Lesbians skit.
Wild takes the performing arts aspect of the program very seriously because Proud Theater is much more than just a social justice organization. 
"We're teaching character work, we're teaching acting, we're teaching about everything from sound design and script development — the whole nine yards," he said. "I want high-quality pieces that stand out and pop. I don't want people to come and go, 'Gee, what a great group of kids.' I want them to come and go, 'Holy crap — those were kids?'" 
Wild believes that the quality of the pieces is what really sells the story and "changes hearts and minds."
The youth appreciate this element of Proud Theater as well. 
"I love how supportive this place is because I really like acting, and I want to get better at theater, but I have not had a ton of chances to develop those skills, so this is a good, nonjudgmental space for that which will help you improve," Eleanor said. 
What can we expect from 'Queerantine'? According to Wild, it will be a pared-down version of their usual show since the focus this year has been on rebuilding the program after the ebb brought about by the COVID-19 pandemic.
 "I want these young people to feel the energy of what it means to perform," he said. "They need to see what it's like to get positive feedback from an audience because I think that's where we can kickstart the program again."
"There are a lot of funny lines so you will laugh a lot, and there's a lot of variety, so if you don't like one skit you will probably like another one," Charlie said. "Some things are more lighthearted, some are more serious — and if you're gay, you have to like it! It's required."
Anabella is most excited for her family and friends to come see the show and to meet new people there. 
"I love the feeling of people coming up to you and saying, 'You were so good in that piece!'" she said. "Like, you remember that piece? That was hours ago!"