Charlotte was never going to find her forever home, chase tennis balls in her yard or get treats for being a good girl. The playful, brown-and-white beagle, now three years old, was bred for one purpose — to be used in animal experimentation and then euthanized.
On a Thursday in late July 2022, Charlotte's fortunes changed. Charlotte, as well as 3,750 beagles, were rescued by the Humane Society of the United States. After years of alarm from animal rights advocates and state legislators, Envigo — a breeding and research facility in Virginia — was finally shut down.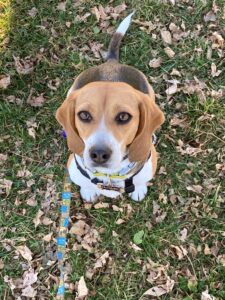 Charlotte was one of the seven beagles rescued by Dane4Dogs and she was adopted by Kim Kreuger only months after the animal welfare seizure. Kreuger, 37, lives in Verona with her husband and two daughters.
"She definitely has separation anxiety, but she settled in pretty well," Kreuger said. "Adopting Charlotte has made me more motivated to stop animal testing. I think it's important we have these smaller organizations bringing attention to this issue."
Located in Dane County, Wisconsin, Dane4Dogs is a local nonprofit organization that aims to end the breeding, sale and use of dogs and cats in painful or distressing experimentation. By hosting seminars, events and guest speakers, Dane4Dogs plays a prominent role in Madison by sparking debate on the role and practices of animal experimentation.
History of Dane4Dogs
Rebekah Robinson founded the organization after reading an article about the Direct Action Everywhere investigation into Ridglan Farms, a Mt. Horeb based breeding 
facility that shed light on the largely hidden industry that uses dogs for animal experimentation. She said she was unhappy that this breeding facility was located near her home in Wisconsin.
"I didn't want this happening in my community, and I felt that once people learned about it, they might feel the same way," Robinson said.
Robinson founded Dane4Dogs to use as a platform to inform her local community of these breeding facilities near their homes and make individuals aware of this widespread issue. Dane4Dogs' educational work encourages companies to change their animal experimentation methods to better align with society's views on the role of dogs and cats.
"As a whole society, we see dogs and cats as companion animals, and we shouldn't be experimenting or causing them unnecessary pain and distress," Robinson said. "Our laws and our practices need to be used in a way that aligns with society's changing values."
Dane4Dogs student organization founded on UW campus
The ethics of animal experimentation ultimately led Amy VanAartsen, a graduate student at the University of Wisconsin-Madison, to contact Robinson to help organize a Dane4Dogs student organization on campus. The student organization is not a targeted campaign against UW, Robinson said. Its goals are the same as the nonprofit — to end dog and cat experimentation and advocate for ethical and better forms of research.
"It is important to make sure that students are aware, so they can be informed voters and informed members of their community," VanAartsen said. "I have been really excited by the response from students."
The student organization has a strong partnership with Embark, an organization on the UW campus that helps raise awareness and provides funding to support rescue animals in healing from their trauma. With this partnership, Dane4Dogs has successfully organized educational campaigns on campus to raise awareness of animal experimentation at veterinarian schools and animal research centers all over the country.
Since its launch in the spring, the Dane4Dogs student organization has seen a great turnout. Recently, the organization held a veterinary ethics seminar with shelter veterinarian Dr. Crystal Heath, who lectured on the ongoing animal abuse at veterinary schools and shelters due to the poor enforcement of regulations.
"We had a huge turnout," VanAartsen said. "Dr. Heath's work has been great in activism, so that was a great way to get people involved."
Next fall, Dane4Dogs plans to organize a panel with pro- and anti-animal experimentation activists to allow students to formulate their own opinion on this controversial issue after hearing multiple perspectives.
"One thing we're hoping to do this semester is to have a panel of animal activists, scientists and other researchers talk about the different perspectives," VanAartsen said. "I think it's important people are aware of all perspectives to make informed decisions."
The debate on animal experimentation
Robinson initially started Dane4Dogs to combat local farms that continuously abuse animals that are bred for experimentation. However, she soon learned that unethical animal experimentation is a much deeper and larger issue than what was seen at Ridglan Farms, the Mt. Horeb breeder that raises beagles for biomedical research.
"There is a whole pharmaceutical industry that is very heavily invested in continuing the status quo, and they're willing to fight for it," Robinson said. "We are going up against big industries that we didn't realize when we started this."
Robert Streiffer, a professor of bioethics and philosophy at UW–Madison, said animal researchers should debate whether it is important and necessary to use animal experimentation to research the issue at hand.
"The use of animals can be necessary for answering a certain question, but that doesn't tell you anything about how important that question is that we need it to be answered," Streiffer said. "You need to think about alternatives and opportunity costs."
Although Dane4Dogs opposes painful dog and cat experimentation, it supports modern alternatives. One alternative is therapeutic research, which requires a caretaker to bring their sick animal to be treated at veterinary school facilities.
Robinson said therapeutic research is one of the best alternatives because it allows the animal to have an advocate ensuring the procedure is beneficial for both the pet and research purposes. However, Streiffer said using client-owned dogs introduces many variables that may interfere with animal research.
"Client-based research introduces a huge number of variables," Streiffer said. "It is much harder to control because you need a much larger number of subjects, and it doesn't let you answer certain questions with as much statistical certainty, as if you did just a controlled trial."
UW is one of the many universities moving away from previous models of dog and cat experimentation and instead has begun using pet dogs for experimentation in this manner.
"The university has made incredible progress," Robinson said. "These experiments are done with the interest of the dogs in mind, but it also helps advance science and medicine."
The UW School of Veterinary Medicine is one of the 12 veterinary oncology centers that was awarded a $75,000 fund to provide life-saving cancer care to pets, according to the UW School of Veterinary Medicine. In 2022, the funds were distributed on a first-come, first-served basis to 19 clients to help support their pet's cancer treatment.
Despite these programs, Streiffer said there is still concern over unethical animal experimentation due to the lasting effects of confinement on animals.
"I don't think that confinement is morally problematic," Streiffer said. "In my view, it's about the impact that confinement has on the animal's welfare, or on the research itself, that is morally relevant."
As a whole, Dane4Dogs works to educate the public about dog and cat experimentation and research puppy mills. Its campaigns at UW and in the Madison community have informed thousands of citizens about inhumane animal experimentation on dogs and cats.
"We're not a national organization that is well funded," Robinson said. "We are a group of local concerned citizens who care about dogs and cats. We want to let these institutions know that the residents around here are not okay with this."