Less than two weeks after newly elected school board members were sworn into their positions, Dr. Jen Cheatham announced her resignation from her position as Superintendent of the Madison Metropolitan School District (MMSD).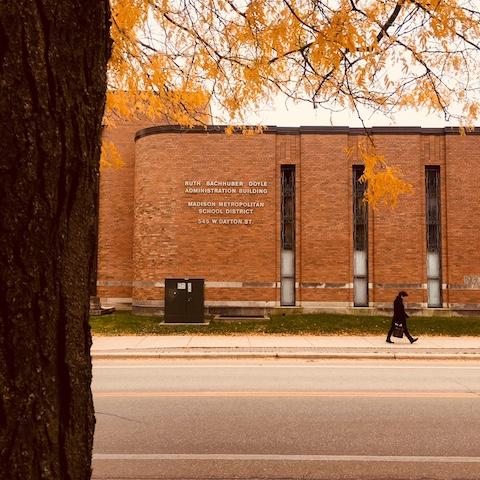 Her resignation came as a surprise to at least one of the new members. While this announcement gives the school board an unexpected challenge, it also gives them an opportunity to appoint a new leader of Madison schools.
"I was definitely surprised by Jen's announcement," said Ananda Mirelli, who was among the new school board members sworn in at the April 29th meeting. "But this is a good opportunity for the school board and the community to re-think and recalibrate what type of leader we want."
Cris Carusi, a new school board member agrees. "Change is always hard but this presents an opportunity to think about goals and values of our district, and reflect on what is in the Strategic Framework and the ways we practice living out those values. This is a new opportunity to think about who is at the helm."
Cheatham became MMSD's Superintendent in 2013. During her time in that role, Cheatham has rolled out a new Behavior Education Plan which eliminated the zero-tolerance behavior policies of the district, created a new Strategic Framework to guide the district's mission and overseen recent controversies regarding the district's contract with the Madison Police Department.
While Cheatham has been criticized for a lack of transparency and for a more top-down approach than previous leaders, both Mirelli and Carusi said they appreciated the work Cheatham has done for the district.
"Over the last six years, Jen has moved a lot of great initiatives and provided the district with the strategic framework," Mirelli said. "We moved from being a district that is color blind. Our data was not centered on a strong racial analysis- we did a lot of growth under her tenure."
The school board intends to carry on this work, Mirelli said. "There is a position around racial equity that happened under her leadership that is going to continue. That is a strong priority for all of us. The priory won't change necessarily from Jen to new leadership. The board feels really strong on that regard in engaging and deepening that work."
Ali Muldrow, who ran a joint campaign with Mirelli and is a new member of the board, agreed that Cheatham's legacy—including the Black Excellence Initiative—is something the district can continue to build on. Muldrow believes the district's new superintendent will need to be a strong leader who can work on difficult issues.
"Emphasizing equity and inclusion, strengthening special education, building up the morale of our faculty," Muldrow said. "I think we've got a lot of work to do and that is why it takes somebody tremendously talented."
Carusi wants a new leader who will also address issues around staffing in the district.
"One thing I'm hoping her successor will pick up on is staffing in the district." Carusi said. "I am concerned about growing staff attrition rates—we are well above what we used to be, even if above average of the state. We need to focus on why staff are leaving and attract new staff and more staff of color."
Former school board candidate Amos Roe agrees that staffing needs to be a priority for the incoming leadership. He said that under Cheatham, "More teachers [left] and families are leaving and there is less choice."
Roe hopes that incoming leadership will evaluate past policies more closely.
"I would like to see someone come in and say maybe our equity program is not offering true options for kids and it might not be the right way to do this," Roe said. "We need to get someone who will try a new model instead of using a model that, in my opinion, has failed and has gotten worse."
But as the board begins its search for new leadership, Carusi wants the community to remember there are other pressing issues to address as well.
"We are also passing a budget for coming school year at end of June." Carusi said. "I hope staff and the community get involved and make sure their voices are heard. Budgets reflect our values. Hopefully people will still continue to engage in budget decisions as much as they engage in leadership decisions."