Sometimes the need to be safe intersects with the demand for justice.
Controversies around a recent report to Madison Metropolitan School District (MMSD) regarding the existing contract with Madison Police Department (MPD) to employ an armed police officer, called Education Resource Officers (ERO), in each of MMSD's four comprehensive high schools, highlights just how difficult it is to navigate the tension between safety and justice.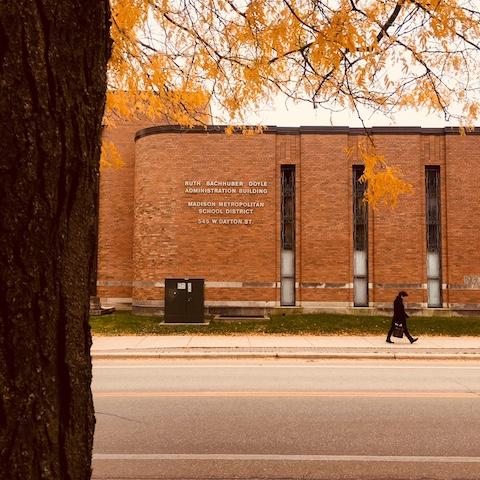 "I think we never want to put safety at risk...And yet I want us to never sacrifice one student's sense of safety for another," Dr. Jen Cheatham Superintendent of MMSD said. "We are obligated to search so we can ensure that every child, no matter their background, feels safe."
Debating the Presence of Police in Madison High Schools
In December 2016, the MMSD School Board established an ERO Ad Hoc Committee. The committee was tasked to review the existing contract with Madison Police Department. According to the report released by the Ad Hoc Committee, they set out to "develop possible recommendations for amendments to contract language and board policy based on feedback from the community." The committee was comprised of 9 community members and 4 school board members.  The option to cancel the ERO program was among the recommendations considered by the committee.
After twenty months of research and deliberation, the committee finalized their review of the ERO program. In September 2018, the MMSD ERO Ad Hoc Committee submitted a report to the School Board concluding that "the committee does not recommend the immediate termination of the ERO program."
The conclusion to renew the contract with MPD has come under criticism from those who oppose the presence of EROs in schools. To some members of the Madison community, the presence of police officers in schools poses physical, psychological and existential threats.  
Freedom, Inc., a local advocacy group who testified at the committee meetings, opposes the contract with MPD.  Bianca Gomez, gender justice coordinator of Freedom, Inc. and other members of Freedom, Inc., including youth of color, testified to the ERO Ad Hoc Committee about their concerns regarding the presence of EROs in schools.
Their opposition to the presence of EROs in schools is rooted in historical and present day assumptions by MPD that communities of color are crime plagued, at-risk, and in need of aggressive policing. Leaders of Freedom Inc. argue that these assumptions essentially criminalize actions by black and brown youth who receive more aggressive treatment by law enforcement and stiffer penalties in courts compared to their white peers for similar behavior.
Madison police and its school district "are standing in the way of liberty and justice and morality of black and brown people. I think they are scared of the reactions of white parents. They are privileging those fears," Gomez said.
Opposition to the ERO program is found among white parents as well.  
"I've heard from plenty of white parents who are concerned about EROs as well," Superintendent Cheatham said.
One of those parents, Brian Lavendal, in an email response to questions on EROs, said "I do not support EROs in MMSD high schools...When police are needed at any public space—be it a mall, a house of worship, or a school—they should be called. But having police stationed in schools is the first step in criminalizing youth and their behavior."
On the other side of this controversy are residents who support EROs. To David Blaska, former Dane County supervisor, officers are needed to support what he called "law and order."
Blaska, who is currently running for a seat on the Madison School Board, said, "I firmly believe teenagers need to be grabbed by scruff of the neck. No teacher can do that…  Teenagers now are pointing guns at drivers and saying 'get out'...we're talking about some pretty serious shit, to be honest."
Between Racial Anxiety and Stopping School Violence
For many members of the Madison community, the history of armed police officers in schools is fraught with racial tension.
"The history of police in schools began in 1930s," Gomez said.  "We saw a surge of police in schools during civil rights during desegregation... We know that white parents didn't want their kids to go to school with black kids. That is what is having EROs is really about."
While the presence of armed officers in schools was noticeable in the civil rights era, the first ERO program began in Flint, Michigan in the 1950s. However, beginning in the 1980s, the percentage of armed officers assigned to schools began to creep upwards to present day levels.  
The National Center for Education Statistics School Survey on Crime and Safety reported that during the 2015-2016 school year 42% of all schools employed EROs. This was ten percent higher than reported during the 2005-2006 school year.  The reason for this growth is reported to be over concerns of school shootings, which began after the 1999 Columbine shooting triggered an increase in demand for police in schools.
In fact, in response to the Parkland, Florida school shooting in February 2018, Wisconsin's state legislature passed Act 143, which created an Office of School Safety in the Wisconsin Department of Justice.
Almost all of the ERO Ad Hoc committee members interviewed for this article cited this law as evidence that Wisconsin policymakers see EROs as necessary to secure the safety of school children. But few of the committee members cited this point in interviews.
Indeed, preventing school shootings seemed like a secondary reason to renew the contract with MPD.
"If that's your only argument, that shouldn't be enough... I don't believe you can prevent someone from doing that if that's what they are going to do, even with EROs," said Anna Moffit, former MMSD school board member and member of the ERO Ad Hoc Committee.
So, what made the majority of committee members choose to renew the ERO contract with MPD? Is it a concern about school shootings, specifically, or school violence, generally? Is it a concern about the political consequences of appearing unconcerned, or out of sync with state policymakers? Is it a concern about the racial anxieties that is found implicitly or explicitly among white parents?  
"It's definitely both/and," Moffit said. "You can go back and look at all the families that came from La Follette High School. It was all white families saying what will you do to take care of violent and dangerous kids."
Fears, caused by perceived racial anxieties, are undoubtedly at play in the controversy around EROs in MMSD high schools. MMSD's demographics have changed rapidly in the last decade.  The percentage of students of color in 1991 was 21 percent. It grew to 57 percent in 2017. The public schools reflect how the city, once reliably white with a small town feel, have grown in size and in cultural representation.  These changing demographics have created friction.
ERO Ad Hoc Committee member Tyrone Bell understands this friction on a personal level. He said that the action of some students of color can cause misunderstanding.
"For me, [as a black man] it hurts me when I see a black kid running with his pants down," Bell said. "It bothers me. If you're a black officer and you see all the white kids going to class and the black kids don't go to class. What does that do?"
Far from condemning a large swath of white parents as closet racists, the answer to where support for ERO comes from is more complicated and relates to social problems faced by all growing cities.
Madison is more diverse than at any point in its history.  While some members of the Madison community may perceive  these changes as posing a threat to school safety and environment, others disagree.
"Another way to look at this is to say, who are you afraid of, exactly," Justice Castaneda, executive director of Common Wealth Development, Inc. asked?  "There is a lot of general mass paranoia about the fact that the majority of our population is looking more like me. Latinos are our fasting growing population. People are having a really hard time with that."
However, many committee members, including school board members T.J Mertz, Dean Lomous, and community member Payal Khandhar, cited Act 143's requirement that school leaders notify MPD when there is a concern of "school violence threats"  as reason for their recommendation to renew the MPD contract.
"I think there is no question that we are going to have police in our schools. In addition to the recent state legislation that requires our staff to call police, our history tells us police will be called in schools. I think in this way, if we frame it as partnership we can exercise some control on how its done," Mertz said.
In addition, Mertz and Lomous suggest that EROs can actually help prevent some students from being arrested. Because EROs are present at their assigned schools every day, they have the opportunity to build relationships with students and gain a more comprehensive understanding of how a potentially dangerous incident may have escalated. This understanding may lead to a more thoughtful approach to behavior incidents and help de-escalate situations which might otherwise lead to an arrest.
The Positive Impact of EROs in Madison High Schools
Payal Khandhar, a member of the ERO Ad Hoc Committee and a criminal defense attorney, knows first hand how important it is to keep youth out of the criminal justice system.
"I'm worried about the kids who are going to be disproportionately affected by the EROs," Khandhar said. "That's who I was there to represent...I walked into that committee thinking police need to be out of schools."
But the creation of Act 143 pushed Khandhar, along with many of her fellow committee members, to view EROs differently.  
"Law enforcement is going to have a presence in the school," Khandhar said. "The question is do we have any element of control over it and do we have anyone triaging what is appropriate to continue down that path or what is not….So its about getting the right person there, but I think the consistency of having one individual [ERO]  is still going to prevent [kids] from being sent over to the district attorney's office."
In this sense, an ERO's relationship to students in assigned schools is key to curbing the school to prison pipeline.
When asked if he thought if the number of students arrested and involved in the criminal justice system would increase if EROs were taken out of schools, Justin Creech, the current ERO at West High School said, "I do."
"Understanding the dynamics between kiddos certainly is vital information that I use if and when other officers have to come support," Creech said. "I'm able to inform them of these relationships that are in place and of specific conflicts, so the situation can be handled as safely as possible. Really, my job is to ensure that kids aren't thrust into the criminal justice system,"
In order to protect the relationships between EROs and students, members of the committee recommended "the mandate for EROs to be replaced every 3-5 years be eliminated" in order to ensure the"right person" continues to have a presence in each school. Here, the "right person" refers to an ERO who has relationships with both students and incoming officers to help ensure that students receive fair treatment when accused of nonviolent or violent misbehavior.
But Ali Muldrow, a current candidate for a seat on the Madison School Board, pushes back on this idea.
"This is not friendly fuzzy policing," Muldrow said. "No rapport can ease the strain that comes with being arrested as a child. There is no rapport that can compensate for being arrested in school."
Disproportionate Policing in Madison High Schools
Furthermore, Muldrow points to disproportionate policing practices used by EROs in schools.
"We arrested 114 children at school in MMSD and 97 were black," Muldrow said. "If we stopped arresting black kids we would stop arresting kids. If we are passionate about arresting kids we could arrest white kids for rude or inappropriate behavior."
Muldrow's concern about EROs disproportionately arresting students of color is shared nationwide. As the number of ERO programs increase, there is widespread data indicating that students of color are being arrested in school across the nation at far greater rates than their white peers. Local and national data indicate the the presence of armed police officers leads to an increase in arrest of students for actions that, while disruptive, are not necessarily criminal.
However, Creech doesn't see nationally cited data as particularly relevant to what is happening in MMSD.   
"It seems we have extrapolated national stories and projected that on to our Madison EROs," Creech said. "There seems to be the perception that police are handling these types of issues and contacting kids unnecessarily for issues that are being managed by the Behavior Education Plan."
But an MMSD school had their own incident of worrisome behavior between a student and an ERO when a girl with a disability was removed from East High School years ago.
"I've seen police officers removed from High schools for treating students poorly. I worked at East HS when [the student] was removed," Muldrow said. This incident was also cited by School Board member Nicki Vander Meulen as her reason for voting against renewing the contract with MPD.
Teachers' Perceptions
While most ERO Ad Hoc Committee members view EROs as a useful resource, it was difficult finding teachers willing to talk on-the-record about their viewpoints on policing in schools.  
"Teachers I interacted with see EROs as invaluable for ensuring student safety and dealing with students who get further out of hand," Dave Olson, a  social studies teacher and a member of the ERO Ad Hoc Committee, said. "Over the course of my time as a teacher there have been times when an ERO interacted [with students] and [teachers] didn't feel it went well. But overall they looked at presence of ERO as positive."
Abra Vigna, another community member of the ERO Ad Hoc Committee, learned a lot from teachers about how they viewed EROs.
"I learned that from the perspective of people working in the schools, in many ways the EROs are more of an advocate for blunting the [school to prison] pipeline." Vigna says this happens because EROs have the chance to interact with "children and see them as children first."
Still, Creech admits there are there are systemic issues which result in student of color being arrested more frequently than non-white students.
"Police as a whole have been deeply rooted in oppressive systems, Creech said. "Now I'm part of that, so I firmly believe that now I can create change from within."
Conclusion
While MMSD's ERO program remains controversial, the program has evolved since it began in 1998.
"Some years ago, and this started at La Follette, the ERO at the time prompted the first stage of serious evolution in the role of EROs when he brought youth court to La Follette.  He introduced the concept of Restorative Justice not only to La Follette but to the larger school district," Superintendent Cheatham said.  
The former ERO mentioned by Superintendent Cheatham, Greg Rosetti, is currently a member of the Ad Hoc Committee that reviewed the contract with MPD. Rosetti knows first hand how EROs can abuse their power and misread a situation. But he also understands that they play a valuable role in schools.
"I want a day without EROs. We're not there yet,' Rosetti said.
But as long as MMSD continues to explore how to create parallel lines of safety and justice that day may soon arrive.
"Everyone is closer on this issue than they think," Rosetti said. "Everyone is focusing on the ERO but this is outside the problem box."