On Madison's east side: once a warehouse, now a hub for circus arts.
Open the doors of Madison Circus Space to find members cartwheeling inside 100 lb German wheels, students circling around the trapeze and professional circus artists rehearsing for competition. Free clubs, like Madison Area Jugglers, are having their weekly meeting. Up the stairs is an aerial silks class where beginners wrap their feet into long, hanging silks for the first time.
Madison Circus Space (MCS) is a nonprofit organization that opened in 2013. MCS aims to make circus arts available to anyone in the Madison community.
MCS formed from a group of individuals practicing circus art at various locations. They came together, rented a warehouse, formed a board of directors and turned the space into a circus center. Members have access to the facility 24/7. Intrigued beginners can take classes, and those looking to teach can do so in MCS.
"We provide space for people to do circus how they want to do circus," Josh Casey, a MCS co-founder, said. "If you want to become a professional circus artist, we're going to do our best to provide equipment. If you want to take classes and socialize there are ways to do that too. If you come in and say 'my passion is passing this on,' there are ways to start a class and we'll promote it."
According to Casey, the freedom to pursue circus in an individual way creates a collaborative MCS community.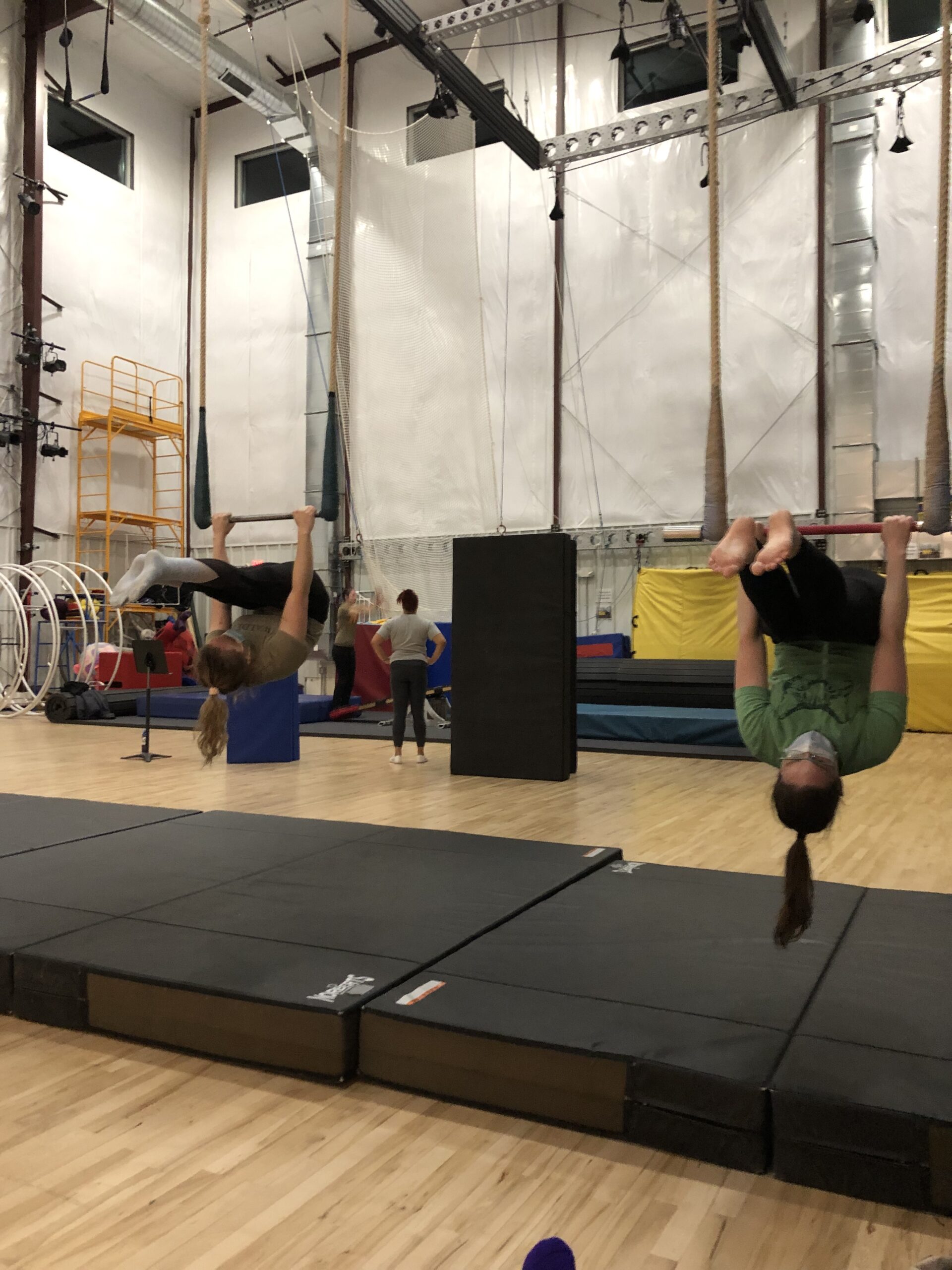 "What's special about the circus space is the sense of community," Casey said. "Members can take ownership. This is their space. A lot of things exist here because a member said 'hey, it would be cool to have this.'"
Casey juggles, rides circus bikes and recently started the flying trapeze. He's Madison Circus Space's director and recently directed Carly Schuna's show "It Takes Guts."
Carly Schuna, 39, is another MCS co-founder. She and Casey met and became close friends by forming MCS together. She's a performer, coach and competitor in circus arts. German wheeling is her number one passion. She discovered the German wheel 11 years ago and has competed at the national level.
"The first time I wheeled, it was love at first roll," Schuna said. "I literally dreamed about it every night for the next three weeks."
Schuna runs her coaching service, Head Over Wheels, at the Madison Circus Space. She leads German wheel and trapeze classes.
Trapeze is the circus art that frustrates Schuna the most in her own practice, but this makes teaching trapeze rewarding to her.
"I see my students struggle and I've been there before," Schuna said. "I can laugh with them. We can share those moments that are really challenging. It builds a sense of camaraderie."
Katie Werner, 39, became interested in circus after watching a Cirque Du Soleil show. She started circus arts herself at MCS six years ago. She is a wheel member at Madison Circus Space, meaning she is able to use the space to practice German Wheel. She takes classes including Schuna's Advanced Beginning Dynamic Trapeze class.
"I'm really enjoying almost playing like a kid again," Werner said. "I love that there's a physical and mental challenge to everything. It's almost like a form of moving meditation."
The Advanced Beginning Dynamic Trapeze class has been together for about a year, according to Werner. Despite differences in age, backgrounds and skill levels, the class encourages each other to try new things.
"You forge this friendship, and it's such a lovely group of people," Werner said. "Having that community there to support you and to try things safely are what keep me going."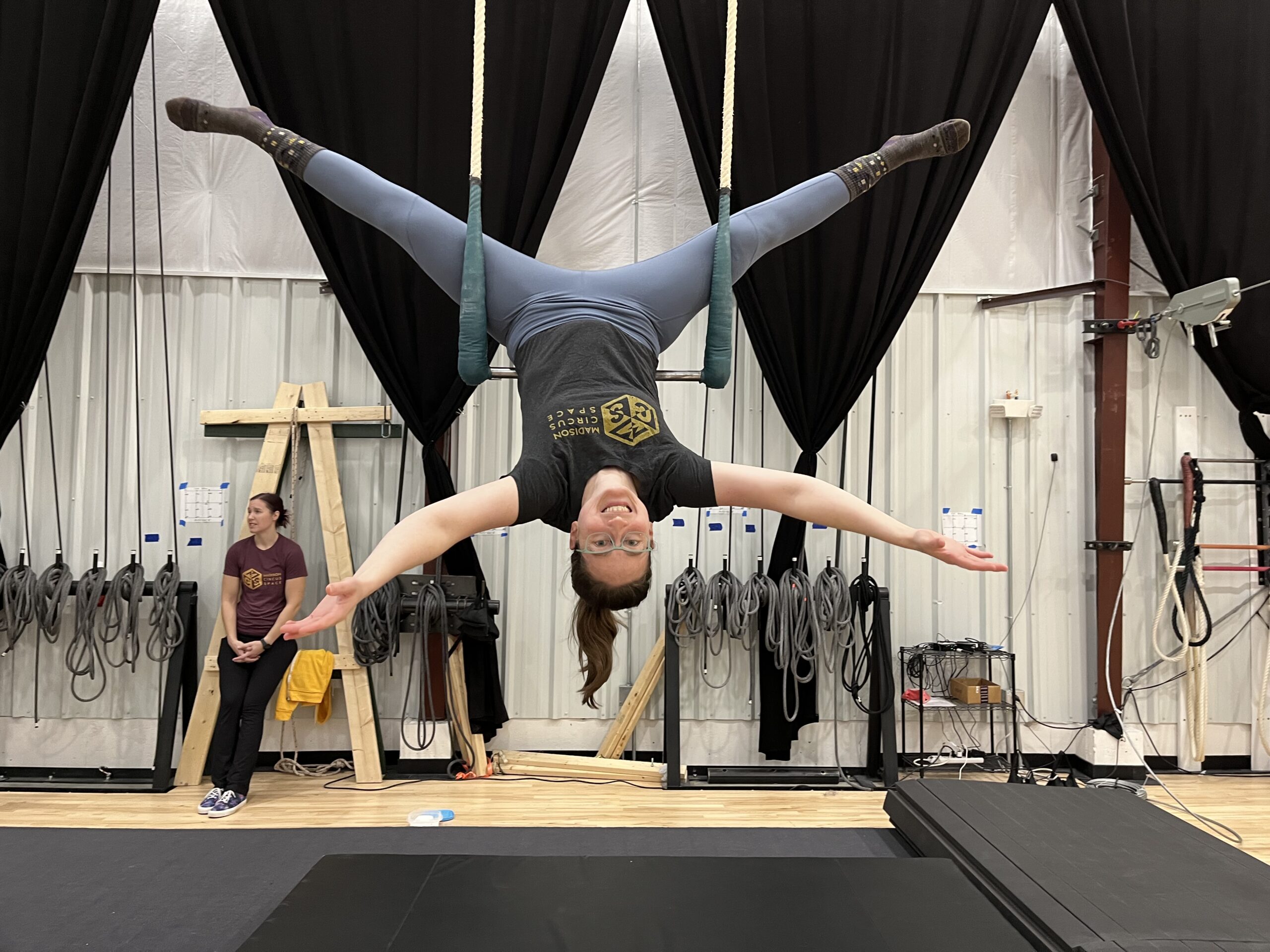 Trying a new circus art can be intimidating. Werner goes into her classes with the goal to have fun and grow. Eventually, the skills come too.
"You get really proud of yourself. I can reflect on my first trapeze class. I couldn't even get onto the bar without assistance. Now I'm able to do it myself," Werner said. "Those kinds of wins help people build confidence in ways they didn't expect. I think you carry that with you through the rest of your day and the rest of your life."
Schuna doesn't know if she likes performing or coaching better. Watching her students get better is a highlight of her job.
"Coaching is so satisfying to see students get better and see the joy they have in doing circus," Schuna said.
Inclusivity and body positivity are "core tenets" to MCS classes, says Werner. Schuna emphasized the importance of adjusting processes for different students.
"I have taught a bunch of people with different body types and I have learned things along the way that work for them," Schuna said. "You have to listen to your students rather than just giving a one size fits all approach."
After a year and a half of practicing circus arts, Werner competed in the 2017 USA wheel gymnastics competition. Competing against more experienced circus artists, Werner stayed focused on her routine.
"For me, the big win was having a routine and showing up and doing it," Werner said. "Obviously other people were quite a bit more advanced."
Werner's friends, Kristina and Becky, qualified for the world championship in Europe. Werner went with them to support her friends from MCS.
"I was like 'I'll carry the team bag,'" Werner said. "It's absolutely amazing to watch their growth and their journey. I just love it. They did amazing."
People do circus for different reasons, according to Casey. They might be drawn to circus' athleticism and danger. Some circus artists use circus as a form of self-expression or to take on an alternative persona. Whatever the reason, Casey described realizing you want to get involved as almost instinctual.
"At some point somebody sees someone doing it and something clicks inside them that says it looks fun," Casey said. "People aren't doing circus arts because they have to do it. They're not doing it because they have to stay in shape. There's something about it that they're drawn to."