Free Bikes 4 Kidz Madison, a local nonprofit, donates thousands of bikes to kids and adults each year and partners with other area organizations to jumpstart equity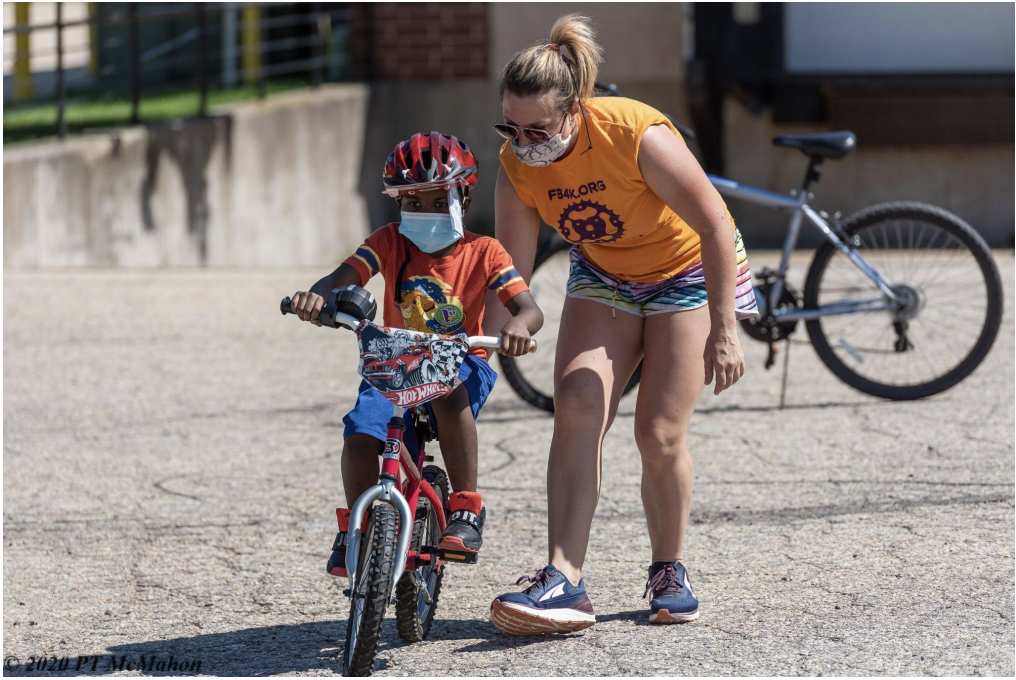 Underserved communities in Dane County, including low-income residents and people of color, often never grew up riding a bike, can't afford one or lack knowledge about local bike trails.
Free Bikes 4 Kidz Madison, a local nonprofit organization, is trying to change that disparity.
Founded in 2016, the organization gives away more than 1,000 bikes each year primarily to kids but also adults. It has given away a total of 8,281 bikes, according to its website.
The organization receives its bikes mainly from local donations — but also refurbishes some it finds in landfills — and gives them to people from underserved communities in the Dane County area.
Kristie Goforth, executive director of Free Bikes 4 Kidz Madison since April 2020, has worked in recent years to shift the organization from an entirely donation-based organization to one with deeper community ties.
Goforth, a member of the Sault Tribe of Chippewa in Sault Ste. Marie on Michigan's Upper Peninsula and whose father is Ojibwe, is a first-generation high school and college student. She has made it her mission to improve the inequities she faced growing up.
"I faced a lot of barriers and my family [has] historically," Goforth said. "I have seen this generational trauma being passed down in my family and have gotten to a point where I've broken that. Bringing that into this organization has kind of refined our mission a little bit."
That refining process has been centered around making sure Free Bikes 4 Kidz Madison gives bikes to diverse communities in Dane County and people facing financial challenges who might not otherwise be able to afford them. Bikes can be a primary commuting option for low-income residents and enable multiple healthy habits, including exercise and social engagement, Goforth said.
Before Goforth worked at the organization, Free Bikes 4 Kidz Madison donated entirely to the Boys and Girls Club of Dane County. Now, it has served 108 organizations in Dane County and southern Wisconsin, including various school districts in 2022, Girl's Inc. and Cesar Chavez Community Center, according to the nonprofit's website.
Under Goforth's leadership, Free Bikes 4 Kidz Madison also began donating bikes to the community year-round, a break from the four-month donation model that its parent organization Free Bikes 4 Kidz — which was founded in Minnesota and now has a national presence — uses at its 17 national chapters, Goforth said.
The COVID-19 pandemic accelerated Free Bikes 4 Kidz Madison's operations because more people donated bicycles after finding more free time to clean out their garages and basements, Goforth said. The nonprofit donated a record-high 2,021 bicycles in 2021 compared to 1,500 in 2019, according to its website.
But for Goforth, the donations are only one piece of a larger puzzle needed to challenge inequity in biking culture and the local economy. Despite Madison being ranked in 2020 as the No. 2 best city for biking by bike advocacy group People for Bikes, the industry is expensive and hard to access for low-income people in the U.S., Goforth said.
"The cycling industry has historically excluded a lot of people," Goforth said. "I don't think that is going to come as a surprise to many people, but calling it out sometimes can be uncomfortable. And I've called it out."
That exclusion has led Goforth to focus on community programming that helps kids and adults develop the skills needed to use their bikes for years in the future. The organization runs pop-up repair clinics in area parks and bike trails near underserved communities where people can get their bikes fixed and learn how to do so.
"We've broadened our scope of work to meet the needs of our community in a bigger and better way," Goforth said.
Education on where to use bikes in Madison is also limited for underserved groups in the area, which Goforth is trying to change with new educational programming, she said. The organization is planning to do supported group rides in Madison this summer to help teach people how to access trails, like getting to the Cap City trail from Milwaukee Street on the east side.
Free Bikes 4 Kidz Madison has also been developing deeper relationships with other local nonprofit organizations to challenge inequity in the city of Madison. One of those partners is the Latino Academy of Workforce Development, which hosts employment workshops for local residents and aims to increase equity in Madison.
For Baltazar De Anda Santana, executive director of the Latino Academy of Workforce Development and board member of Free Bikes 4 Kidz Madison, free bikes are a starting point for a larger effort to increase equity for employment opportunities in Madison.
"I don't think [just] giving free bikes is the solution to bike equity. I think it's giving free bikes with partnerships, with collaborations," De Anda Santana said.
De Anda Santana was born in Mexico and moved to Madison as an adult. He initially didn't have access to a car and instead used biking as his primary means of transportation.
That reality of relying on bicycles for work and daily life is more common than people think, De Anda Santana said. It is also reflective of a problem with bike culture in Madison that prioritizes recreation for privileged residents, he added.
"Many people always ask me 'How come Latinos don't bike?'" De Anda Santana said. "And I would tell them, 'Listen, they are biking while you are sleeping,' because they don't have a Monday to Friday job."
Now, De Anda Santana continues to bike around the city as a pledge to immigrants who still have to bike, he said, and is currently training to compete in his fifth Ironman competition. He works with Free Bikes 4 Kidz Madison to make sure free bikes are paired with employment training to improve resident lives in the long term.
"When I started my job at Latino Academy, I told my employee, 'I need you to go and distribute flyers about the Latino Academy classes at this bike giveaway,'" De Anda Santana said. "I want to get those folks out of that line with good jobs, with good training, so that later, they can donate their bikes."
As part of Free Bikes 4 Kidz Madison's partnership with the Latino Academy, Goforth and her team also connect families with the Latino Academy if they need employment resources. The nonprofit also has similar ongoing partnerships with other area organizations.
Big Brothers and Big Sisters of Dane County, for example, brings kids and their mentors to Free Bikes 4 Kidz Madison's facility, where they learn how to pump air into bike tires and use a bike lock, Goforth said.
Free Bikes 4 Kidz Madison also has its eyes on partnerships to improve equity for disabled groups who can't participate in biking activities. The organization has a collaboration in the works with Wheelchair Fab, a group of largely Madison Area Technical College students working to modify wheelchairs for people with disabilities to use on various terrains.
"We're bringing them under our umbrella," Goforth said of Wheelchair Fab. "You're going to see not only free bikes for kids, but you might even see some free wheelchairs for kids."
Wheelchair Fab has developed a way to fit bicycle wheels onto wheelchairs so they can be used on sidewalks or outdoor courts, said Wheelchair Fab leader Tyler Willenbrink. That adjustment could help people with disabilities reach recreational activities or transportation routes they couldn't previously access.
"There's this whole other group of youth that use wheels, not only for outdoor recreation, but for day-to-day travel," Willenbrink said. "Providing that extra space for all youth I think is really the goal there."
Free Bikes 4 Kidz Madison recently moved into a new space that Willenbrink said could be used for the two groups to work together on future projects.
But despite a large network of partner organizations, Free Bikes 4 Kidz Madison's solution model — donating bikes, equipment and teaching bike skills — is still prone to resource problems.
Supply chain issues during the pandemic prevented Free Bikes 4 Kidz Madison from receiving helmets from its partner company Schwinn, Goforth said, and it has had trouble getting hand grips shipped to its facility.
Free Bikes 4 Kidz Madison's volunteers, who are largely retired, were also not comfortable working in close quarters during the COVID-19 pandemic, Goforth added. That problem made it difficult to process the large number of bikes received in 2021.
Free Bikes 4 Kidz Madison was also previously more reliant on individual money donations to fund its employees, warehouse space and material costs, which made its finances more volatile depending on the year. Goforth began applying for more grants in 2021, and now about two-thirds of the organization's budget comes from grants and the rest from individual and corporate donations, she added.
But those grants can be inconsistent, too, depending on the aspirations of the political party in control of the governor's office and state Legislature. Free Bikes 4 Kidz Madison, for example, used Gov. Tony Evers' Bounceback program — which provided grants to nonprofits and community organizations to occupy vacant stores — to receive $10,000 which was used to pay rent for their location in East Towne Mall last year.
Free Bikes 4 Kidz Madison has long-term goals that include a more permanent facility to work from, and it is still in the early stages of making its donation model focused on mutual relationships with community partners to challenge inequity.
"I always like to say I like to use a bike as an excuse for social justice, for us to be able to fight," De Anda Santana said. "I think we just have to keep moving forward and think about bike equity broader than just bikes."
Readers can find out more about Free Bikes 4 Kids Madison's mission, history and how to donate or receive bikes on its website at fb4kmadison.org.