Boys and Girls Club of Dane County CEO Michael Johnson, also a key leader in the Greater Madison community over the last eight years, has accepted an offer to become the President and CEO of the United Way of Greater Cincinnati, Johnson and the UWGC announced today. He will begin his new job on July 9.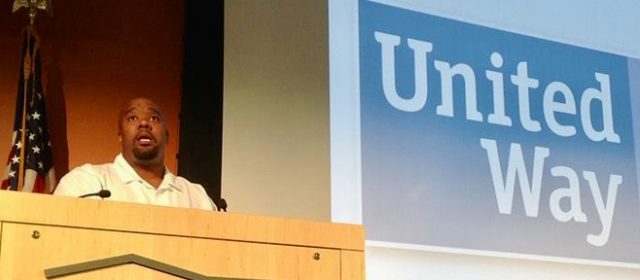 The announcement follows a six-month nationwide search. Johnson will succeed Rob Reifsnyder, who over 18 years as president and CEO, grew Greater Cincinnati to its current ranking as the sixth-largest United Way in the country.
The search was led by Julia Poston, Cincinnati office managing partner at Ernst & Young LLP and United Way of Greater Cincinnati board chair, with BeecherHill, an Ohio-based executive search firm, and a committee comprised of community and board leaders. Johnson was selected from a pool of more than 200 candidates.
"Michael is a dynamic and inspiring leader," Poston said. "His passion and personal understanding of this work, combined with his commitment to community engagement, fundraising expertise and nonprofit management experience will position him for great success as our new CEO."
"I'm thrilled to welcome my Madison colleague to the United Way family," said Leslie Ann Howard of Madison, a senior adviser to the CEO of United Way Worldwide. "Michael's a passionate, indefatigable and effective leader. He joins one of the most successful United Ways in the country with dedicated volunteer leadership, significant community support and visible results in changing lives. It's a tremendous opportunity for Michael to build on the legacy of his predecessor and our friend Rob Reifsnyder."
Johnson has led the Boys & Girls Club of Dane County since 2010, quadrupling the number of children and families served and expanding the operating budget by 318 percent – making it one of the fastest-growing Boys & Girls Clubs organizations in the country. Johnson developed and instituted strong financial and led the largest  private-public partnership with the Madison Metropolitan School District to achieve eight consecutive years of graduation rates greater than 90 percent for low-income, first-generation college students.
"On behalf of our entire community and the Boys & Girls Clubs in Wisconsin,  I am thankful for Michael's unwavering dedication to the children and families of Dane County," said Boys & Girls Club Board Chair, Jenny Meicher Santek. "There is no doubt that the Club is well positioned to change the futures of even more young people thanks to Michael's passionate work. His enthusiasm for our mission will continue to inspire us for many years to come."
He is joining United Way as the organization takes bold, new steps to address poverty. More than 100,000 families in United Way of Greater Cincinnati's 10-county, three-state service area are living in poverty. That includes 1-in-3 children. This year, United Way changed the way it invests in partner organizations to focus more on children and families in poverty, as well as launched a first-of-its-kind collaboration with partners across the region to create stronger, faster change for these families.
"I accepted this opportunity because I grew up in public housing in Chicago, overcame not being able to read and write at college proficiency, and I understand firsthand the challenges that trap families in poverty and the impact it can have on a family, city and region," Johnson said. "I am looking forward to calling Cincinnati home and working with United Way partners, volunteers and the private and public sectors to help unite our community to change lives and provide a clearer pathway to help move children and families out of poverty."
Johnson served as chairman of United Way of Dane County Government and Nonprofit Division for its 2015 Workplace Campaign and has served on more than a dozen boards and committees including The Overture Center for the Arts, Bike Federation of Wisconsin, University of Wisconsin School of Human Ecology, CF Charities and the Police Athletic League of Philadelphia. He received NBC 15's Making a Difference Award in 2017, Madison 365's Most Influential African-American Award in 2015, In Business Magazine's Most Influential Person Award in 2014, and was honored by the Pennsylvania House of Representatives for his work in Philadelphia in 2012.
Johnson earned a BA in Business Education from Chicago State University, an MBA from the University of Phoenix, certifications in Fundraising Management from the Center of Philanthropy at Indiana University, a certification in Human Resource Management from Cornell University and holds an Advanced Leadership Certification from the University of Michigan Ross School of Business.
Johnson's wife, Toya Johnson, has been leading as a United Way Director in Dane County, Wisconsin. They have three children, aged 13, 7 and 4.
This article first appeared on Madison365.