During the 37 years that Harlan Richards spent in prison, he became an artist and a poet, and even learned algebra and calculus. He was no stranger to something in high demand among inmates, but in short supply throughout prisons: books. 
Prisoners in Wisconsin face a variety of barriers, from outdated prison libraries to low hourly wages, that prevent them from obtaining reading material. 
Richards, who was released in 2021 from Oakhill Correctional Institution, just south of Madison, regularly read books on topics like math, drawing and poetry. His artwork has been displayed in galleries and shows, and dozens of his hundreds of poems have been published. 
But before 2006, books were harder for Wisconsin prisoners to come by. That's when a Madison-based organization made it possible for Richards and countless others to read and learn while incarcerated. 
Wisconsin Books to Prisoners is a nonprofit seeking to remedy an issue in Wisconsin that extends nationwide: limited access to books in prison. The organization works to foster a love of reading among inmates, and many of the books they send prisoners help them gain skills and knowledge to use after their eventual release. Since the group's founding in 2006, they have sent close to 70,000 books to prisoners across the state. 
"I've received so many books from Wisconsin Books to Prisoners, I can't even remember which prisons I was in at any particular time that I received them," Richards said. 
Wisconsin Books to Prisoners' team of typically just three to six volunteers accepts book requests from inmates in state prisons throughout Wisconsin. The group then mails the requested material directly from its library to the prisoners.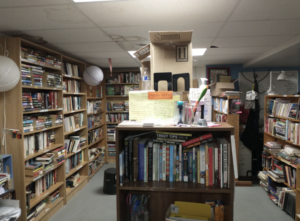 "If you're sitting in a prison for years and years, you don't have a lot of contact with the free world," Richards said. "It helps your emotional well-being to know that somebody remembers you."
Camy Matthay learned firsthand how difficult it was for prisoners to get their hands on books when she volunteered in the Oakhill Correctional Institution doing documentary work. According to Matthay, inmates were not only incredibly interested in reading, they also wanted literature that was engaging or useful to them.
That was nearly 20 years ago, around the same time Matthay co-founded Wisconsin Books to Prisoners to respond to this keen interest shown by inmates.
During her time as a volunteer at Oakhill Correctional Institution, Matthay said the prison library was often closed due to staffing issues, among other barriers that made it difficult for inmates to access reading material.
"Most people don't know that prisoners in Wisconsin make around 12 to 25 cents an hour, so you can imagine how long a prisoner has to work even to buy a decent toothbrush, let alone to buy books," Matthay said.
Indeed, the average hourly pay for an inmate in Wisconsin is less than one dollar for both non-industry jobs and jobs in the state-owned correctional industry, according to the American Civil Liberties Union.
According to Wisconsin Books to Prisoners volunteer Kaylee McDonald, prisons often require the incoming reading material to be like-new and untampered with. This means the books can't have any staples, coils or writing in them.
McDonald says this is difficult for the organization since it relies on donations, and many of the books it receives are somewhat worn. There are also a number of books that are banned from Wisconsin prisons based on content. Because of this, the team occasionally receives notifications  that something they've mailed to a prisoner is prohibited.
Getting these books in the hands of prisoners also isn't easy due to a recent uptick in the monitoring and regulation of incoming mail, according to Matthay. Prison security both statewide and nationwide has increased due to rising concerns of inmate-bound mail and packages being laced with fentanyl.
Nevertheless, Matthay says she is confident that most of the books they send today are indeed reaching the prisoners.
"The most frequently requested book nationwide is a collegiate dictionary…and in the nonfiction topics, the most requested books we get are on trades like plumbing and wiring," Matthay said. "People are really trying to prepare to return to their communities as productive people."
The Wisconsin Books to Prisoners team has received countless letters over the years thanking them for the books they have sent. According to McDonald, these letters are what remind them to keep going with their work.
"We've had inmates get out and immediately come by to thank us and offer to volunteer," McDonald said. "It's really incredible."
Despite the challenges, McDonald and Matthay's small team has managed to provide hundreds if not thousands of Wisconsin prisoners with reading material they otherwise wouldn't have been able to access. Richards said he always donated the books that he received back to the prison libraries so other inmates could read them.
"Knowledge is power," Richards said.
To donate books to Wisconsin Books to Prisoners, visit its website here.