This story is part of a Madison Commons series produced by master's students in the School of Journalism and Mass Communication. These stories explore how people in Madison and Dane County find different ways to develop cultures within our community, looking look for opportunities to draw connections with each other to learn more about our world.
When Japanese culture and other related Asian culture comes to campus, Madison becomes a more welcoming and inclusive community for all
Through its outdoor practice sessions and self-defense seminars across Dane County, the Shorin Ryu Karate Club brings awareness of Japanese culture and an opportunity to learn more about its tradition to the Madison community.
One big mission of the Shorin Ryu Karate Club is to "bring about awareness of, in today's society, knowing how to protect yourself based on years of tradition," said the group's president, Natalie Rebecca Hintz. The club holds seminars in the Dane County area to teach about the tradition, as well as practices to increase awareness of karate. 
As a U.S.-based club with an Asian culture, the Shorin Ryu Karate Club aims to teach Americans Karate, which is one way to spread Japanese culture in Madison. For most of their seminars, they first learn more about karate traditions. 
"We first teach them in English so we have that basic understanding since most people in our club have English as their first language," Hintz said. "But then we learn how to say them in Japanese." 
Hintz recalled that there were a few seminars happening on campus or off campus, but one memorable seminar was a dojo they visited four hours east of Madison. 
"The main senseis there travel to Japan for years," Hintz said. "Learn the practice and come back, show traditional weapons, traditional styles of karate, learn each of the traditions that are changed or shifted."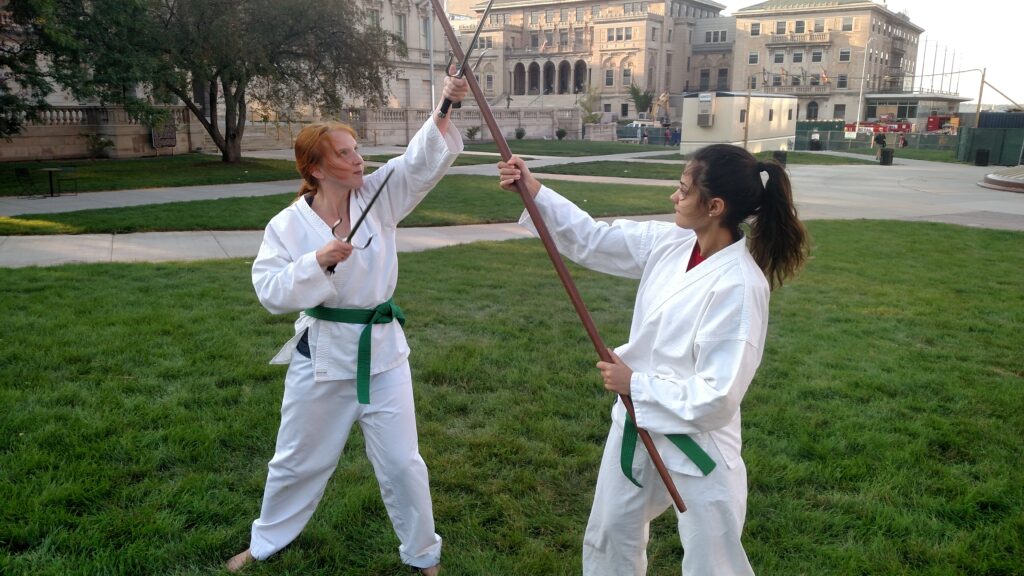 Another way to show the sense of culture is holding martial arts sessions outdoors, especially when the participants wear custom uniforms. When there are guests or visitors around, these workout sessions can help strengthen the sense of Japanese karate culture. Spring and summer are the times when visitors will come by, and students and employees walking around the campus can watch. "Mostly in the summer we do outdoor sessions," Hintz said, so summer seems the best season to show the karate culture to the public. In addition to martial arts, meditation and playing with safer weapons are also part of work sessions for the club.
There are also martial arts exchange events going on at the University of Wisconsin–Madison, where martial arts groups from around campus come together to exchange different traditions. 
While the force of one cultural club might not reach its mission on its own, cooperating with other cultural clubs may help. The club also pairs with a kendo club, which is a martial art using swords made of bamboo and wood. Developed in Japan, its primary mission is not self-defense like the Shorin Ryu Karate Club, but the development of discipline and self-control.