The Beacon, a local resource center for individuals experiencing homelessness in Dane County, is becoming an essential one-stop-shop for providing services s to the individuals experiencing homelessness.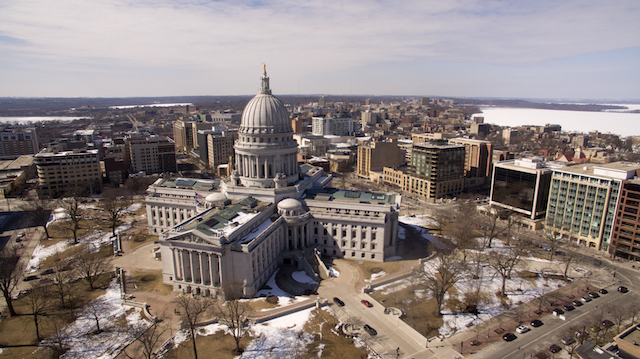 The Beacon is a comprehensive resource center for men, women and families in Dane County who are experiencing homelessness. Run by Catholic Charities of Madison, the Beacon offers both basic and rehabilitating services to those in need. Located near the corner of East Washington and Blair, the Beacon is open 8 a.m. to 5 p.m. every day.
"[We] welcome every single person here to the Beacon no matter what their history is," Metzger said. "What we're also emphasizing is the dignity and respect on the part of our guests. We're going to be emphasizing that when you come here these are the behaviors that we expect from you."
The Beacon opened its doors during a period of sustained attacks against people experiencing homelessness by the city's progressive establishment, including Mayor Paul Solgin.
The 2016 State of Homelessness in Wisconsin Report estimates there are over 5,500 total homeless citizens in Wisconsin. Of those, 12% of the chronically homeless live in Dane County, the highest concentration in the state. Yet, the mayor's office and Madison Common Council have moved to make living without shelter more difficult. Since 2015, Mayor Paul Slogin has repeatedly proposed ordinances banning sleeping or lying down in the Central Business District between 7 a.m. and 10 p.m.
Although it is still in the beginning stages of the operation, Metzger says that The Beacon has been an asset for those in need.
"The successes are that people are getting those basic services in one spot that they haven't been getting before," Metzger says.
The most used services are those of everyday needs. This includes the showers, laundry and provided meals, according to Metzger. Higher level services include identification assistance, social service case management, computer lab use, mail center use and transportation between The Beacon and overnight shelters.
"Overall, the idea behind having resources located all in one location saves enormous energy and time for our guests," Metzger says. "Our computer lab assistants are here to guide and help guests with navigating job sites and developing resumes."
After renovating the previous Commerce Building in January, The Beacon added office space for agencies such as Badger Care, UnityPoint Health-Meriter or Briarpatch Youth Services. These agencies have successfully connected guests to medical services, low income housing and case management. With time, The Beacon hopes to increase the number of people they help restore to normalcy.  
The biggest challenge for the Beacon are guests that intentionally don't cooperate with The Beacon rules, but a vast majority of the operations have run smoothly, according to Metzger
"In order for the Beacon to be a safe place for all, our guests are expected to treat their fellow guests and staff and volunteers respectfully, without verbal abuse, aggression, profanity, or threats, and of course, with no physical violence or aggression," says Metzger. "It is expected that guests follow all posted guidelines and listen to staff and follow their instructions."
If you are interested in volunteering at the Beacon, visit beaconhelps.org for more information.