One of the experiences of attending the University of Wisconsin in Madison is that students have access to unlimited Metro Transit bus rides paid with segregated fees by their Associated Students of Madison governance body (ASM). Students get an unlimited ride bus pass good for both fixed route and paratransit rides throughout much of the city of Madison and parts of Middleton, Fitchburg, Verona and Shorewood Hills. That bus service can be frequent around campus, and can take students to many major employment, shopping, health and recreation centers.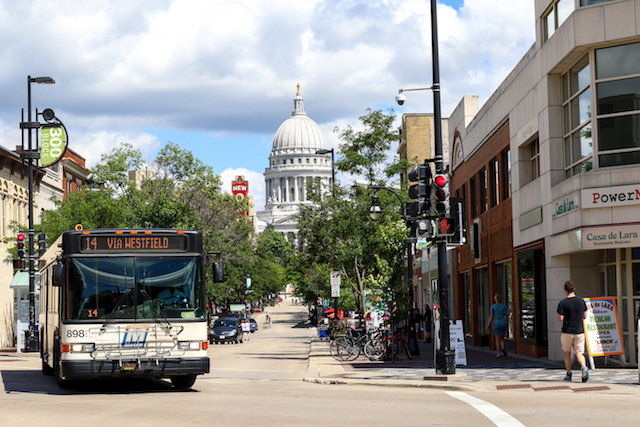 Students can additionally use a no-fare #80 campus shuttle, the #81 and #82 late night routes, and a no-fare #84 shuttle to/from Eagle Heights. Those additional routes are paid for by a combination of funds from student seg fees, the UW's division of Transportation Services for faculty and staff, and the division of University Housing.
ASM's bus pass program was fairly unusual when it was first developed in the mid-1990s. The program tapped nicely into a demand for relatively inexpensive transit services that helped both students and transit agencies, and served as an inspiration for other student bodies and transit agencies throughout the state
Initially, the ASM bus pass program involved annual negotiations with the city of Madison (Metro Transit being a city agency) and did not include use of the campus shuttle #80 (at the time called the "L"). It was not until 1999 that the bus pass program became more accepted, even expected, and when the faculty and staff's Transportation Services teamed up with the students' ASM to sponsor a no-fare campus shuttle to replace the L.  Later, a second circulator called route 85 was added, only to die some years later.
UW students helped bring bus service into the 21st century by pressing Metro to put maps and schedules on their website.  Before this effort, Metro relied on traditional ways to publicize routing and scheduling information via printed maps and schedules available on buses.
Around 2005, Metro added a rather buggy trip planner program onto its website that mainly had routing and scheduling information. That program was replaced with a much better one after a few years, and today there is an even better program called Transit Tracker. A nice feature of Transit Tracker is that riders can watch a bus of interest move along a route on Google Maps. It is possible to then estimate when the bus will reach your bus stop thereby making it unnecessary to wait out in the cold or heat for a long period of time.
When the age of the Smart Phone arrived, UW students helped in the development of cell phone applications for Android, IPhones and Windows that can be downloaded for free from Google Play, iTunes or a UW website. One of them, the Wisconsin App, is specifically designed for UW-Madison students.  But living without a car can be daunting for many students. Yes, the campus has good sidewalks for walking, as well as a SAFEwalk program. There is also a bicycle resource center on campus, a special accessible campus circulator shuttle, and of course the regular campus shuttle, the special Eagle Heights shuttle, the SAFEride late night #81 and #82, the unlimited ride bus pass. This embarrassment of riches is announced numerous times and in numerous venues to all incoming students.
Yet even so, many new students claim to have never heard of any of this information about public transit options. Or they hear about the bus pass but not about how to use it. Or they find that bus routes meander too much to make sense. Or they find signage too poor to be understandable (a bus with the same label may have different routes at different times). Nor are many students aware that the whole program was in jeopardy of folding last year when the last state budget contained a proposal to do away with ASM's ability to use student segregated fees to purchase universal access to the bus.
Consequently, students who can afford it may prefer to use a ride-share such as Uber to go someplace instead of their pre-paid unlimited ride bus pass. In fact, one of the major issues differentiating the candidates for Madison mayor in 2015 was their stance on ride-sharing companies such as Uber.  And unsurprisingly, it was the precincts around campus that overwhelmingly supported the candidate who favored unregulated ride sharing.
Most transit agencies across the country, including Metro Transit, are experiencing ridership declines. No one seems certain as to the cause but many suspect the advent of such ride sharing companies as Uber to be a major reason.
Although ride sharing companies present unfair competition in many respects, there are features that Metro could take to help students carry away positive memories on public transit. After all, Metro has the advantage that students pay no additional cost to ride the bus once they have paid their seg fees. What might happen if, for instance, weekend frequency improved from once an hour, Metro straightened out its meandering routes, poor signage were revamped to better identify specific routes and better label temporarily inoperative stops etc.?
It seems appropriate to end this reflection with some words of Alexa Edinburgh written back in 2013:
"As a student about to finish my undergraduate degree at the University of Wisconsin-Madison, ... Easily accessible public transit is a major factor in deciding where I'll settle and start my career. Throughout college I have relied on the bus system in Madison. Although campus routes are good, taking the bus to other destinations can be hit or miss, especially on evenings or weekends. If these services are reduced due to funding reductions, graduates may relocate to other cities. I don't relish the idea of trading the transit service and bike paths I'm used to for the traffic, pollution, and high cost of commuting by car in places where driving is the only option. Choosing transit over driving and maintaining a car will also help me pay off my student loans."