Madison residents braved rainy and wet conditions in early November to take part in the Flood Clean-up Challenge hosted by the City of Madison Parks Division.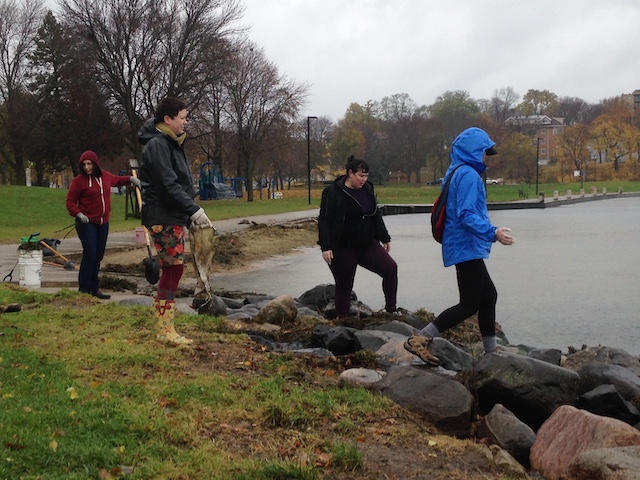 The event, which took place at 11 different parks in Madison, addressed the impact of the flooding that occured in the city over the summer.
With the gradual recession of flood waters since mid-September, many parks situated along shorelines in the city were left with debris, trash, and large swaths of seaweed on their beaches, which had been washed ashore during the flooding. In response, the Madison Parks Division developed a cleanup plan that relied, in part, on volunteers.
"I was really taken with the opportunity to volunteer for the city [and] to clean it up," said Emily Reynolds, one of the volunteers who came to help with the effort. "I actually have my own picker and I like to pick up the trash myself, so it was nice to have it in an organized effort."
Reynolds was joined by four other volunteers at James Madison Park on the shore of Lake Mendota. Together, they devoted a couple hours to picking up garbage and debris from the shore, and raking seaweed into piles to be collected by the city in the days following the event.  
"I just moved to Madison and, from my understanding, this was a big flood," said Jessica Karpinski, another volunteer. "I want to be an active member of the community and help out."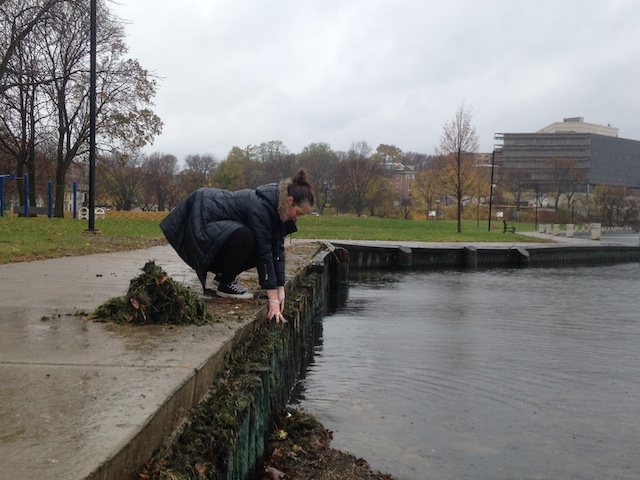 According to Tracey Hartley, the City of Madison Parks Division Recreation Services Coordinator in charge of the effort, the event drew 91 volunteers to help clean 11 parks.
"This Flood Event Challenge is brand new," said Hartley. "We just felt there was a need. There's been a lot of inquiries from people in the community asking when this is going to get picked up, or how this is going to get cleaned up, so we decided to make our best effort now before the snow flies and get some of this out of the parks so we can have a better start to our spring."
As winter approaches, there is some potential for other impacts to shoreline areas in Madison in relation to higher than normal lake water levels. According to Dick Lathrop, a former Wisconsin Department of Natural Resources Employee and current honorary fellow with the University of Wisconsin's Center for Limnology, ice damage to shorelines is one outcome likely to occur when lakes freeze before water recedes to normal winter levels.  
"In general, the county lowers the lakes – at least Mendota – close to a foot below the summer operating range," said Lathrop. "That's to prevent ice damage to shorelines because the ice expands and that shoves up on the shore, which affects shoreline structures. This year, they're getting the water levels down, but it's still going to be pretty high when the lakes freeze, so there will be some ice damage to the shorelines this winter."
Lathrop also noted that extreme runoff events like those produced by the periods of heavy rainfall in Madison over the summer tend to bring a lot of phosphorus into the lakes, which can fuel booming algae blooms.
Reducing phosphorus levels in lakes within the Yahara River Watershed is one of the primary areas of focus of the Clean Lakes Alliance, a local not-for-profit organization committed to the improvement and protection of lakes, streams, and wetlands.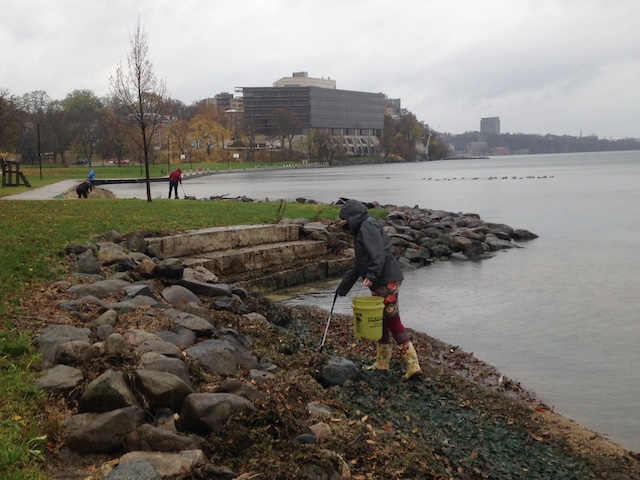 "The big rain event that we had in mid-august that led to flooding sort of just cast a rough year for the lakes," said Adam Sodersten, the Director of Marketing & Development at the Clean Lakes Alliance. According to Sodersten, the August rainfall only served to exacerbate problems associated with uncommon precipitation patterns to the region that had already occurred earlier in the year.
"It really started back in February," Sodersten said. "We had a February rain event that washed a lot of bare soil on top of the lakes which basically washed a lot of nutrients into the lakes."
With all the challenges brought about from heavy rainfall over the past year in Madison, it was perhaps only fitting that the Flood Cleanup Challenge occurred during a particularly rainy day.
"It was a huge help for these volunteers – especially on such a really terrible day – to come out and still show up," said Chad Hughes, the Central Parks and Mall Concourse Supervisor at the Madison Parks Division. "It really says a lot for the community that on such a terrible day that we still had a great turn out and they were able to do a lot of clean up for us."
Hughes also noted that the Madison City Parks Division is always looking for volunteer help, and those interested in volunteer opportunities can reach out to Tracey Hartley or through the Madison Parks' general line, which can be found here.