Passionate students across Dane County are able to benefit their local communities through the United Way, City of Madison, Dane County and UW-Extension's By Youth For Youth program.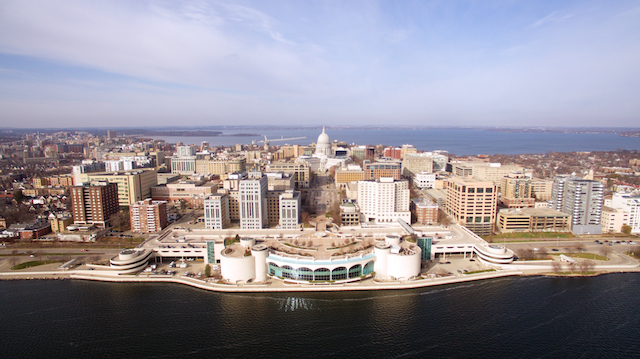 Provided in partnership with the City of Madison, Dane County and UW-Extension, BYFY provides a space for student-volunteers to work together and get direct experience making a positive change in the world.
"The program teaches kids that they have a voice," said Brianna Stapleton Welch, the 4-H Youth Development Educator for Dane County who oversees BYFY. "The kids are actively engaging with one another, and while they sometimes argue they learn to respect the opinions of their peers, overcome their differences and work together to help other youth in need."
The first half of the year consists of the youth discussing the biggest issues that other youth in Dane County face according to Sam Rosenbloom, the Corporate and Community Engagement Coordinator for the United Way of Dane County. From there they narrow down the issues to a few main priority areas and conduct a request for proposal process, this leads to a  reviewal of the proposals and funding decisions.
The 2017-2018 BYFY Class was allocated $30,500 to distribute as grants for youth programming in Dane County. The funding for the program is donated by the City of Madison Office of Community Service, Brittingham Fund-Inc./City of Madison-Madison Peace Project, Dane County Youth Commission and the United Way of Dane County Community Engagement CBT.
While technically Welch is in charge of the BYFY committee, she plays a more passive role, helping the kids with program logistics, giving them a timeline  and contacting guest speakers for the teens to listen to. It's up to the kids to do everything else.
"BYFY is creating the next generation of community leaders by demonstrating to our youth that they have voice," Sam said, the Community Engagement Coordinator for the United Way of Dane County. To further demonstrate to the teens that their voice matters each year, United Way has a BYFY Member serve as a youth representative on our Board of Directors.
"Watching the kids work overcome diversity [of opinions] as they make decisions," is what Welch enjoys the most. "Every individual is so passionate on how and why a certain group should receive funding, yet they always listen to what other have to say," Welch said.
For more information on BYFY, including how to become involved click here.