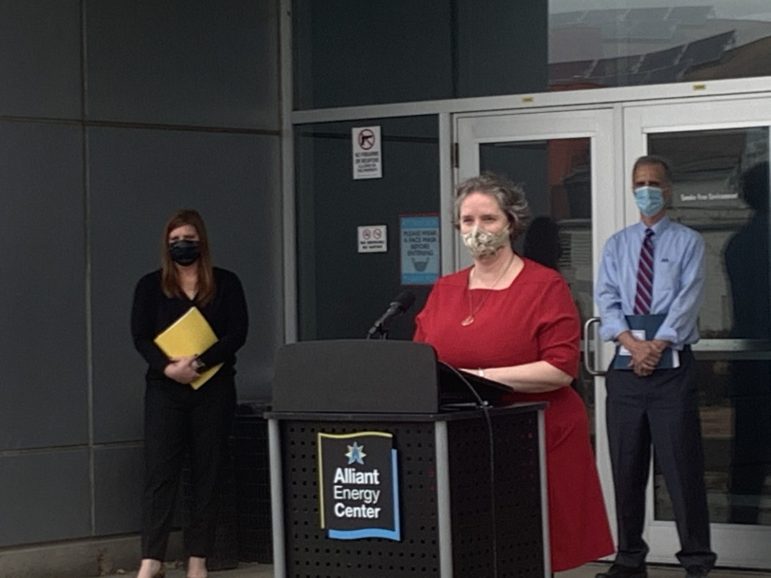 |
A new Dane County health order went into effect Wednesday that removes an outdoor mask mandate and lifts all capacity restrictions for outdoor gatherings.
Public Health Madison & Dane County announced Emergency Order #15 on April 2, citing a continued decrease in COVID-19 cases and hospitalizations. While the order removes the requirement for face coverings outdoors, PHMDC still strongly recommends wearing masks outdoors when it is not possible to maintain a six feet distance from others. 
Similarly, though there are no longer specific capacity restrictions for outdoor gatherings, Emergency Order #15 indicates that "Numbers must be limited to ensure individuals who are not members of the same household or living unit maintain six (6) feet physical distancing at all times."

After a frustrating Summer 2020, Larissa Joanna noticed that while many Madison residents realized the need for change and wanted to contribute, they had no idea of where to start. As protests turned violent and attendance decreased, Joanna decided that change was needed. That's when Reshaping Madison Together (RMT), the newest coalition in the Madison political scene, formed. What started as a survey and a group of 40 people has emerged as a progressive group of activists and volunteers who Joanna says are "fighting the good fight."  

Next week, perhaps for the last time, the City of Madison will elect 20 City Council members for a 2- year period. Among their duties, Council members pass annual budgets that set taxes and determine how those taxes get spent. Those budgetary decisions in turn impact everything, from housing and police, to parks and yes, transportation.
Various politically-minded groups gear up for this event, help with political campaigns and/or endorse particular candidates. Their activity is based on the probably incorrect premise that potential or actual transit riders are as able to vote as others. It should be correct, and the Dane County Voter ID Coalition has assigned itself the task of identifying voters who may not have an acceptable voter photo ID, then arranging for them to receive assistance in obtaining one.

On Friday, March 12, more than 50 people marched through the streets of Madison, ending at the State Capitol building, to protest new legislation that would curb the rights of transgender people. The protest was attended by people of all ages, sporting LGBTQ+ flags and signs denouncing the bill, and supporting the rights of Trans-gender individuals. 
The organizers of the Trans Liberation March described that it was to "be a celebration of gender diversity and a way to tell the legislature that we will not let this pass." In the description of the event on Facebook, they explained that while it is likely that Governor Evers will veto the new bill, "the fact that our existence is up for debate demands a movement for trans liberation." 
More Headlines