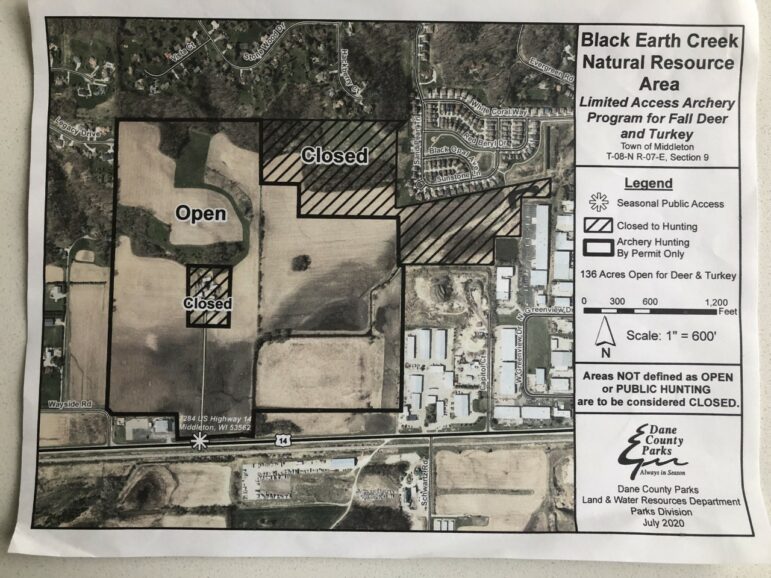 |
Officials reduce archery hunting grounds in natural resource area due to neighbors' safety concerns
Over the past year, residents of the Prairie Home Estates and surrounding neighborhoods have worked with Dane County Parks to develop a plan to allow bow hunting in the Black Earth Creek Headwaters Natural Resource Area and help control chronic wasting disease. Dane County Parks opened Black Earth Creek to hunting turkey and deer during the regular archery hunting season, which goes from the middle of September to early January. Only hunters who follow the Department of Natural Resources' safe hunting regulations and have permits from the Dane County Parks permit lottery are allowed to hunt in the park. As of now, the city has only handed out two permits for this land.

Private foundation will match public contributions to conserve historic treasure
A private Milwaukee foundation announced it will match up to $400,000 in donations that members of the public make to the Ice Age Trail Alliance to support the nonprofit's effort to preserve segments of the Ice Age Trail. The pledge from the Paul Fleckenstein Trust will jump-start efforts by the Ice Age Trail Alliance, a nonprofit, volunteer organization whose mission is to create, support and protect the many segments of the Ice Age Trail, to conserve land in the Madison area and move closer to its goal of purchasing 500 miles of trail connectors that are still privately owned. "We rely on public funding to acquire land," said Kevin Thusius, the alliance's director of land conservation.

Business owners struggle to keep doors open as COVID-19 pandemic continues
Kettle Black Kitchen is sandwiched between a coffee shop and a hair salon in the heart of Dudgeon-Monroe. Through the large window at the back of the restaurant, owner Brian Hamilton's cherry red face is visible as he furiously mops the linoleum floor, a pot of parsnips bubbling on the stove beside him. A "Help Wanted" sign hangs in the front window.

Black Umbrella Global, a local organization centered around activism, is geared toward supporting the Black community throughout the Madison area. Amid the 2020 Black Lives Matter protest, Black Umbrella surfaced as a resource and network for community members to be supported in various areas of the city. Black Umbrella acts as a safety net for Black people throughout the Madison area who seek out equality and liberation.
Rodney Alexander and Shy Smith, two of the founding members of Black Umbrella, spoke to the organization's mission and goals for the Madison community in addition to the progress the organization has currently made in the community since the summer of 2020. While their transitional housing project, community outreach, and distribution of food and educational resources are major aspects of Black Umbrella's mission, activism is the core value of the organization.
More Headlines