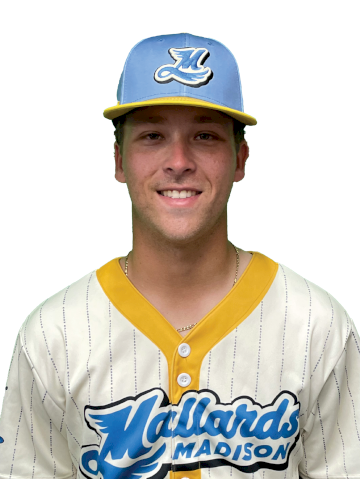 |
Stellar pitching efforts from Madison Mallards starter Eliot Turnquist and relievers Sam Vomhof and Kade Lancour combined for the team's first no hitter at Warner Park in a 5-0 victory over the Lakeshore Chinooks Wednesday night.
 "It was a really fun time to be out there with the team tonight just watching the guys pick me up...we got it done tonight," Turnquist said.

Mallards left fielder Alex Iadisernia came up clutch once again with a timely late hit in a 4-2 comeback victory against the Lakeshore Chinooks Monday night at Warner Park.

The Madison Mallards' hungry offense overcame their fragile defense in a 11-7 clubbing of the Wisconsin Rapids Rafters Thursday night at Warner Park.
"I think if we just continue to do that…I think we're going to make a real big run here for playoffs, so stay tuned," Mallards first baseman Tyler Dean said of the win. 

A gritty mix of manufactured offense and timely hits fueled the Madison Mallards in a back-andΠ-forth 5-4 victory Sunday afternoon at Warner Park that earned them a two-game series split against the Wisconsin Woodchucks. 
"The Woodchucks put up a good fight. They always do. It's always gonna be a good baseball game when we're playing them," Mallards shortstop Michael Fuhrman said.
More Headlines