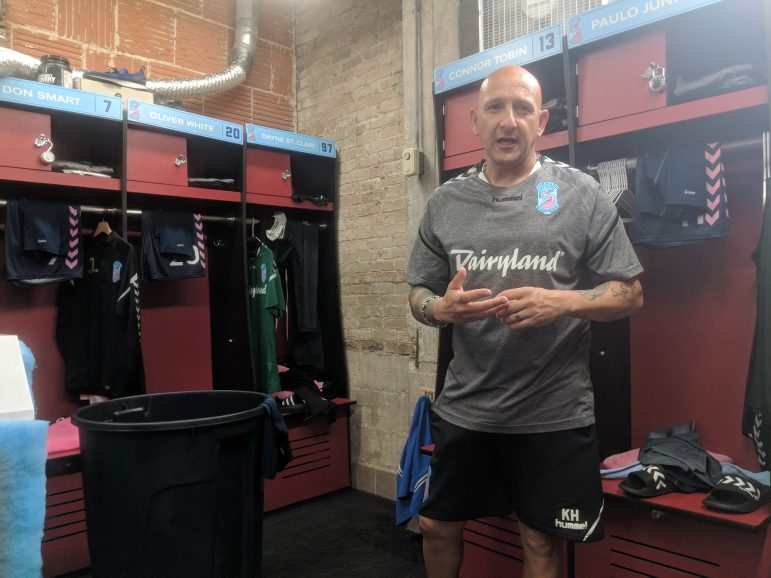 |
 Kevin Harter has been in the locker room for a few hours already when I meet him in the cramped space under the stone grandstand at Breese Stevens Field. Still, he's behind his usual schedule -- the Forward Madison FC equipment manager usually has the locker room prepped the night before home matches.
Forward Madison FC, playing in its first season in the inaugural season of the new 10-team USL League One, is the city's first foray into professional soccer, and seems to have touched a nerve. With fans following the team on social media from literally around the world and home attendance that far outpaces the rest of the league, Forward Madison has embraced the quirky weirdness that is Madison -- including the adoption of the pink plastic flamingo as its mascot.
Harter's official job description as equipment manager, or "kit man," for Forward Madison FC, puts him in charge of cleaning, prepping, and organizing the team's clothes and practice equipment. In Harter's case, it also means coordinating logistics with host sites for away games, screenprinting fan gear, coordinating with Forward outfitter Hummel, ensuring that every player has his specific superstitious "lucky" thing for game day, DJing the hype music in Forward's locker room before games, howling from the sidelines during the games, razzing players about their choices in facial hair, keeping his team from getting into it with officials, and generally having the time of his life.

From our content partner, Madison365. Everything in Lilada Gee's life has been hard. Her childhood was hard, she divorced, raised two kids on her own, and lived through sexual abuse, verbal abuse and posttraumatic stress. 
"Everything in my life has been hard," says Gee.

Gwendolyn Diemer, 69, the vice president of Triangle Neighbor Organization, had been sleeping on an air mattress for almost a year before she landed in an apartment at the Community Development Authority's Triangle complex, just south of downtown Madison, six years ago. 
"You have to light it up, put it down and you have to sink all the way on the floor to get on it," said Diemer, "It was just not comfortable." 
Fortunately, Diemer was able to get a bed through a partnership between CDA's Triangle complex, UnityPoint Health-Meriter and Steinhafel's which is providing beds for residents on a monthly basis.

Full time artist, creative director and entrepreneur Jenie Gao said when opinions, clash people often want to find common ground to bare solutions. 
Gao, however, sees it differently. 
"From personal to professional to political spaces, I have paid attention to disputes between people who plead for common ground yet gloss over perspectives and leave issues unresolved. I have wondered that if instead of common ground, we should advocate and claim space for identities and representations that are rare," Gao said. 
More Headlines