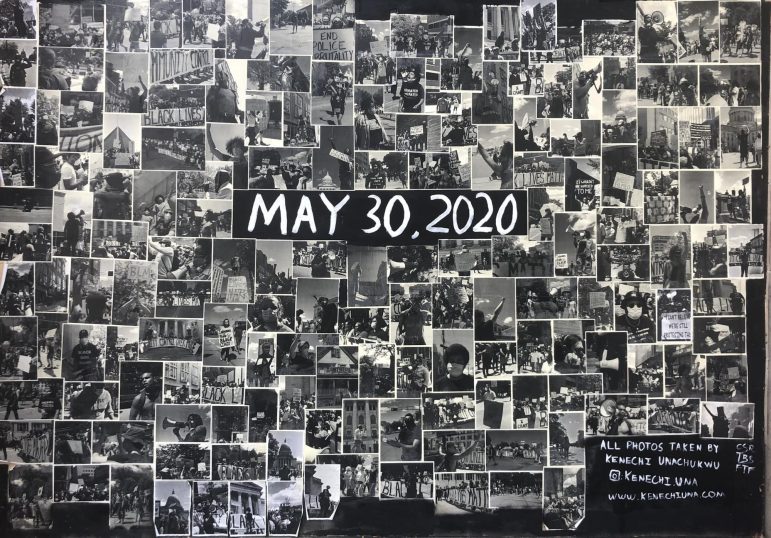 |
After the Madison Black Lives Matter protests, I made a point to see the murals along State Street. I was deeply moved by these pieces of art. For me, this artwork raised new questions to consider, community issues to understand, and social concerns to contemplate. As a bi-racial, liberal college student who supports the Black Lives Matter Movement, this is not too surprising. However, I became curious about what other sorts of people were taking the time to engage with this artwork, especially in Madison where over 78% of residents are white. How did people with different identities and perspectives understand these pieces of art? Did it shape their opinions or desire for action? Or did they remain unaffected, or even react against it? So I interviewed people with a diversity of viewpoints who had seen the murals downtown, either in person or on an online forum, and asked about their reactions.

From our news partner, Madison365:
Dressed in colorful traditional attire, 9-year-old Norah Baloch was constantly looking at her hands, decorated with Henna, on the back porch of her house on the west side of Madison. However, she was apparently not happy with the way she was celebrating Eid, one of the most important festivals of the Islamic calendar. "I can't invite my friends or visit them.

A virtual reception hosted by local Black leaders to welcome Carlton Jenkins as the new superintendent of Madison schools was filled with overwhelming excitement and deep sense of hope, as Jenkins said his move to Madison to address educational disparities is his contribution to the movement inspired by the death of George Floyd.

Earlier this summer, a number of current and former Badger student-athletes shared their desire to alter the color of the university's "Crest W" on their athletic uniforms to display solidarity with Black students and other underrepresented groups on campus.
More Headlines