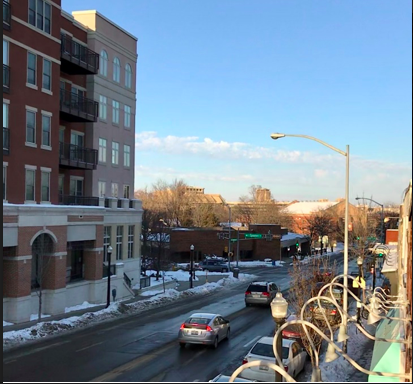 Monroe Street is one of Madison's little gems. It might not be high on a tourist's lists to visit, but locals know it's one of the most interesting and charming streets in the city. Locally-owned shops intertwine with charming homes, and nearby Edgewood College and Lake Wingra, to add a mix of beauty and business to this corridor.
Starting last winter, the charm of this area will be put on pause. Beginning in early February, Madison Gas and Electric began updating the infrastructure by installing new underground gas lines, according to the City of Madison's Engineering Department. The construction is expected to limit traffic and busses on the west end of Monroe.
The work by MG&E will continue until mid-March, when heavier construction along the entire street is slated to begin. The entirety of Monroe Street traffic will be stifled until mid-November so that the road can be resurfaced and essential infrastructure can be reconstructed.
Bill Fruhling is a principal planner for the City of Madison since the late '90s. Along with myriad other projects, he's helped develop the plan for Monroe Street development.
"Monroe Street's always been one of those treasured streets in the city," Fruhling said. "The biggest change that we've seen on the street is some of the redevelopment and the addition of more multi-family units, condominiums and apartment, and redevelopment of buildings that are bigger in scale than what has traditionally been there. I think the core of the street and what it has been over the last 20 years hasn't really changed, but the face of it has," Fruhling said.
Wild Child kids clothing store is among the most recent changes to the face of Monroe Street. For 32 years, they sold kids apparel and accessories. At the end of the month, owners Renee and Bill West will not renew their lease for the space, and Wild Child's storefront will close down, but will remain open Online.
"Obviously, there's been lots of businesses that have come and gone. These days, it seems to be turning into a lot of service and/or restaurant businesses…much less retail, but I think that's happening everywhere," West said. "I think that's a little bit boring to have one type of business, but with online shopping I don't know what you're going to do about that."
Some in area are excited about the future of the corridor. Pam Schwarzbach, one of the owners of Hive of Madison, an outdoor apparel store on Monroe Street that opened its doors four months ago, is  optimistic about the neighborhood.
"There's a very strong allegiance to the businesses and the shop local, keep it local phenomena," Schwarzbach said. "It's the most vibrant retail district in the community. It's that sense of community and the energy that exists in the neighborhood."
But there are reasons to worry, especially for a newly opened business.
"We're a little bit worried about road construction and the effect that will have on traffic," Schwarzbach said. "They're looking at at least six months, potentially even longer, where Monroe Street is one lane each direction, and there will be no bus traffic, so that's certainly a factor. But at the same time, especially in such a pedestrian friendly neighborhood we should be able to see good traffic."
Along with the renovated road, new developments will reshape Monroe Street. At the eastern end of Monroe, a four-story mixed-use building is currently being constructed. The building, labeled an "urban boutique living community," will feature retailers on the ground floor, while high-price apartments will reside above it, according to Gregg Shimanski Realty Inc.
Additionally, HotelRED was approved to add three floors of hotel rooms on top of their building. These projects could represent a shift to taller, more profitable buildings in the area.
"Monroe street continues to be a place that attracts residents and businesses alike, and its an attractive street from what it offers in terms of goods and service," Bill Fruhling said. "There's a pretty steady stream of development proposals or projects that developers are floating, so there continues to be really strong interest in the street. I think on a street like Monroe Street that's a pretty healthy sign."