In a hard-fought victory, the undefeated Madison Capitols scraped by the visiting Chicago Steel with a 7-6 victory to open the season at Bob Suter's Capitol Ice Arena.
With the win, the Capitols improved to 3-0-0.
Within three minutes and 48 seconds of play, Capitols forward Finn Brink, assisted by Max Nagel and William Felicio, scored – his first of three for the period. The Chicago Steel answered quickly, though, with Reid Conn finding the back of the Capitols' goal, manned by Carsen Musser, exactly one minute and ten seconds later; Jordan Brisson and Grayden Slipec were credited with the assist.
The busy first period continued, as Brink, assisted by Andrew Kuzma and Nagel, scored yet again.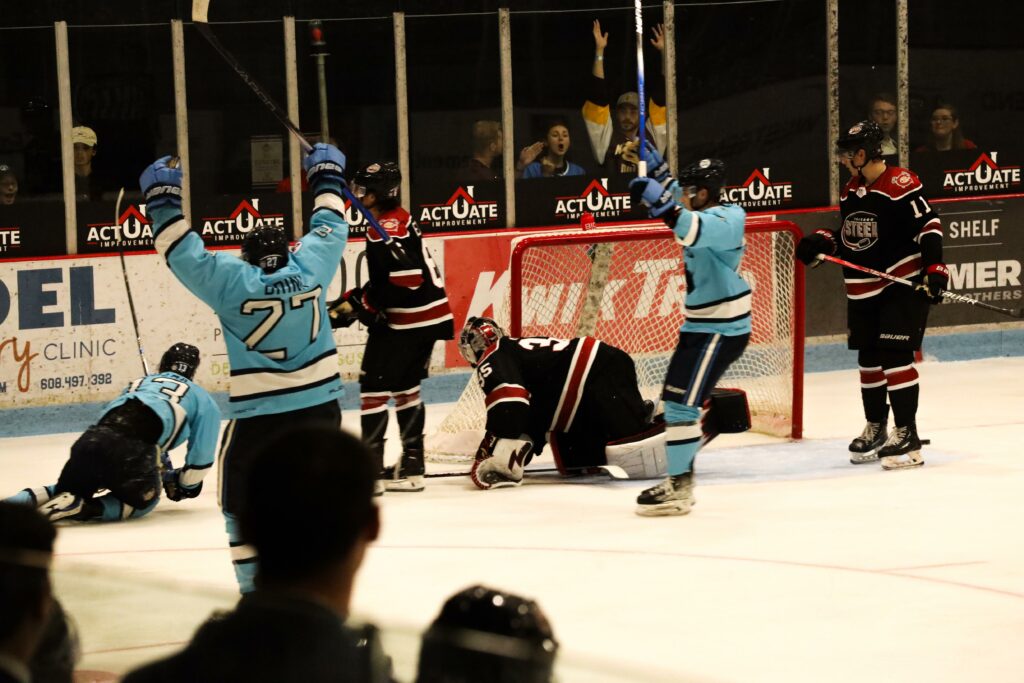 Chicago scored six minutes later when Lukas Sawchyn was assisted by Joey DelGreco to tie the game 2-2. Less than a minute later, the Capitols' Brink responded to secure the team's first hat trick of the season, assisted by Nagel and captain Ethan Elias.
The Steel's Christian Manz received a two-minute penalty for tripping late in the first period, but Chicago held strong on the penalty kill. Two minutes later, however, after Sawchyn was given two minutes for tripping, Kuzma scored on the powerplay, assisted by Jake Rozzi and Felicio to conclude the period 4-2.
The Chicago Steel started strong in the second period, as Michael Hage, assisted by Ben Yurchuk and Thor Byfuglien, scored in one minute and 20 seconds. Christopher Delaney responded minutes later, earning his first goal for Madison against his former Chicago Steel teammates.
Madison and Chicago went back and forth for the last half of period two, with Felicio and Tobias Ohman scoring only five minutes apart, making the score 6-4.
While the Capitols maintained a comfortable two-point lead into the third period, the Steel did  not go out quietly. Major scored on a Chicago power play while Kuzma was serving a penalty for too many men. It was Kuzma that would come up with the game-winning goal, assisted by Elias, with nearly eight minutes of play remaining. After Chicago took goalie Christian Manz off the ice, Hagens scored with only one minute and 12 seconds remaining.
Despite the Steel's late goal, the Capitols were able to stave off Chicago 7-6 to conclude their home opener. The three stars of the game were Brink, Kuzma and Felicio, while Nagel's three assists tied him for the league points, at seven. With this win, the Capitols remain the only undefeated team in the Eastern Conference.
The Capitols will play away at Nebraska for a two-game series on Oct. 7 and 8 before returning home to play against the Muskegon Lumberjacks on Oct. 12 and 13.