Exhibitions
Madison Museum of Contemporary Art
227 State St. 
Federico Uribe: Metamorphosis, Sept. 30-May 26
No, this isn't Kafka— it's Colombian-born artist Uribe, who creates sculptures of animals from found objects. Featuring materials ranging from bullet shells to shoes, it's both an exercise in recycling and a subversion of the mundane.
www.mmoca.org/events/federico-uribe/
imaginary i, Nov. 11-April 7
Did you think you left imaginary numbers behind in your high school Algebra 2 class? A love letter to mathematicians who gifted MMoCA's founding collections, this showcase pairs those donated pieces with commissioned and loaned recent contemporary works, in a celebration of the abstractions that bridge art and mathematics.
www.mmoca.org/events/imaginary-i/
Chazen Museum of Art
800 University Ave. 
Insistent Presence: Contemporary African Art from the Chazen Collection, Sept. 5-Dec. 23
The human figure is the storyteller in this pan-media display, made possible by a Straus Family Foundation gift. Creations of two dozen artists form a varied landscape of modern perspectives on the personal, political and postcolonial, from across Africa and worldwide diaspora communities. 
chazen.wisc.edu/exhibitions/insistent-presence-contemporary-african-art-from-the-chazen-collection/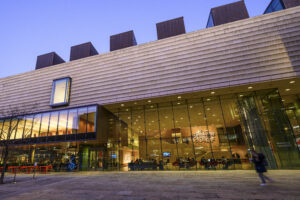 Overture Center — Galleries I, II and II
201 State St.
Burning at Both Ends, Parallel Paths and Objects May Appear Closer Upon Reflection, Sept. 5-Dec. 3
Three female-driven showcases illustrate the spectrum of perspectives comprising womanhood, from motherhood to collaboration to growing up.
www.overture.org/engage/galleries/upcoming-exhibitions/
Overture Center — Playhouse Gallery
201 State St. 
Garbology: What We Throw Away, Aug. 29-Nov. 26
One person's trash is another's treasure in this combined effort from the Forward Theater Company, Arts + Literature Laboratory and Madison Arts Commission. Discarded and repurposed objects become both muse and artwork.
www.overture.org/engage/galleries/upcoming-exhibitions/
Wisconsin Academy of Sciences, Arts and Letters  (Overture Center — James Watrous Gallery)
201 State St. 
MEND: The Work of Repair, Aug. 18-Nov. 5
If your creative juices need a fall fixer-upper, this textile- and sculpture-based exhibit might be just the thing. Through lenses ranging from ableism to housing justice and toxic relationships to family tragedy, four artists explore the meaning of repair.
www.wisconsinacademy.org/gallery/mend-work-repair
Of Words and Trees and Women and Water,  Nov. 24-Feb. 4
The familial and universal intersect in these concurrent showcases. Madeline Martin honors her late father in a mixed-media celebration of his many roles, including tree-planter, while Mary Burns weaves together explorations of women's roles in protecting and interacting with water.
www.wisconsinacademy.org/gallery/madeline-grace-martin-words-and-trees
www.wisconsinacademy.org/gallery/mary-burns-women-and-water
Screenings
Cinematheque
Vilas Communication Hall, 821 University Ave. 
Various Screenings, Aug. 31-Dec. 16
Expand your cinematic horizons with indie and classic films from all around the world, dating from 1927 to 2023. Most screenings take place on Thursday, Friday and Saturday evenings. The series culminates in a December communication arts showcase highlighting works created in UW media production classes.
Barrymore Theatre
2090 Atwood Ave. 
53704 Frame by Frame Film Festival, Nov. 4
Spend your afternoon and evening getting to know your neighbors on Madison's north and east sides at this screening of short films by and about Madisonians in the 53704 zip code.
barrymorelive.com/event/53704-frame-by-frame-film-festival/
Performances
Arts  + Literature Laboratory
111 S. Livingston St., Suite 100
Various Performances, Sept. 8-Dec. 10
Tune into Madison's premier community arts center for a packed calendar offerings ranging from  theatre ("Burn It Down: Two Plays from the Edge," "Mother Courage Alone," "Penelope Haunts Twice," "The Butter and Egg Man") to experimental, classical and jazz music to the Midwest Video Poetry Fest.
artlitlab.org/programs/music-performing-arts/music-performance-calendar
The Orpheum Theater
216 State St.
Various Performances, Sept. 12-Dec. 9
As usual, the Orpheum promises Madison a star-studded season. Highlights of this fall's lineup include The Temptations and Diana Ross, funk (Tower of Power) and rockabilly (Brian Setzer) royalty, ABBA and Pink Floyd tributes, and comedians John Cleese and Chelsea Handler.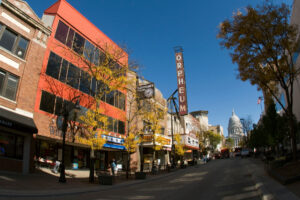 The Orpheum Theatre (Photo by Jeff Miller/ UW-Madison)
The Majestic Theatre
115 King St.
Various Performances, Sept.-Dec.
The Majestic also has a packed playlist in store. Indie-radio-familiar names ZZ Ward, Ritt Momney and Dessa, festival-circuit staple The Cadillac Three, social media sensations Kidd G and Depths of Wikipedia, and hometown act Slow Pulp are just a few who will grace the marquee this autumn.
The Overture Center
201 State St. 
Various Performances, Sept. 15-Nov. 27
Something for everyone can be found this fall at the Overture Center. Musicals "The Wiz," "Aladdin" and "My Fair Lady" take the stage, tributes to everything from Stephen Sondheim to mariachi are paid, Jim Brickman reminds the crowd of the true meaning of Christmas and comedic acts like David Sedaris and "Dixie's Tupperware Party" promise to make us all laugh. 
www.overture.org/tickets-events/upcoming-events/
Barrymore Theatre
2090 Atwood Ave.
Various performances, Sept. 12-Dec. 1
Some names you'll recognize on Barrymore's performance docket include Toad the Wet Sprocket, Garrison Keillor, Samantha Bee and the Wailin' Jennys. Not Another D&D Podcast and Welcome to Nightvale beckon your inner nerd, and ZOSO promises a whole lotta love from their Led Zeppelin tribute. 
UW Theatre and Drama
821 University Ave. 
Ms. Holmes and Ms. Watson, Sept. 14-24 and Twelfth Night, Nov. 9-19
Two classic stories of British literature get a contemporary spin this fall at the Ronald E. Mitchell Theatre. Doyle's detective duo are gender-bent for the pandemic era, while Shakespeare's romantic romp of mistaken identity is a jazz-funk musical.
theatre.wisc.edu/productions-and-tickets/
Festivals
Wisconsin Book Festival,  Oct. 13-16
Various Locations
The Badger State's premier celebration of the written word touches down in mid-October, and brings authors to town all year round. Notable names this fall include Chasten Buttigieg, Joyce Carol Oates and Sigrid Nunez.
www.wisconsinbookfestival.org/event-schedule
Arts + Literature Laboratory
111 S. Livingston St., Suite 100 
Midwest Video Poetry Fest, Oct. 14-15
Enjoy both live readings and videos from poets all over the world at this young festival, gearing up for its fourth year. In the weeks leading up to the festival, the laboratory will hold free workshops on how to make a dynamic, multimedia poetry video. For one month after the festival, footage will be available on the laboratory's YouTube channel.
artlitlab.org/programs/literary-arts/midwest-video-poetry-fest
Monona Terrace Community and Convention Center
1 John Nolen Drive
Winter Art Fair Off The Square, Nov. 11-12
The weather may be cooling down, but you'll find a warm atmosphere at this indoor juried festival. Discover 135 booths, participate in a silent auction and bring the kids along to join in the fun at the Young Collectors' Corner.
isthmus.com/events/winter-art-fair-off-the-square/