Last Saturday, Race Day Events, in collaboration with Hop Haus Brewing Company in Fitchburg, hosted its third annual Beer Run, which drew over 800 local and out-of-town runners and hop enthusiasts for a day of interesting exercise. 
The day began with a 5K with almost 500 runners participating. But the real festivities began afterward: the running of the Beer Mile. 
A Beer Mile, as the name suggests, is a combination foot race and drinking challenge. The rules outlined on the website are simple: "Each competitor drinks four cans of beer and runs four laps (start — beer, then lap, then beer, then lap, then beer, then lap, then beer, then lap — finish)."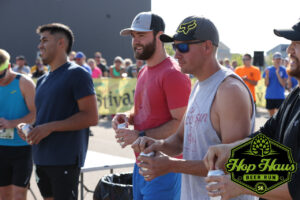 All beers must be consumed in a "transition area" — no running and drinking — and the cans cannot be punctured or tampered with — no shotgunning. If a runner throws up (an event that race organizers euphemistically term a "reversal"), they must run an additional quarter-mile penalty lap. The rules also state that the beer must be at least 5% ABV. 
This year, Hop Haus treated racers to a light lager (though competitors in the "Mystery Beer" heat of the Beer Mile were subjected to anything from Scotch ales to stouts).
Ryan Griessmeyer, who owns Race Day Events, had always wanted to organize a Beer Mile. He used to do the challenge every year on his birthday. But getting permits for this kind of event, not to mention hundreds of cans of beer, can be challenging. 
With the opening of the Hop Haus Brewing Company taproom in the building next to Race Day Events' office, the stars finally aligned.
Contrary to popular belief, the Beer Mile is not a Wisconsin invention. It's believed the race originated in Canada in the late 1980s. According to Beermile.com, "the official Beer Mile news source," there have been over 4,500 official Beer Mile events hosted, and a total of 44,296 miles run.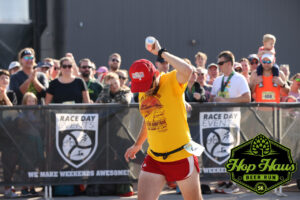 Saturday's Beer Mile was run in six heats, beginning with an elite heat for men and women. Runners at this level did not have to qualify but were expected to finish the race in less than 12 minutes. Next came the "Mystery Beer" heat, followed by four more general heats. Runners in these heats had to finish in under 27 minutes to avoid disqualification.
Samuel Dean, a UW–Madison student, had the fastest Beer Mile of the day with a time of 7:28 (he also got first place in the 5K with a time of 17:33). He won the race last year, too. Quite impressive, until you consider that the record for the Beer Mile, set in 2021 by Canadian Corey Bellemore, is 4:28. (For more context, the world record for a "dry" mile is 3:43.) After his victory, enjoying a root beer, Dean admitted this was "one of the two times I've drank at all this year." He said of his secret to success: "I guess I run a lot in the summer…I didn't eat anything today." (He finished the race without a "reversal.")
Danny Adler-Rozner of Verona was hoping to beat his time of 17:21 from 2022. Dressed in a purple velour jumpsuit — part of a four-person Cheetah Girls costume — he couldn't downplay the difficulty of the feat: "I've run marathons and half-marathons, and I think this is one of the hardest, mentally, races to do." Adler-Rozner finished 80th overall with a time of 13:04.
But for all the mental difficulty, the prevailing themes of Saturday's event were fun and community. Rob Schmauk, 57, came from Philadelphia to do the race with his sons, one of whom, Kyle, lives in the area. Their family runs a Beer Mile every year on the Fourth of July. Rob wore lederhosen for the race; Kyle did it in a snorkel and swim flippers. 
For their pains, all race finishers Saturday received a medal, a sweatshirt and a beer (in addition to the four they drank during the race). 
But for Griessmeyer, the race director, the best part of the event was free to all: "once the crowd gets out here and starts cheering."